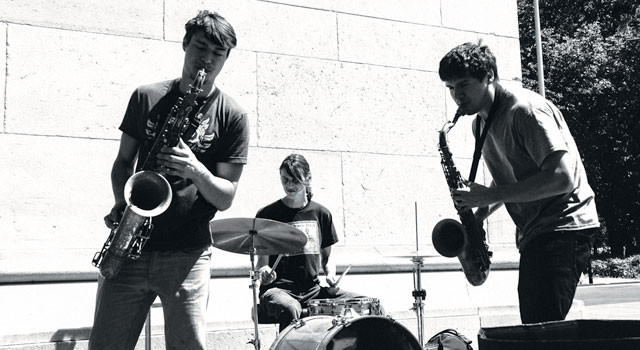 Environmentalists "threw down the picket signs" and picked up their instruments for their New Year's Eve performance at Higher Ground.
James Muschler, percussionist for the Brooklyn-based band Moon Hooch, said the music that he makes with saxophonists Mike Wilbur and Wenzl McGowan is "a natural solution to the electronic genre".
This authentic approach translates to the band's philosophy towards the environment. The three musicians are "committed to finding and exploring sustainable solutions for the planet," said Muschler.
They are environmentalists and, at the end of their shows, always ask audience members who are also involved in sustainability to contact them.
There are a consistent number of fans that reach out to share in the same interests as the band members. Moon Hooch played at Higher Ground on New Year's Eve and opened for Gnomedad.
With two albums out, the set was similar to ones that they have played before, consisting of some newer songs but also a blend of older tracks as well.
Moon Hooch's set list is determined by a metronome that they start at the beginning of their show. This causes most of their performances to have the same order of songs.
The band got its start playing on subways. The names of their songs, for example Number 1 and Low 3, come from the motions used to communicate the next song to other members when the environment got hectic.
Other titles, such as "Song for Miguel," which is named for the man who gave McGowan his saxophone, have to do with people in the musician's lives.
As well as continuing to make music, the group hopes to utilize Moon Hooch as a social platform in order to bring people together for sustainable solutions. Muschler said, he could not have it any other way and "needs music in [his] life."
The band members are currently working on an environmental documentary with content "in the works, depending on who [they] can interview," said Muschler. They are still searching for a film crew in order to gather more professional interviews.
There is a focus on the farm-to-table movement and veganism (the three are vegan) as well as on building eco-villages and renovating and improving existing ones.
Any extra money that the members have, after costs such as student loans, is used towards their environmentalist goals.
Moon Hooch is currently playing across the country and reaching fans about their environmental pursuits.