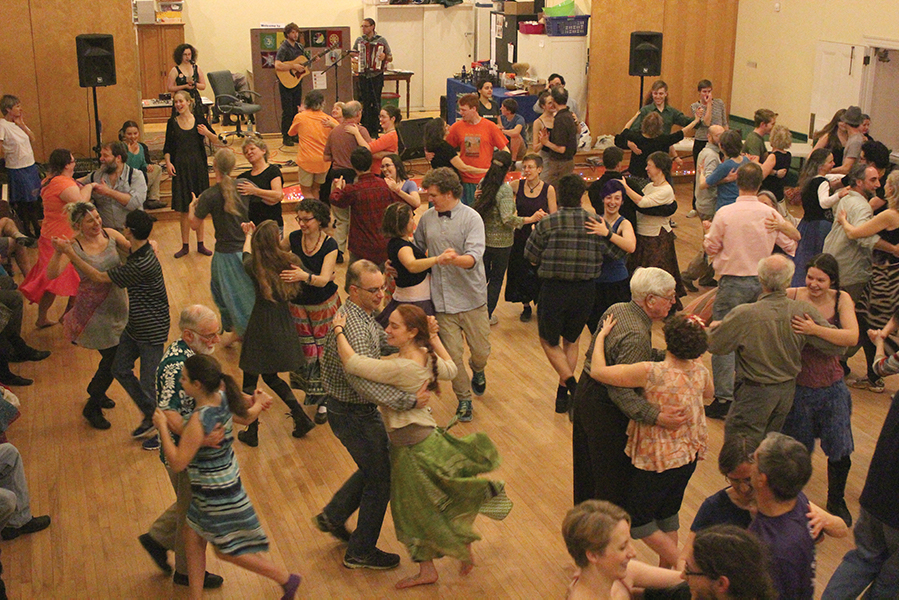 Courtesy of Luke Donforth of The Mad Robin Callers Collective
The sound of a fiddle and a country band blasted over an amp as people twirled and spun in their socks, laughing and talking over music.
As snow fell on a Sunday evening in late February, six members of the Mad Robin Callers Collective gathered in the Rose Street Co-op, a living and community space for artists in Burlington's Old North End, to begin an afternoon of contra dancing.
Dances are hosted by the collective on the fourth Friday of every month. Beforehand, the group meets to practice calling contra dances before the community events.
"A caller is the person that's up on stage and they're walking people through the dance," senior contra dancer Sam Pettorini said. "They're telling you what moves the dance is comprised of."
Contra dancing is American folk dancing that experienced a cultural revival in the 1970s, according to Don Stratton, a Mad Robin Caller and a senior lecturer in plant biology.
"It has roots in French and English country dancing. Those were precursors to contra dancing, and it was more formal back then," Pettorini said.
There are three elements that make up the contra dance: the caller, the dancers and the band. Callers designate the moves of the dancers, who move in unison to folk music, Pettorini said.
"It's modular. There's a set of moves and you put them together," he said.
With the band, caller and dancers all working together, contra dancing creates a sense of unity other forms of dancing sometimes lack.
"Everyone in the room is doing the same thing at the same time. The whole room is part of the dance," Stratton said.  
There are two roles in contra dancing: the lead and the follow role — traditionally called the "gent" and the "lady."
In contra settings, the lead and the follow role are traditionally danced along gendered lines.
"Any person can dance any role, as long as you're in the spot in the dance where that role should be standing," senior Lucy Rogers said.
Rogers added that while contra dancing is an old tradition, it is changing in a lot of ways, specifically in being forward-thinking about gender roles.
"It feels like you're connecting with a tradition but it's also changing a lot," she said.
Since people do not often come with partners to contra dances but instead find them at events, contra dancing can create a sense of community.
"It's a special connection you can have with people. It's cool to have that with a group of people, some of whom are your friends and some of whom maybe are strangers," Rogers said.
Rogers met half of her friends through contra dancing, she said.
The only thing someone who wants to learn contra dancing has to do is show up and "know your right and left hand," Stratton said.
Out of the 100 people that usually attend the Mad Robin Callers' dances, usually 15 of those are beginners, and every dance starts with a walk-through, Stratton said.
"Every dance gets taught and then danced," Stratton said.
The Mad Robin Callers will host a dance 8 p.m. March 23 at the First Congregational Church in Burlington. Admission is $5 for individuals. A beginner's workshop begins at 7:45 p.m and refreshments will be served.