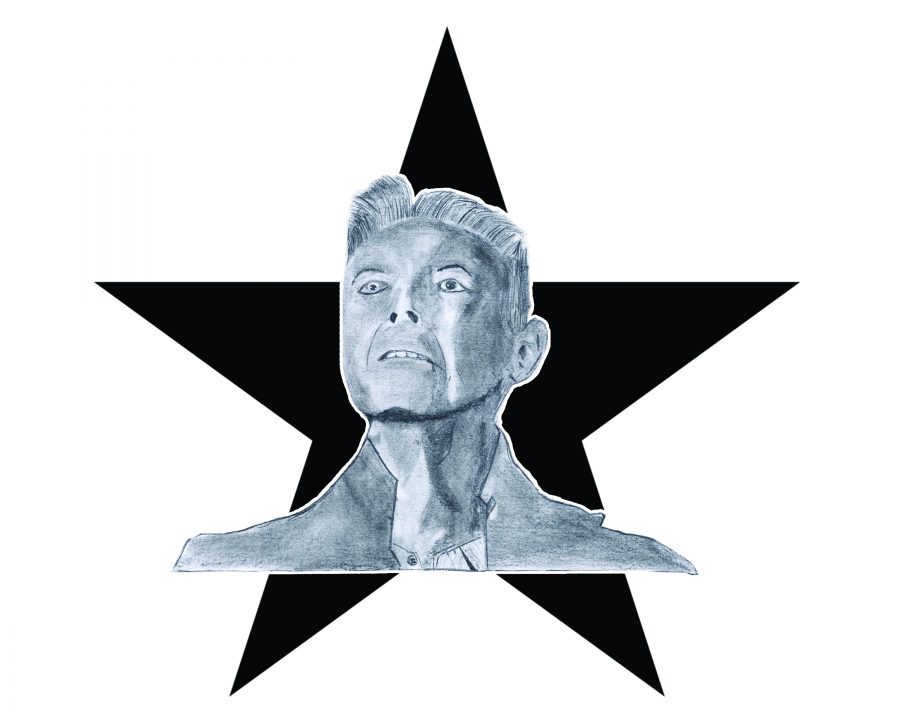 David Bowie's most recent and final album "Blackstar" was released only days before his death Jan. 10.
The album is quite telling of the struggle of his final days. Bowie, as a musician, performer, actor and multimedia artist, paved the way for many musicians and artists today.
Kurt Cobain covered his song "The Man Who Sold The World," and many others have cited Bowie for artistic inspiration.
The uniqueness he encompassed created a world for people to accept their own quirks.
[media-credit name="RYAN THORTON" align="alignright" width="550″]
[/media-credit]"I realized I was proud of my spiky strangeness because he had been proud of his," singer Lorde said after his passing.
The quirkiness Bowie expressed in previous albums such as "The Rise And Fall Of Ziggy Stardust," "The Spiders From Mars" or "Station to Station" took on a much more personable element in "Blackstar."
"Blackstar," when considered separately from Bowie's death, is another solid, yet unusual Bowie album, one with undeniable dark elements.
The strangeness shown in "Blackstar" is what had come to be expected from Bowie.
The characters he created to surround his music, Ziggy Stardust, Aladdin Sane and The Thin White Duke, were all extensions of himself.
However, it was the dark themes that stood out in this album. These ideas go back to "Space Oddity," the story of a lonely astronaut on a hopeless mission.
These themes can now be perceived in a new meaningful way after his death.
Created in the final moments of Bowie's life, "Blackstar" is an incredibly introspective and accepting album.
Tracks like "Lazarus" explicitly explore themes of death. The opening line, "look up here, I'm in heaven," and later when Bowie professes he has "nothing left to lose," clearly reflects these themes.
Even the instrumentals on this track seems melancholic and heavy.
This album is emotional. It manages to be this way without Bowie's passing. It seems to lack hope, and to say goodbye. In "Girl Loves Me," Bowie is heard questioning over and over again: "Where the fuck did Monday go?"
These lyrics of the album show that "Blackstar" was a way for Bowie to accept his death and to communicate that to his fanbase.
Musically, the album is great. The lyrics deliver his message and the music is ex- perimental while even hinting at Bowie's older work.
Though it is shrouded in a negative tone and it is pertinent to listen to this album with his death in mind, the album is good in more ways than the ultra-analytical.
To understand "Blackstar" would be to understand Bowie, something many have tried to do, though none have succeeded.
"Blackstar" is a mortal album; it is not written by a spaceman, or any other one of Bowie's otherworldly personas. It was written by Bowie.
"Blackstar" is a look at Bowie in his final moments; it is beautiful, introspective and tragic.
The album shows a vulnerable side of Bowie as he explores the prospect of his own death head-on through the art form he was dedicated to.