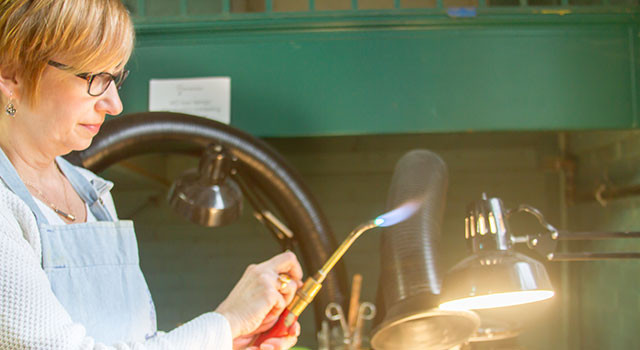 A new award-winning artist has arrived in Burlington.
Denise Fletcher, owner of Deda Jewelry, creates pieces from materials such as gold, silver, pearls and gems.
Fletcher has been awarded the Best of Jewelry category in 2014 at the South Haven Arts Fair as well as the Best of Jewelry category at the Kalamazoo Institute of Art's Art Fair, she said.
Fletcher is bringing her original pieces to Stowe, Vermont for Spring Art on the Park from June to August.
She moved from Michigan to Stowe, VT  August  2014 after her husband took a job in the area.
"Vermont is such a beautiful place, and I have already had new inspiration by living here," Fletcher said.
"Moving for me was fine because I can do my job anywhere, but I had to take a break from working while I found a studio," Fletcher said.
Fletcher said she found a home for her business, Deda Jewelry, at The Generator on Main Street in Burlington.
"Generator aims to be a community of collaboration among artists, engineers, and entrepreneurs to foster a fertile environment for innovation, creativity and entrepreneurship," according to the Generator website.
Fletcher said she began her career after taking a jewelry class just for fun.
"I thought it was going to be beads and more along the lines of arts and crafts, but instead it was a metalworking lesson," she said. "I was surprised by what they were teaching, and even more surprised to discover I liked it."
She later graduated from the Kalamazoo Institute of Arts, a nonprofit art museum and school in Michigan, Fletcher said.
The artist recalls the first necklace she made, which was stolen from the shop she was working in at the time.
"I was actually excited that my work was good enough that someone wanted to steal it," Fletcher said.
She produces commissioned pieces as well as ones inspired by her own creativity.
"I don't cast or bead, but instead texture my metal and mold different materials together," she said.
Her style is contemporary with clean lines, and her favorite technique is "to combine silver and gold, with an occasional touch of copper, and a black hue in there as well," Fletcher said.
Fletcher said future plans include building contacts in the community and putting work in galleries in the Stowe and Burlington areas.
Deda Jewelry will be at Spring Art on the Park Thursday nights from 5:30 to 8:30 p.m. from June 26 through Aug. 28.