New tattoo parlor prioritizes inclusivity
Underneath a thrift store in downtown Burlington, there's a white door to the left, adorned with a padlock and three words in unaligned black lettering. It spells out "LOVE AND DEATH."
Love and Death Tattoo, located on College Street, is a new tattoo shop in Burlington that prioritizes "Black, POC, QUILTBAG, fat, and/or disabled folks" and is a collaborative space that brings together a variety of artists and clients to work together on tattoos.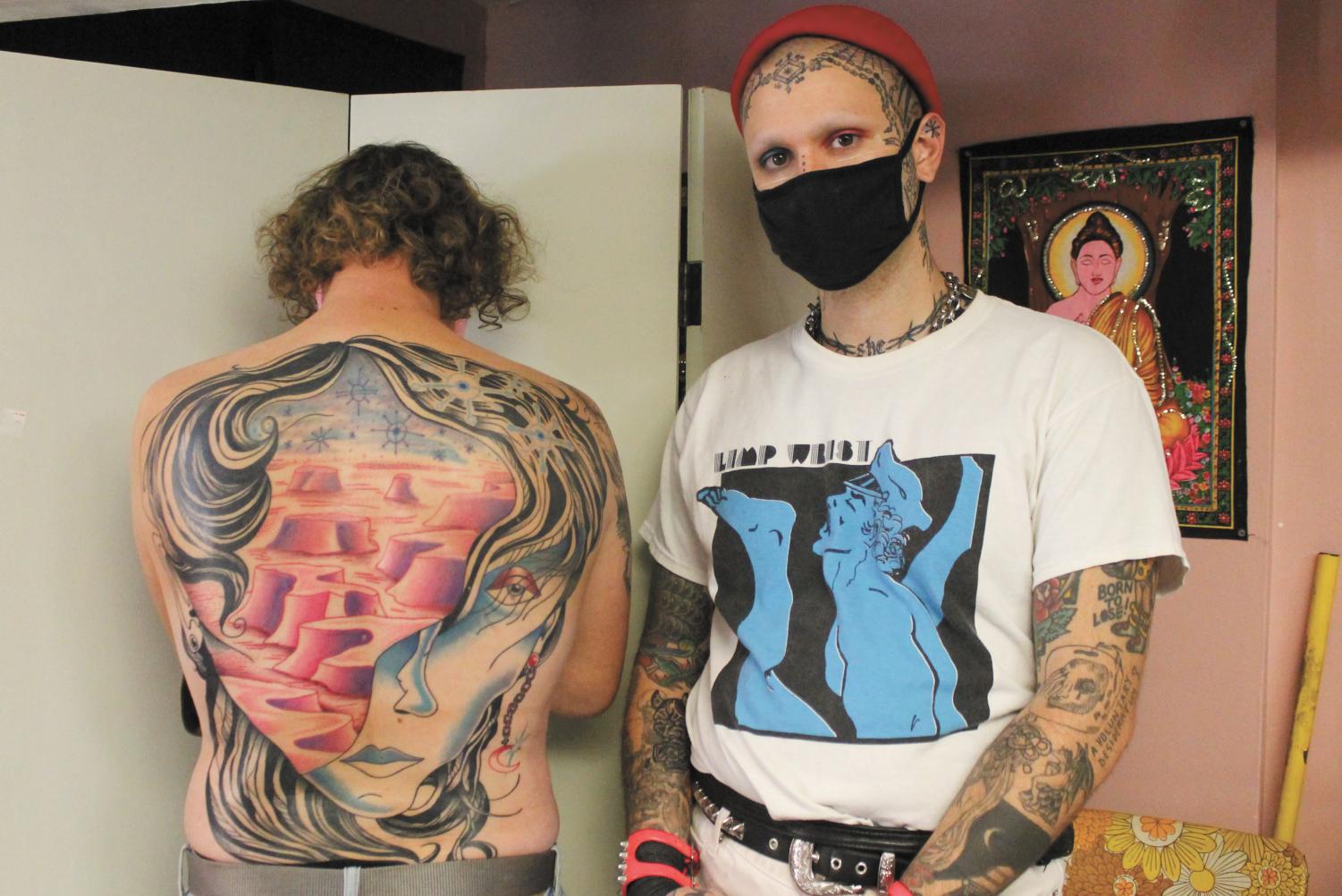 Love and Death is committed to changing the tattooing game and it's environment.
Moody Rose Christopher has been traveling and tattooing for the last few years. She opened Love and Death in the midst of COVID with the intent to give space and time to both artists and clients who are excluded from the mainstream tattoo medium.
"There's been a lot of discussion about drastic changes needing to happen within tattooing due to rampant sexual harassment, bigotry and racism," Moody said. "This shop is my response to that in a way."
Moody said that in her experience, tattooing can be  a "lawless industry" where an artist is able to do whatever they want. Many tattooers abuse that power by prioritizing thin or white bodies, or charging a high fee that makes tattoos inaccessible to low-income people. 
"We want to create accessibility and inclusivity to help eradicate exclusive behavior and give a middle finger to those that help perpetuate it," Moody said. 
Additionally, Love and Death seeks to acknowledge the inherent problem of tattooing in Burlington in the first place. In their Instagram bio, the shop makes a land acknowledgment. It reads "Located in so called 'Burlington, VT' on stolen Abenaki land." 
"Indigenous individuals and colonial violence are treated like relics of the past and that couldn't be farther from the truth," Moody said. "Even tattooing as it is, is a part of white washing and colonization, so every action we make here and globally needs to be done with this knowledge in mind."
Unlike other tattoo shops, Love and Death isn't stuck on prices. The prices are decided between the client and tattooer with budgets and bartering welcome. They do this to show kindness to those who keep the shop afloat, Moody said. 
"Tattoos aren't cheap because tattooers have a lot of hidden costs that don't get considered. Our bodies take a serious beating from static positions and repetitive motions," Moody said.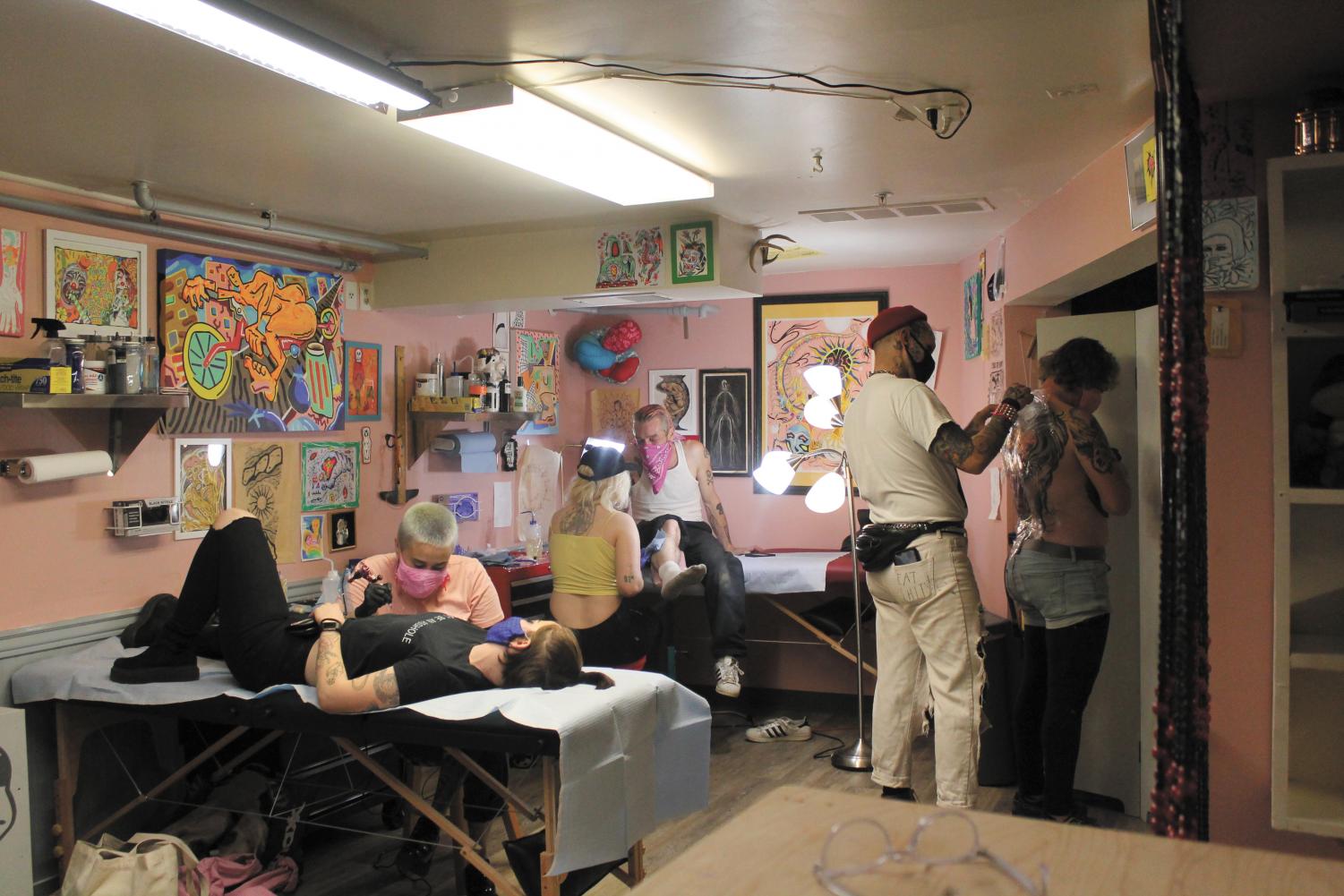 Love and Death not only tattoos for the community but is committed to serving it as well. They have a community care section where people can grab different resources like condoms, water. and instant foods, Moody said.
"Our community matters to us," Moody said. "Those who are housing insecure and poor deserve access to resources and this is our way of offering that without making people asking for it."
Moody said that despite Love and Death's doors being open to everyone, college-aged and mid thirties people tend to be their typical client base. She also said that once people come, they usually come back pretty quickly. 
One reason for the recurring client base is Max. Known on Instagram as @must_be_max, he is the other main artist at Love and Death. Max mainly does stick-n-pokes and makes small art to full fledged portraits using this method. Moody described Max's style as "like sculpting to him." 
Moody says both of their styles are "folk art tats for acid heads and freaks" and says she wants to create real experiences and real tattoos, all handmade with love.
Although Moody and Max are the main two tattooers, Love and Death aims to be collaborative with a revolving door of artists. 
"We like to have fun," Moody said. "Both Max and I are super into tattooing and having a variety of artists come through the doors gives us exposure to new styles and approaches as well as an opportunity to build community in the industry." 
Love and Death prides itself in being a community oriented shop and believes if you have the privilege and resources to be generous and caring, you should do it and do it quietly. 
When Moody was first establishing the shop she made it very clear that they were like unlike any other you've seen before, introducing it as, "Love and Death seeks to eradicate the unwelcome environment of traditional tattoo shops…" 
Moody said even as a tattoo shop, they have a responsibility to foster a better environment for all people that not only come into the shop itself but that walk the earth. 
"Enough is enough," Moody said. "We have to do better each and everyday to make the world more welcome and kind. That said we also aren't a delicate shop.  When my needles hit your skin you're gonna see God but at least you know I'm there for you."