Production of Halloween classic does the time warp
A group of UVM students are preparing to leave their audience invincibly fabulous this Halloween season.
The cast will perform a cult classic, "The Rocky Horror Picture Show," 8 p.m. Oct. 31 at the Roxy Cinema. The show is free for UVM students.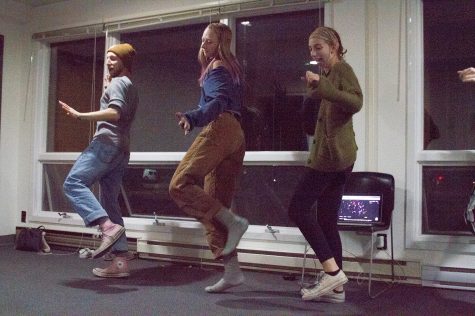 The group will perform the show in its traditional form: a film and theater combination that encourages audience participation. The movie will play on a screen along with the  actors' performing in front of the screen.
The UVM "Rocky Horror" show is put on by UVM Program Board, but it is an entirely student-led production. 
This UVM tradition-in-progress was started in the fall of 2018 by juniors Cobalt Tolbert and Em Lyden.
UPB was already set up to have a screening of "Rocky Horror" around Halloween when Tolbert asked if they wanted to have a shadow cast. This year, UPB asked Tolbert to put it on it again.
"I'm always trying to find different ways to connect different student groups together," Tolbert said. "And hopefully this is a way that people who want to kind of express queerness." 
Tolbert made in-class announcements and posted to various social media groups to get the word out. Those who were interested showed up to the first rehearsal and chose their characters from there.
Tolbert was living on Trinity campus when the idea first arose in 2018. 
Sophomore Charlotte Kelman said she decided to participate in "Rocky Horror" this year because she's always loved the show and saw this as an opportunity to dip her toe into UVM's theater world. 
Kelman saw "Rocky Horror" as a more inclusive and casual option for someone going in with any level of experience,  she said.
Kelman said everyone in the cast is a "Rocky Horror" fanatic. 
"It's just kind of like, one big, 'Rocky Horror' geek out," Kelman said.
There is a reason behind "Rocky Horror's" firm place in pop culture. The film came out during the '70s, an important period for issues such as gay rights, gender fluidity, sexual expression and the uplifiting of the underdog, Kelman said.
"It's really all about expressing individualism, which I think is really important," Kelman said.  "It stands the test of time in terms of the message."
Shadow casts of the show traditionally encourage audience members to arrive in campy get-ups of their own.
Sophomore Zoe Silverman acknowledged the ways in which the film is outdated.
"The movie is problematic in some ways, definitely for both women and queer communities," Silverman said. "Which is kind of ironic in a way."
Some aspects of the show do not adhere to our culture's evolved sense of political correctness, Tolbert said.
The cast has quickly become a tight-knit community that fosters a non-judgmental and expressive space, Tolbert said.
If the show becomes an official UVM production, Tolbert said he hopes it becomes an even more established queer space.
The show will be a risque and memorable way to kick start anyone's "Halloweekend," Silverman said. 
"We have a lot of people doing ['Rocky Horror'] as a way to get out of their comfort zone," Tolbert said. "Supporting that on campus is super important."