New North End spot serves up authentic pizza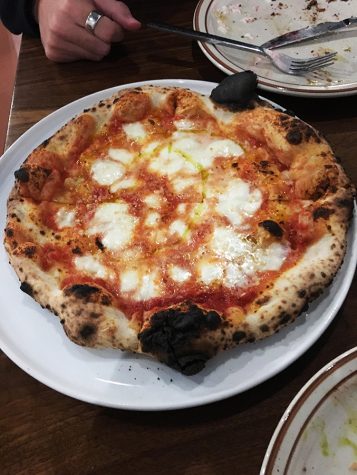 Pizzeria Ida is one of the North End's newest and most exciting pizza joints, serving up authentic, wood oven, neapolitan and sicilian style "pies on demand."
Since it opened in late September 2018, Pizzeria Ida has been hidden away behind a nondescript parking lot off of 662 Riverside Ave.
Finding it on the internet is difficult, too; there is no website, Facebook page or even a phone number to call. Chances are you heard about it from word of mouth alone. We did.
Although the pizzeria is rather plain from the outside and frankly uninspiring, stepping into Pizzeria Ida is like stepping into a modern-day pizza chapel.
Inside, the pizzeria is light, spacious and tastefully decorated. The star is its gorgeous high ceilings which are painted a refreshing shade of sky blue.
Half of the space is devoted to the kitchen — an open-planned spectacle where diners can watch as their meal is prepared and cooked in an authentic wood oven, the focal point of the room.
The other half serves as a dining space. When we arrived, the pizzeria was busy. We were forced to stand at a long table.
Accepting that it was my fate to awkwardly lean on this table for the rest of the night, I could not help but feel as if this was not the best use of space.
These thoughts quickly vanished when the smell of freshly cooked pizza wafted over, so we quickly ordered at the counter.
There is no waiter. Pizzeria Ida is a two-man show run by partners Dan Pizzutillo and Erika Strand.
To start, we were served a very generous hunk of buffalo mozzarella with beetroot, parmesan and freshly baked bread. It is a tasty appetizer, but perhaps overwhelmed by the bulging blob of buff on top.
Beetroot beaten and quickly devoured, we hungrily awaited the main fight, the pizza.
Pizzeria Ida's menu affords diners the choice of a pizza napoletana, sicilian square pie or calzone. We opted for a classic margherita Neapolitana.
Fresh out of the oven, our pizza bore the hallmarks of an authentic Neapolitan pizza.
Prepared with traditional ingredients, Pizzutillo makes his pies in a ferociously hot wood oven, leaving them characteristically charred and ready to eat.
The acidity of the tomatoes and freshness of the mozzarella were the star of the show, delicious and without any hint of sweetness. The crust was delightfully puffy and pocketed.
However, there was no sign of any fresh basil, a staple ingredient of a margherita pizza.
But be warned: Neapolitan style pizzas are notoriously wet and soupy, and Pizzeria Ida's offering was no exception.
Pizza purists will defend this adamantly, but ultimately, it feels like a shame to have such tasty ingredients droop, drip and pool onto your plate, especially if you have chosen to add extra toppings.
For a plain margherita, you'll be expected to fork out $20 and that is before adding toppings, such as pepperoni for $4.
Neapolitan pizzas are famously small (think a frisbee), and usually feeds just one. The slightly larger calzone or square pie will cost you $25 and $30, respectively.
If you are a pizza aficionado, then Pizzeria Ida is a must-try. Just be prepared to spend some dough when the moon hits your eye.
Pizzeria Ida is open from 5 p.m. to 10 p.m., Wednesday through Saturday.