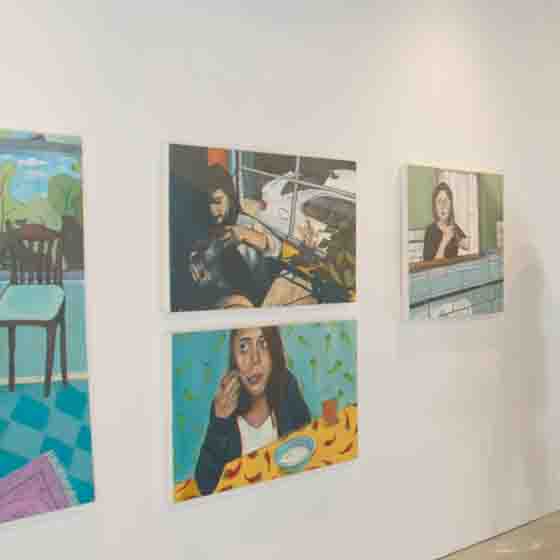 Last spring, four junior art students were selected as recipients of the Junior Studio Art Award. This fall their work is on display in a special exhibition in the Colburn Gallery.
Grayson Crounse is the recipient of the Crawford Award, Sarah Ingraham the Black Horse Fine Arts Award, Emmie Headrick the Owen Award and Chloe Mills is the winner of the Hewitt Prize.
The Crawford Award  was created in memory of UVM alumnus Ian Crawford, while the Black Horse Award is made available through the generosity of the owner of Black Horse Art Materials according to the UVM art department website. The Owen Award is awarded by faculty Emeritus Frank Owen, and the Hewitt honors deceased associate art professor Frank Hewitt.   
Junior and senior studio art and art education majors are invited to exhibit their work in Williams Hall, which is then reviewed by faculty members who select the prizewinners, Tom Brennan, art and art history chair and professor, said.
"This process of review is always an amazing opportunity to see the breadth and depth of accomplishment by our [junior and senior] majors," Brennan said. "The prizewinners exhibition in the following fall term is the public display of such accomplishment in the form of art works by the junior-year recipients of the listed awards."
Crounse is a photographer inspired to pursue art by a faculty member. Although he said he was unsure, Crounse said he declared an art major his junior year "because I couldn't imagine myself fully satisfied with life doing anything other than making photos."
"Winning this prize was pretty surprising — I wasn't expecting it at all. It sort of felt like I was going out on a limb," he said. "But it does feel good to get the backing of the art department faculty. It reaffirms that I'm on the right path."
 Headrick, recipient of the Owen Award, called the recognition "incredibly validating."  

"[The art department professors] are all incredible artists that I admire greatly, so to have them give me a pat on the back and tell me that the work that I'm making is actually good feels very rewarding," she said.
After dedicating Friday and Saturday nights to studio time, Headrick said "it's nice to know that all of that time, energy and stress hasn't been totally pointless," she said.  
Headrick said she is thankful to the UVM Art Department for helping her develop and become stronger as an artist.  
"I think I just got lucky and found my passion very early in life," she said,  "and [ I am] lucky that UVM has such a strong program that has allowed me to not only follow and truly realize that passion, but grow within it."