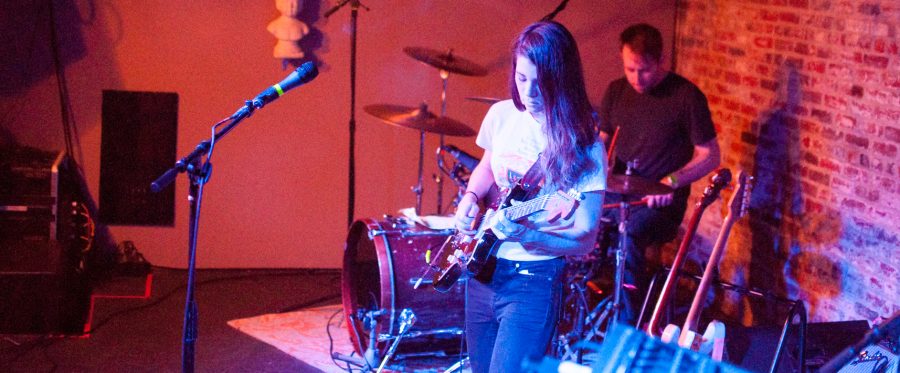 A show that left more beer on the ground than in cups continues to ring viewers ears.
"Wet and Loud."
Those were the two words TJ Metcalfe, bassist of Lady Lamb, chose to describe their energetic performance at Signal Kitchen April 6. Lady Lamb is the name of Aly Spaltro's musical project which started with Spaltro writing, recording and playing all the parts.
Spaltro said she self-released five albums and one EP before her first studio album, "Ripley Pine," was released by Ba Da Bing Records in 2013. Her touring band is a three-piece group with Spaltro on guitar and vocals and banjo, Derek Gierhan on drums and TJ Metcalfe on bass and keys.
Spaltro spilled her heart for over an hour, playing her guitar with the irreverent intensity of classic rock, while singing her lyrically-dense tunes that sometimes seem like musical odysseys.
At the height of the performance, Spaltro had Metcalfe and Gierhan step back while she performed solo for a few songs. 
The moment was powerfully personal, and there was a stillness as everyone silently admired her unaccompanied talent.  Since Lady Lamb's show at Higher Ground last year as an opening act, there has been a notable evolution between performances.
They played great last year, but there was a certain energy that captured everyone  this time around. It might have something to do with the recent steam she's picked up after the release of her second studio album "After," which just dropped in early March. Her album was recently featured in a Rolling Stone article which has probably given  Spaltro some extra confidence and recognition.
This Burlington show was Lady Lamb's third stop in their roughly 50-show tour.