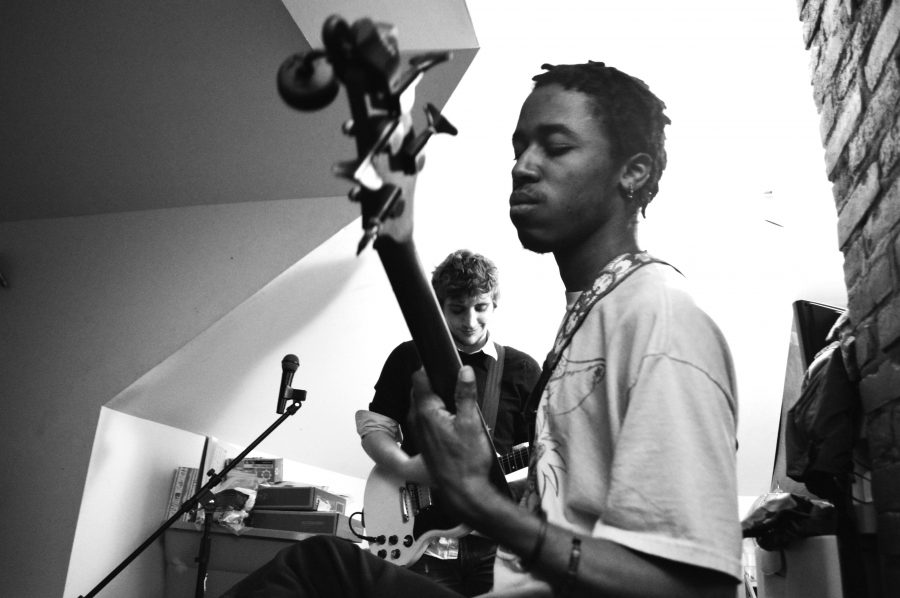 An experimental trio whose sound lacks conformity, Binger formed effortlessly over a discussion about Pink Floyd and Radiohead during a chemistry lab back in 2013.
The group is a trio of alumni from the class of 2015.
They're self-described as "psychedelic prog-hop" and "couch surf rock," but their sound ultimately resists labels. 
"Naturally, being from Burlington, we come out of a jam scene," bassist and vocalist Shakir Stephen said. "But we're kids; we listen to so much stuff on the Internet and try to stitch it all together."
Binger's music is also marked by their collective interests. It features casual allusions to literature, philosophy and relevant social issues. They keep their lyrics open-ended.
"We write the lyrics by virtue of questioning one another," guitarist and vocalist Braden Winslow  said.
Their lyrics also reference other inspirations like comedy, cartoons and video games.
Effortless enthusiasm comes across in Binger's live shows as well, engaging the audience in a way that makes it hard to lose interest.
"It's important to feel like there's humans onstage," Winslow said, "rather than just listening to robots."    
Each Binger concert experience is unique, featuring special guests, improvisations, comedic transitions, singalongs, covers and original material. Audiences have even described them as "a comedy show interrupted by live music," according to band Winslow.
As students, Binger practiced in the Living/Learning Center and won the University Program Board's Battle of the Bands.
"We have a good student influence since we only graduated last May," Winslow said.
However, Binger has transcended college band status. Having frequented Nectar's and Radio Bean, and touring parts of New England and New York, they're now anticipating a European tour later this year.
The members all share sense of gratitude for the Burlington music scene.
"Burlington is a special place," Stephen said. "People seem to invest a lot of their identity in music."