Dean of CAS: Who is the real Bill Falls?
Few can say that their dean has a pierced ear, rides a motorcycle and is learning to fly a plane. But, for students in the College of Arts and Sciences, Bill Falls checks all of those boxes.
Falls is a member of the psychology department and is principal investigator at the Falls Laboratory of Behavioral Neuroscience, along with his duties as dean.  
The top position in the College of Arts and Sciences is a natural fit for the extroverted professor.
"For me, the job is: how can I help people do their job to the best of their ability?" Falls said. "It's really about stewarding good work, helping people, allowing them to get things done."
The dean loves the social aspects of the job, particularly chatting with others and hearing new ideas.
"Every day's a good day because that's all I do all day," he said.
Outside of work, Falls is a father who enjoys spending time outdoors and working around the house. His connection with his children is so strong that his son once convinced Falls to get his ear pierced at the mall.
"[When] your 8-year-old double dog dares you, you can't say no," he said.
These days, Falls alternates between two "discrete" pieces of jewelry: a small cross or ichthys as a nod to his Christian faith.  Sports are Falls' passion, and he played lacrosse throughout his time in college.  Falls describes his children as interested in athletics, and he coached their teams when they were younger.
"When they get to a certain talent level, dad can't coach anymore," he said.
Falls also lists carpentry and woodwork among his hobbies, which he attributes to his father's influence.  Students might be surprised to learn  their dean is a first-generation college student.  Both of his parents worked in Lynn, Massachusetts for General Electric, and his three siblings did not attend college.
"I was blessed to go to a small, liberal arts college … and a giant graduate school," Falls said.
"This is my dream job — that is, being at UVM — because I felt that it is the best of both worlds."  
Falls sees his background as having shaped who he is today, both as an educator and a person.
"Wanting to help people achieve and wanting to help people succeed and be the best they can be is what was done for me and what I want to impart on others," he said.
About the Writer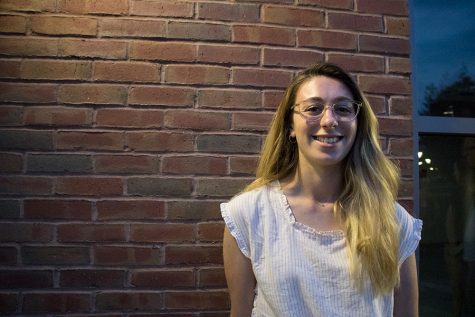 Greta Bjornson, Editor-in-Chief
Greta is a senior majoring in English with a concentration in writing and a minor in art. She joined the Cynic as a first-year after transferring to UVM...