Artist stirs up debate on sexuality
It's fair to say the majority of Vermont is in favor of promoting same-love, as it legalized gay marriage in 2009. However, a dialogue is created when straight celebrities portray homosexuality in a photography movement.
French artist Olivier Ciappa's photo series "Imaginary Couples" has been receiving ample attention online in the past week, but for some unexpected reasons. The photographer shot celebrities like Eva Longoria and Lara Fabian posing as gay couples in an effort to raise awareness of homophobia.
Although Ciappa intended for the project to have a positive impact, not everyone agrees that it is the best way to represent the struggles of the LGBTQ community. Editorials tinged with frustration, such as a Jan. 27 Vice article which questioned if "these are the kinds of images that need promoting."
However, students of the UVM community thought otherwise.
First-year Dylan Sulat took no offense to the portrayal of gay characters by straight actors.  "I do not think that a straight actor or actress portraying a gay character is harmful to the LGBTQ community, as long as they are not portraying the character in a negative way," Sulat said.
Junior Brennan Webb echoed Sulat's thoughts. "I don't think it should be taken as offensive because in movies and art there are straight actors playing gay roles," Webb said.
Todd McGowan, associate professor of film and television studies at UVM, explained that gay actors have historically been excluded in the arts.
"The primary problem stems from the fact that openly gay and lesbian actors continue to be, for the most part, out of consideration for clearly heterosexual roles," he said. "As a result, when roles that are defined as gay or lesbian come up, it seems unjust that they go to openly heterosexual actors."
As for the artist, Ciappa said he hopes his photography is perceived as authentic and stressed the need for accuracy in his art above all else, according to an interview with the Huffington Post.
"The celebrities that I shot are heterosexual, but it was essential to me that you would believe these imaginary couples and families they portray were real," Ciappa said to the publication.
Webb said that as the photo series is an art form, it's open to interpretation.  "The use of straight actors bridges the gay-straight alliance, but could potentially weaken it because they could be pretending for publicity," he said.
About the Writer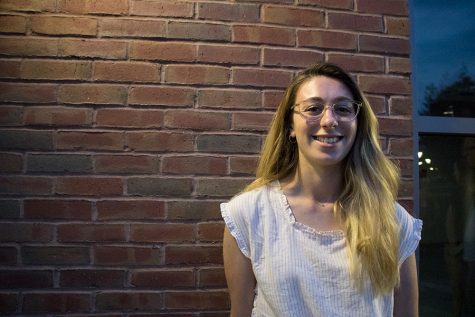 Greta Bjornson, Editor-in-Chief
Greta is a senior majoring in English with a concentration in writing and a minor in art. She joined the Cynic as a first-year after transferring to UVM...