Commencement speaker reflects on career
Author and journalist Gail Sheehy, who will give this year's commencement speech, is renowned for her work both as a journalist and a prolific author. .
During a recent visit to campus, Sheehy took some time to speak about her career, her time as a UVM student and to offer advice to students heading out into the world.  
This interview has been edited for length and clarity.  
The Cynic: What was your best memory from your time as an undergrad at UVM?
Gail Sheehy: Well, I think it was putting on fundraisers with the next door fraternity — I was in Alpha Chi Omega and the next door fraternity was Kappa Sig[ma]. They were the animal house, the jock house, and they were very funny, very lively guys.
We kind of socialized them … we needed to use their ovens to make pizza, so we had to make a commitment with them. So we would give these big parties and everybody would come and raise money for community or social causes. And that felt grown-up, giving a big dinner party, even though it was just a pizza buffet.
The other great memory was being taught how to ski by two of the most animalistic Kappa Sigs. They told me everything wrong. They said "put your poles behind you and put your head down and you're going to be a downhill racer," [The run] was full of trees. So, I had to learn how to duck and weave.    
VC: Who was the most interesting person you've profiled?
GS: Margaret Thatcher, who I discovered used her sex appeal to win over men who worked for her, as much as her brains and formative intellect and position of power.
It was funny to discover that because anybody who saw Margaret Thatcher operating, with this helmet hair and little frilly bows and very strident manner, you wouldn't think she'd be able to pull that off.
But I discovered it by taking the dare of an electrical bath [with Thatcher's practioner], something I found out Thatcher would have with an Indian practitioner — [who] had very famous clients, so I had to develop a fake identity to get in to see her.
[The practitioner]  made you strip naked and climb up the stairs above this huge electrical tub where she would be at one end, manipulating the amps, and I was standing there trembling with fear. She said, "my dear, step in. I've had kings and princes in that tub," so I got in and allowed myself to be parboiled for the next hour.
I started asking her about Margaret Thatcher, and she said that Thatcher and then-Soviet President Gorbachev had a flirtatious relationship.
VC: What position or publication had the largest impact on you in your journalism career?
GS: I'd have to say New York Magazine because it was a pioneer in new journalism. And not only that, I met Clay Felker [an editor and journalist at New York Magazine] who later became my husband, was a trailblazer in that way and he also believed in women writers.
His own mother had been the editor of the women's page in the St. Louis Post Dispatch—so he knew that women had talent and hadn't been recognized in journalism—and invited a number of us, including Gloria Steinem, to write for him.
At that time, I was very fortunate because the '60s and '70s was the peak of magazine journalism. It was where people mostly went to get more in-depth coverage of everything that was going on.
VC: What advice do you have for aspiring college journalists?
GS: You have to make your own way. You're more likely to succeed if you develop your own voice with a website, gain a following and then from there you may get noticed and asked to write.
VC: What is the biggest challenge you've faced in your career?
GS: The shift of culture away from valuing longform journalism, which costs too much for most purveyors to want to pay for now. I have a website, the Sheehy Daring Project, where I collect stories of daring women, interview them, craft a story and put it up, but I'm not paid for it.
I'm doing it as a way to keep a project alive, inspiring and inciting women to be more daring. I hope that I'll find a website that will want to publish a series of them, but it's at a fraction of what I used to earn writing longform stories, which was very well-paid.    
VC: Is there anything else you'd like to add about your career or time at UVM?
GS: One thing that's been reinforced for me by coming up this weekend to do research on current students is that they still have…. the independent spirit that I loved about UVM.
Very much wanting to be individuals, have an impact, change the world in some way and find their own formula for doing that. It's very heartening to find such lively, creative minds here still bent on having an impact on the larger world and being able to think in a global sense.     
About the Writer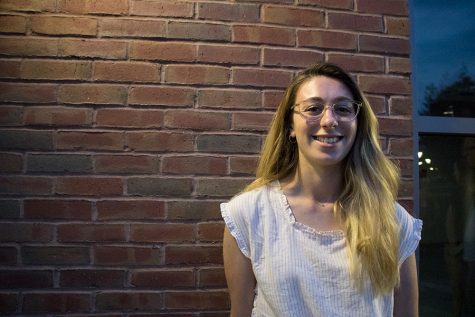 Greta Bjornson, Editor-in-Chief
Greta is a senior majoring in English with a concentration in writing and a minor in art. She joined the Cynic as a first-year after transferring to UVM...