Exploring Burlington's Thrift Store Scene
Just because I love shopping doesn't mean my wallet loves it.
So, I decided to look into some local thrift shops to see if I could give my wallet a well-deserved break.
Second Time Around specializes in high-end, gently worn clothing, shoes and accessories for women. It isn't the cheapest thrift store on Church Street, but it does mark high-end clothing down considerably. An $88 J. Crew sweater, for example, was marked down to $45.
It also has periodic sales, discounting the clothes even more. There is a drawback to STA: there isn't a lot of inventory at or above a size 14 in clothes, or in size nine or bigger shoes.
Downtown Threads, also on Church Street, with its retro flair and impressive collection of cowboy boots, is the exact opposite of Second Time Around.
In addition to the vintage dresses, Downtown Threads also has a large collection of leotards. Threads has both a men's and a women's section, although the men's section is much smaller than the women's. Similar to STA, they don't have a lot of inventory above a size 12 for women.  
Dirt Chic, on Main Street, is somewhere in the middle of these two. It has a wide range of clothing types, from t-shirts and flannels to gowns, suits and winter outerwear.
The brands range from Express and Charlotte Russe to Eddie Bauer and L.L. Bean. There was also a 50's house dress and an oil-baron type suit that would look right at home in an old western.
Being a plus-sized woman, shopping at the first two stores was hard. But I did have luck at Dirt Chic, where I managed to find an L.L. Bean flannel for $8 and a sequined gold dress from Coldwater Creek for $15.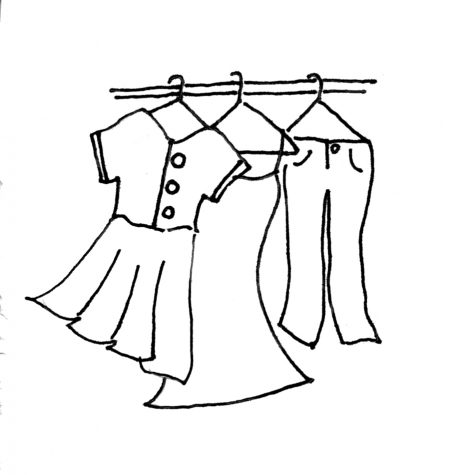 No matter what your style is, whether it's high fashion or retro bodysuits, Burlington has a thrift shop for you.