Interactive class teaches out-of-the-box thinking
It's rare that lessons taught in the classroom can be directly applied to the real world, but one course at UVM is designed for this exact purpose.
Design Your Life, a one- credit course only offered at Stanford University and UVM, is intended to give juniors and seniors a better idea of what to do with their lives post-college, and help them build skills applicable to everyday life and learn how to approach their future careers.  
Eugene Korsunskiy, UVM's Coordinator of Design Initiatives and DYL course instructor, has firsthand experience with the course, as he took it while attending graduate school at Stanford and later taught it there before coming to UVM.
DYL, which has no prerequisites, is a very group-centered and interactive course, Korsunskiy  said. Students are assigned to "cohorts" of about six people at the beginning of the semester and work with this same group for the remainder of the course.  
He emphasized how integral these groups are to fostering the communal dynamic of the class.
"The most important ingredient of how the class functions is the sense of community we're able to build, because everyone in the room commits to showing up all semester and helping each other think and talk through all of these important life questions we have," Korsunskiy said, "which don't necessarily get a whole lot of deliberate attention elsewhere."
Student assessments of the class have been posted on its website, most of them praising its life-changing elements.
One student explained that taking DYL "gave me the power to decide what I want to do, and break away from my set-in-stone career plan. I now want to find me in what I do after college, not just settle."
Before taking the class, most students often struggle with questions like "what do you want to be when you grow up?" and feel pressure to have a definite life plan after graduation. But Korsunskiy approaches post-grad life from a different lens.
"Life is "not a 'problem' to 'solve' and there's no 'right answer' to find," he said. "Instead, it's a thing waiting to be built—by you."
"You don't figure out what your passion is and then go do that thing," he said. "You go out into the world and start doing things, driven by your curiosity, and then the passion is something that develops as a result."  
For those who are intrigued by the course but unable to enroll, its ideas can be found in the book "Designing Your Life: How to Build a Well-Lived, Joyful Life" by Bill Burnett and Dave Evans, with whom Korsunskiy taught the course at Stanford.
Graduate  Brett Gershkowitz  took the class in his senior year at UVM.
"This class taught me to challenge myself and be okay with making mistakes," Gershkowitz said.
"I think it was important for me to take that class as a senior," he said.
The book became available Sept. 20.
About the Writer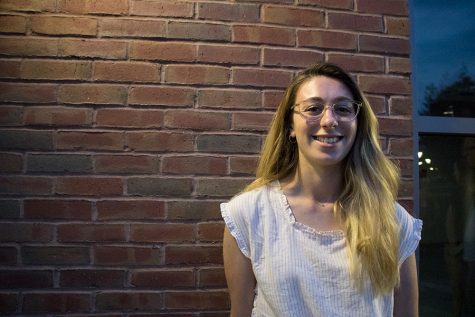 Greta Bjornson, Editor-in-Chief
Greta is a senior majoring in English with a concentration in writing and a minor in art. She joined the Cynic as a first-year after transferring to UVM...