On campus coffee for your exam cram
Finals are coming and for most students that means late nights, flashcards and lots of coffee. To help with the latter, I've compiled a list of coffees around campus and my thoughts on them:
Speeder and Earl's (Cyber Cafe):  
The Cyber Cafe was my long standing caffeine source my first years of college.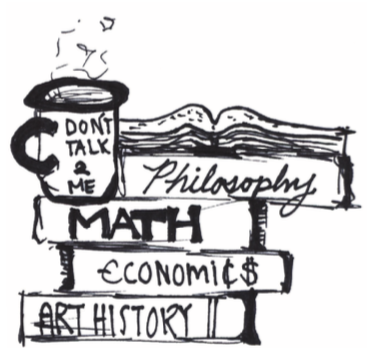 Aside from hazelnut, their flavored coffees are on the bland side, but they make an excellent full-bodied French roast. If you're looking for the best caffeine kick on campus, a great option is the Speeder's blend, which they call their "version of rocket fuel."  
Caffeine usually has little effect on me but two cups gave me jitters, so I don't recommend going overboard.  This is also the only location where you can be blessed with a "Thank you, have a good one!" after your order from the iconic barista Bev.
Green Mountain Coffee (Marketplace):
This coffee was so-so. It seemed overly bitter and not in the pleasant way that coffees often are. I wasn't particularly fond of any of the roast flavors.
I like my coffee black, but this might taste a lot better doctored up with sugar and cream. Overall it just came across as pretty basic coffee, which is fine if you're looking for a quick caffeine fix.
Vermont Artisan Coffee & Tea Company (Henderson's):  
Henderson's is my current favorite and my regular stop for daily coffee. The staff is super friendly and offer a few great specialty drinks, like Maple Madness.
I'm particularly fond of their medium roast Moka Java blend. It's fruity and bold, similar to rich dark chocolate. All of their coffees have excellent and complex flavors that are roasted to perfection, making this the place to get a gourmet cup of java.
Vermont Coffee Roasters (Hospital):
This coffee is hidden in the hospital past the Dana Medical Library. They have excellent bold coffee flavor with a simple bitterness and a distinct freshness to the brew. One of my coffee-obsessed friends declares this the best joe on campus with their large cup sizes and delicious roasts, but it remains unknown to most students because of its  location.
Starbucks (Cat Pau$e):
I've never really been a big Starbucks fan. I've found their coffee to be extremely bitter. It leaves an unpleasant burnt aftertaste. When there are so many excellent local Vermont roasters, I find it hard to justify getting coffee from here. If you are a fan of the coffee this is a convenient place to get your Starbucks fix on campus.
Campus coffees hit some high notes and some low notes, but there are plenty of locations to get your caffeine fix this exam season.
To cut down on costs and reduce waste, take advantage of the cheaper price when you use your own mug for a refill.
Certain places also offer reward cards for free coffee after multiple purchases, like Henderson's, Speeder & Earl's or Green Mountain Coffee in the dining halls.