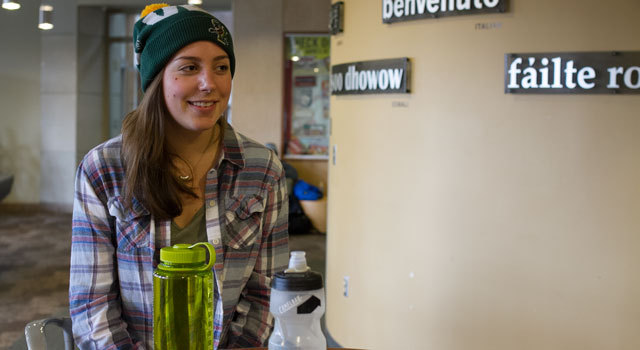 Sodexo's contract with UVM is set to expire June 2015.
The University held an open forum Nov. 17 and is currently in a "competitive bid process," according to UVM's Division of Student Affairs website.
"Well I think this is awesome," senior Adrian Rousson said. "I'd rather eat road-kill than live on Sodexo dining."
The Cynic sat down with students to talk about what they would like to see from a future dining service.
"Reasonably healthy options with a good amount of variety and good quality," first-year Kevin Slafsky said. "It would also be nice to have Cook Dining Hall open on Saturdays."
First-year Sonny Monteiro said he agreed with Slafsky's desire for variety in the dining halls.
"Variety is the most important. I feel like Sodexo tries to have variety, but the food is too repetitive and lame," Monteiro said.
He also would like to see consistency in a new dining service.
"Some days a meal will taste fine, but then a few weeks later that same meal is served and tastes really bad," he said. "An ideal dining service would be consistent in quality, and just surprise me every now and then," Montiero said.
First-year Noelle Cox said she would like more vegetarian options, "not just left overs sprinkled on chips."
First-year Ben Ehret said he would like to see more "edible" meat options. "I like Sodexo's bacon, but I want more edible meat," Ehret said.
Other students agreed the next dining service should strive for "real" food options.
"I'd like for places like Alice's Café to use real egg in their breakfast sandwiches rather than those egg patties. Omelets at the Marché would be great too," sophomore Teresa Dotson said.
The new contract will begin July 1, 2015, according to the Division of Student Affairs website.