Students work at the Marche
As students rush to get food in between their classes, they may not register their peer behind the counter as more than a blurred figure in green swiping their CatCard.
Working in a dining hall isn't glamorous, senior Sara Ahlers, a University Marche employee, said, but many students seek employment with UVM Dining for the on-campus convenience.
While the job comes with many perks, including a free meal and decent pay, Ahlers feels that once she shifts roles from student to staff, she becomes invisible.
There are several advantages to working at the Marche, one UVM Dining option, said junior Sydney Langdeau, a former Marche employee.
Its location on Athletic campus makes it an easy commute from the residential halls, shifts include a free meal and managers are understanding when it comes to a student's schedule, Langdeau said.
"UVM Dining gets that you're a student, which is why I prefer working with them than finding something downtown," Ahlers said. "They're willing to work with students' hours."
The student employees at the Marche had positive things to say about working there.
"Everyone there was really nice, which made it a nice place to work," Langdeau said.
UVM Dining prides itself on putting hospitality and customer service first, said Lisa Brown, the Marche's manager.
"When hiring students, I look for those who have lots of interest in customer service and are looking to make people happy, because that's what we do here," Brown said.
While the employees of UVM Dining prioritize customer service, this is not always met with equal enthusiasm or respect.
Peers don't acknowledge "other" peers' presence when they wear the bright green shirt, Ahlers said.
"When you're wearing that uniform, everyone expects you to blend in, be invisible and work around them," she said.
Langdeau agreed.
"It was a little awkward seeing my classmates in a service perspective," she said. "But I just tried to do my job as best I could."
Ahlers discovered the stigma that sometimes accompanies service work when she started working for UVM Dining, she said.
"I remember I would always put one of my books in my work apron so that people would know I'm a student and this isn't what I'm doing with my life," Ahlers said.  "It's something I'm trying to get over because while I'm not going to be there the rest of my life, we need blue collar workers and we need to respect them."
"The service industry falls under a category of jobs many would find undesirable," Professor Blake Ashforth said.  
People tend to see a social, physical or moral "taint" in this undervalued work, and remain psychologically distant even when someone views a "dirty job" as necessary or noble, Ashforth said.
This stigma is present on campus, Ahlers said.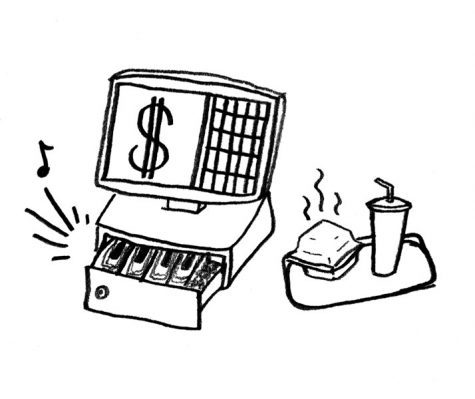 "I've told my friends to apply there, and they'll say that they don't want to be seen working there, and I'm like, thanks a lot," she said.
About the Writer
Katie Brobst, Assistant Life Editor
I am an English and Film & Television Studies double major here at UVM. I was homeschool through high school and transferred here after attending CCV's...