The season for squash
Fall is upon us and I think we all know what that means: pumpkin everything.
But let's not be closed-minded, people. There are plenty of other squash varieties, like the Delicata Squash;, a winter squash often used as a pumpkin substitute, that could use some love too.
With that in mind, I chose to make something sweet this week starring Delicata Squash and juicy Asian Pears courtesy of the Intervale.
I give to you the Whole-Wheat "Squa-pear" Muffin, a sweet muffin with a subtle hint of cinnamon. This recipe makes 14 to 26 muffins.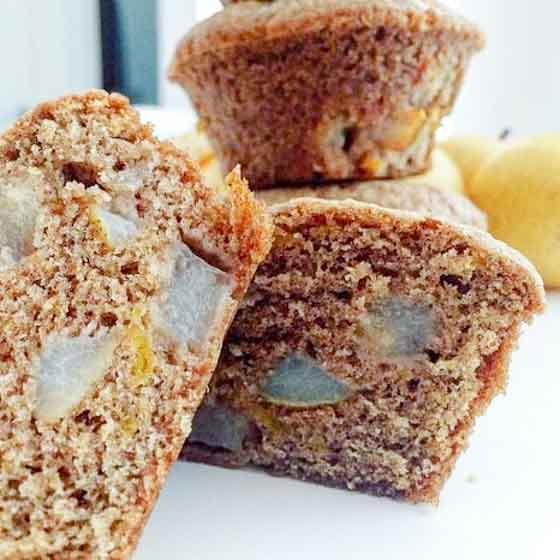 INGREDIENTS:
2 cups whole wheat flour
2 tsp. cinnamon
1 tsp. baking soda
1/4 tsp. baking powder
1/2 tsp. salt
1 1/2 cups granulated sugar
3/4 cup vegetable oil
3 eggs
2 1/2 cups Asian Pear, diced
1 cup shredded Delicata      Squash**
Cooking spray
DIRECTIONS:
Preheat oven to 325 degrees. Thoroughly grease a muffin pan.
Mix all the dry ingredients together (except the sugar) in a medium bowl.
In another bowl, beat the eggs. Add the sugar and vegetable oil and mix until fully combined, then mix in the shredded squash.
In three additions, add the flour mixture to the wet ingredients mixing to fully incorporate before adding more of the dry mix.
Once fully incorporated, add the chopped pears and mix until just combined.
Divide batter into muffin pan.
Bake for 25-30 minutes, or until a toothpick comes out of the center of the muffins clean.
Serve with a dollop of butter and enjoy!
Hint: to shred the squash, slice the squash in half and scoop out the seeds. Then use a fork to scrape along the inside and loosen up the shreds. You can then use a spoon to scoop out the flesh.
Intervale Food Hub delivers local food subscriptions to campus, making it easy to support Vermont farmers and food makers, and eat fresh, healthy food all semester.
There is still space available to join for the College Fall season. To learn more or sign up, visit intervalefoodhub.com/college–fall.