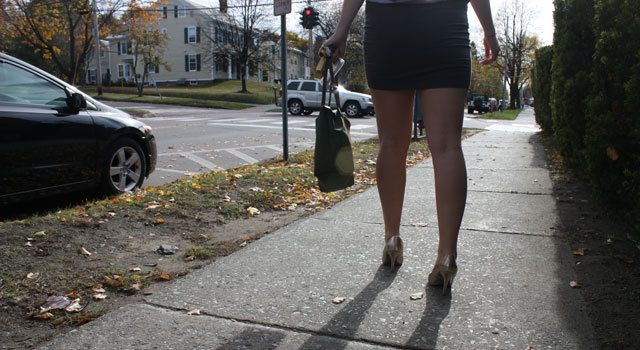 It's 7 a.m, you're in the clothes from the night before.
You may be tired, nervous and embarrassed by the glances thrown your way.
It's happened again. The so-called "walk of shame."
The Cynic decided to explore this concept and look into the safety of this walk.
The exact definition of the walk of shame differs from person-to-person.
The walk of shame is "walking back to your dorm or apartment early in the morning after a drunken hookup," first-year Paul Lavallee said.
The walk of shame can be from across campus or just across the hall, he said.
"It's when you spend the night at someone's place and you obviously weren't prepared for that slumber party," sophomore Mara Carini said. "You walk back with bed hair like a motherfucker."
Hooking up and the culture surrounding it can be defined as one that supports girls and guys getting together for a physical encounter and not necessarily expecting anything further, according to abc.com.
"You meet a guy at a party, you talk with him and then you go home with him," first-year Elena McWright said.
"It's staying the night but you don't have to have sex," sophomore Will Sanborn said. "Usually you're drunk so you could wake up and be like 'what the fuck happened.'"
The walk of shame only exists if there are people around to see it, said sophomore Josh Lebron.
"If there's nobody around, then there's no such thing as the walk of shame," Lebron said.
"You're just walking. It's a stupid concept," he said.
It's not shameful if you're happy with your decision First-year Harper Simpson said.
"It's okay if you're wearing last night's clothes," Simpson said.
"If you're happy with what you did. You go, girl, or boy," she said.
Some students even see humor in the situation.
"It's more funny than anything," first-year Lily Gewirz said.
"One time I walk of shamed in a tiger suit and my friends screamed at me from the window," she said.
"It's not the walk of shame, it's the walk of game," Lavallee said.
But if embarrassment isn't troubling you, what about safety?
UVM has tried to create an environment that students can feel safe in, according to its website.
"We encourage students to plan ahead to ensure their safety," Detective Sergeant Mandy Wooster said.
There are 138 blue light voice communication units that cover campus.
The units will contact police services through a recorded official 911 line.
"UVM police services will respond as quickly and safely as possible to any request for assistance, whether it's an emergency or not," a UVM police report stated.
Some students are skeptical about the potential dangers involved with hooking up and the walk that follows.
"Why would [the walk of shame] be dangerous?" Sanborn said.
"In the community of Burlington, I feel like nothing during the day is dangerous," he said.
Junior Leah Campbell said safety depends on what time it is.
"If it's 6 a.m. you probably shouldn't be walking home by yourself," she said.
"But if it's 10 [a.m.] or 11 [a.m.] and people are out and about, it's a better time to be walking home alone," Campbell said.