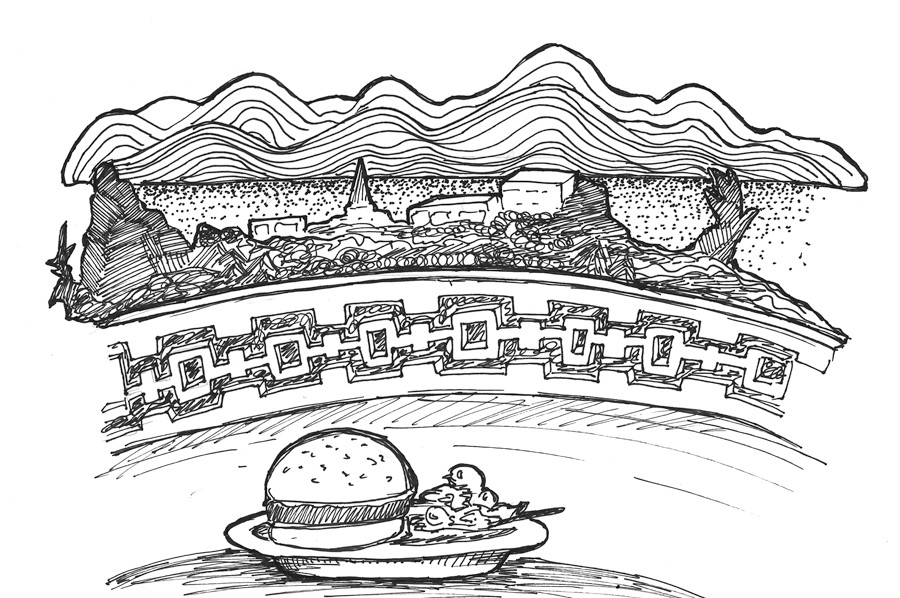 Waterman Manor is a restaurant open to both staff and students on the top floor of Waterman Building.
When you enter, you are greeted with a quaint vibe and a view overlooking Lake Champlain and all of downtown.
The restaurant provides diners with the option of taking food to-go, but also the choice to dine in with seating indoors and outside on the patio during warmer days.
Due to its remote location, I had personally never known about this restaurant until recently.
This past week, my friend and I decided to try it out for something new.
As we were waiting to order, I noticed the wide variety of individuals enjoying their meals.
There were older people dressed in business attire sitting near students in jeans and yoga pants. The diversity in the restaurant between professional adults and students made it a different experience than those spent eating at the Marketplace or Marche.
With adults holding business meetings around us and the quiet tone, we felt as though the atmosphere was more professional than a typical college eaterie.
Initially, we were prompted to behave in a more professional manner because of the nature of our fellow diners, and observed our surroundings in relative silence.
After a while, more students in sweatpants and jeans arrived, and we felt more comfortable discussing what was on our minds without feeling pressured to talk quietly.
The Waterman Manor's food is provided by Sodexo, but offers a wider variety than what is available in other areas on campus. There are salad options, sandwich options, pasta dishes and burgers that differ from the options offered in the dining halls.
There is even a salad and soup bar with different soups each day and a wide variety of dressings and toppings.      
My friend ordered the chicken salad sandwich, while I ordered the tomato basil soup and salad bar, which I thought was delicious. The salad bar had rolls, dressings and an array of different toppings including pasta salad and eggs.
My friend enjoyed her sandwich, but the curly fries were by far her favorite component of her meal.
Overall, the dining experience was enjoyable and made us feel as though we were able to escape our routines and the typical UVM campus for our 30 minute meal.
Waterman Manor accepts points, Catscratch, cash and credit cards, making it accessible to both students and professionals alike.
But do note that the prices of the meals are on the expensive side, typically $9 and up, even for the soup and salad bar.
They are open Monday through Friday from 11:30 a.m. until 2 p.m.