TikTok, Travis Barker and the pop-punk revival
If you hear two coughs in a row, and you automatically think of the lyrics, "I got your picture, I'm coming with you, dear Maria count me in," you are a pop-punk kid. 
Today, pop-punk makes many people who grew up between the late 90s and early 2000s nostalgic. Bouncy guitar riffs, melancholic vocals bordering on screaming and lyrics about the hot girl you met at the Vans Warped Tour —this is what brings many back to their teenage angst days. 
Since about the mid-2000s, pop-punk, while having faithful followers and commercial success, was brushed aside as genres like pop and hip-hop became favored by the masses, according to a Mar. 3 POP Magazine article.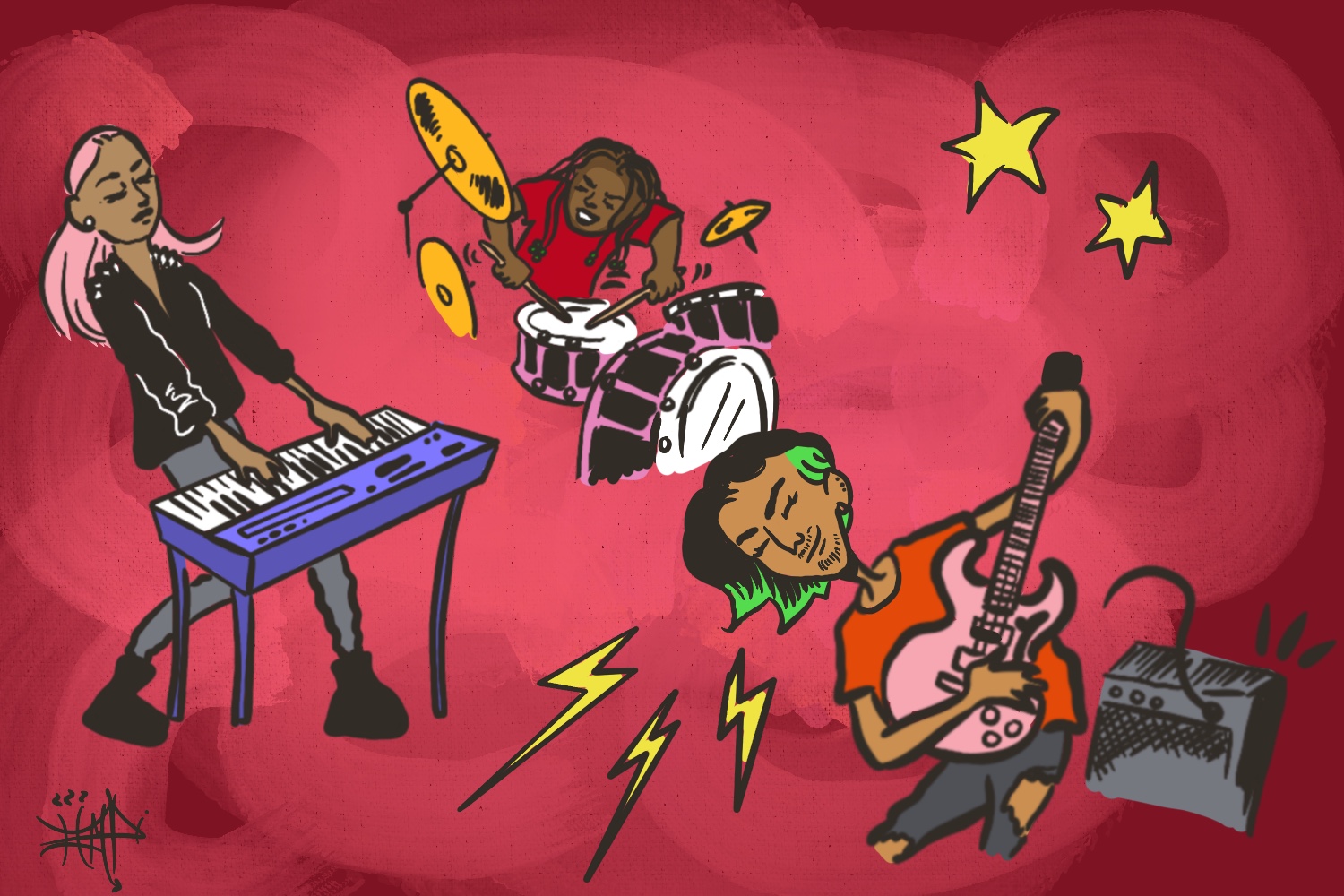 If you were sad about this drop in mainstream popularity for the genre, have no fear. Pop-punk is on the rise. Before getting to this new wave of popularity, you have to look a little into pop-punk's history of commercial success. 
Pop-punk first gained commercial success with bands like Green Day and The Offspring, according to YouTuber Finn Mckenty's Feb. 7 2019 video titled, "What Killed Pop-punk."
"The significant thing here is that pop-punk was now mainstream…..now was literally at the top of the Billboard charts, it was on the cover of every magazine, it was all over MTV," Mckenty said. 
Mckenty later said that the "golden age of pop-punk" was from 1999 to 2005 when groups like Blink-182 and New Found Glory hit the scene. 
"This is when pop-punk, and specifically that PG-13 version of it, is popularized by Blink-182, New Found Glory and Sum 41 was as mainstream then as Drake and Cardi B are in 2019," he said. 
In this popularity wave, pop-punk was for everyone, not just those in the scene. 
Megan Holiday, a radio host at KROQ, a rock station, said she first noticed pop-punk becoming huge when she was in high school from 2000 to 2004. Around this time, Blink-182 released "Enema of the State."
"…that was like my Blink-182 album…And I think that really inspired a lot of bands after that… And a lot of these like pop-punk bands started, I think they got inspired by sort of the sounds of like, kind of what Blink-182 was doing…," Holiday said. 
Towards the mid-2000s, pop-punks popularity took a dip as other similar genres moved into the spotlight.
Holiday noticed a lull around when she graduated high school around 2004-2005 in favor of bands like Franz Ferdinand and Modest Mouse, she said.
 "…It was still in the mainstream a bit, but I think that was sort of around the time that it wasn't dominating as much….then I think we completely saw a removal of it…previous to like, 2019…it was not really on the radio very much for like, almost 10 years…," she said. 
From 2005 to 2008, the "emo take over" began,  McKenty said. This is when early 2000s pop-punk fans began to grow out of the music. 
Those on the more "normie" side of the spectrum moved on to whatever new music played on MTV and the radio like pop and rap. Those who were true fans got into more "credible and mature" genres like metal, he said. 
He explains how the kids who would have liked pop-punk before were getting into emo bands like My Chemical Romance and Paramore. This period was, Mcketnty said, "an era where Normies didn't listen to rock very much," as the masses shifted to pop, rap and R&B.
Yasmine Summan, journalist, social media manager and alternative TikToker, also saw that pop-punk fell out between 2006 and 2010 as screamo and metalcore music became popular but picked up traction in 2011.
"Neck Deep, State Champs, Real Friends, Knuckle Puck, The Wonder Years, are all examples of pop-punk from 2010 onward that did great commercially," they said. "All of these bands headlined festivals like Slam Dunk, Warped, etc, and toured with massive names like Blink 182, etc."
This was a time where there were so many new groups coming out, who were bringing something new to the scene. This was a "revival that wasn't," Mckenty said.
These groups were a huge contrast to the golden era groups as they were more emotional and serious with their lyrics and music as they took influence from hardcore and emo music, Mckenty said. 
Another development was the emergent themes of friendship and unity that became a staple in their music, according to a Feb. 25 2020 Spinditty article. 
This time of pop-punk was also huge on the social media site Tumblr, according to Mckenty's video. Tumblr was filled with young kids making edits of pop-punk band lyrics and logos. 
You couldn't scroll Tumblr without seeing a Man Overboard "Defend Pop-Punk" logo or jokes about either hating or loving your town and eating pizza with your friends.
Many of these bands were doing well, but none broke into the mainstream successfully, according to Mckenty's video. 
So, why, after all this time, is pop-punk coming back? There are many moving pieces in this revival, but the three biggest pieces that are making this revival possible are TikTok, increasing diversity and Travis Barker. 
First, TikTok has been instrumental in getting pop-punk back into the mainstream audiences. The pop-punk hashtag has almost 400 million views on the app, according to a Jan. 21 Kerrang article. Many classic pop-punk songs have gone viral on TikTok, such as All Time Low's "Dear Maria Count Me In," Paramore's "All I Wanted" and Avril Lavigne's "Girlfriend." 
These songs were huge during the formative years of TikTok's primary demographic of 16 to 24-year-olds, according to the Kerrang article. 
"It's become a hub for nostalgia, fans of pop-punk are reliving their youth and prime years on that app," Summan said.
 Summan, who was interviewed for the Kerrang article, said due to the isolation caused by the COVID-19 pandemic, people are indulging in familiar and comforting music. 
Holiday also believes nostalgia is a huge aspect in pop-punk coming back, she said. 
"…Something about that pop-punk sound that makes you feel alive… the lyrics are somewhat melancholy or about heartbreak or falling in love…and so I think that these younger kids…they latched on…," she said.
It's not only legacy bands that are gaining mainstream popularity on TikTok though but newer bands too. The track, "I Miss Having Sex But At Least I Don't Wanna Die Anymore," by the band Waterparks, whose debut album came out in 2016, went viral in 2020, according to the Kerrang article. 
The song, which was never released as a single, was used almost 35,000 times on TikTok and has become the most-streamed track off of "FANDOM," the group's 2019 album. 
"It's so music-focused…TikTok is the first thing since [MySpace] where it's actually giving a platform to music creators," Waterparks frontman Awsten Knight said on a Dec. 14 2020 episode of the Hard Times Podcast.
 TikTok isn't something to be written off. It's helping many young artists grow their following and interact with fans. It's how so many of the new generation of pop-punk fans will find artists to get into. 
The second reason pop-punk is reviving is due to the growing diversity of gender and race in the scene. Pop-punk is not only for white people anymore. 
"Up until recently, pop-punk was a very white, male, suburban kind of genre…And compare that to this new generation which is a lot more diverse racially and culturally," according to Mckenty's Feb. 23 video "Pop-punk is back!"
When looking at the scene before 2020, many bands were cis-gender, white men. Now when looking at the "Pop Punk's Not Dead" Spotify playlist, you can see how diverse pop-punk is becoming. The playlist includes artists of color like POORSTACY, Minority 905 and Meet Me @ The Altar. It also includes female artists like Against The Current and Stand Atlantic. Meet Me @ The Altar is also an all-women band. 
"It's not just white dudes calling women every derogatory slur in the book," Summan said.
According to Mckenty's Feb. 23 video, pop-punk needs to have this diversity for this new generation of fans to vibe with it. 
"If it was still just white kids from the suburbs singing about their dicks and calling each other gay, that was fine in 1999, I guess, but that's just not where things are at in 2021," the video stated. 
Like Mckenty points out, how society is and what the masses want has changed. Society is diversifying. It makes sense that kids want to see artists who reflect this. 
Not only do we see increased diversity of race and gender, but in genre. Many new pop-punk artists mix influences of pop and rap into their music. Machine Gun Kelly, was a rapper who got dissed by Eminem, according to a Jan 17 2020 Cosmopolitan article. Now he makes pop-punk music.
Many older pop-punk musicians are starting to experiment too. All Time Low's new song "Monsters," included a rap verse from blackbear and its remix featured Demi Lovato, a famous pop star.
This song became the biggest radio hit of their career as their first number one on any airplay chart, topping the Alternative Airplay listing, stayed there for 18 weeks straight, according to a Feb. 12 Billboard article. 
Many rappers are now credited for helping to reinvent emo and pop-punk. 
"Rappers like Lil Uzi Vert, Juice WRLD, Princess Nokia and the late XXXTentacion and Lil Peep have cited emo and pop-punk bands right next to legendary rappers as their biggest influences," a Sept. 28 2018 Genius article stated. 
In response to genre-hopping, Holiday says, "…genre is really not that important to people…they might be super into trap music…they're also inspired by these bands like, My Chemical Romance…and Blink-182…"
She goes on to say, "…it's like something that someone else 10 years ago, 20 years ago would be like, that can't be done…"
Mckenty says in his 2019 video rap is the new pop-punk and emo as the new and most talented people who would have started pop-punk bands are now doing SoundCloud rap instead. 
"Lil Peep is this generation's My Chemical Romance. Lil Uzi Vert is this generation's Fall Out Boy and the next wave of rap is essentially guys who look like they're in 2000s pop-punk or emo bands playing songs that sound like 2000s pop-punk or emo, just with 808s instead of drums," he said. 
Finally, Travis Barker, the drummer from Blink-182, is helping these new artists create music and make a name for themselves —and happens to be one of the biggest names in pop-punk. 
Barker is at the center of this, as he's collaborating with everyone, according to Mckenty's Feb. 23 article. Barker is a celebrity and a musical legend, "with as much credibility as anybody in pop-punk could possibly have," and because of this anything he draws attention to will get attention, Mckenty stated. 
Barker is using his fame to bring attention to a whole new generation of artists. 
The drummer has worked with Maggie Lindemann, KennyHoopla, and Trippie Redd, who are some of the artists bringing pop-punk back. 
"…he's gonna take these younger artists under his wing, and mentor them….he has the ability to, like, not only help these younger kids…to be an incredible producer and challenge them…but also to be able to be someone that they can go to with their life problems….it's just amazing," Holiday said. 
 Barker has never been scared to dip into other genres, according to a Jan. 26 MEL article.
"Since the late '90s, when the former Aquabats ska drummer helped usher pop-punk into Top 40, Barker has waded through genres like EDM and emo rap. Barker has a talent for taking underground music scenes and turning them into profitable mainstream commodities," the article stated. 
Barker, instead of putting the new changes that these newer artists are bringing to the table down, is embracing it with open arms and helping them, helping the genre improve as he helps these new artists. 
While it is still early in this pop-punk revival to ensure that the genre will stay in the mainstream audience, it's safe to say that pop-punk is not a dying scene. For now, pop-punk doesn't need to be defended any longer, as it is going stronger than ever. 
So, go out, put on your blackest eyeliner and your beanie from Hottopic, and dive headfirst — or Neck Deep — into the new pop-punk scene.