For your own safety: Protective Custody
October 20, 2015
First-year Aidan Ryan wound up in the "drunk tank," Sept. 18, a little after midnight.Ryan said he and his friends were on their way back from a small get-together downtown. At some point, they started wrestling.
"It was nothing remotely toward serious," he said.
At 1:30 a.m. UVM police responded to a call about the fight. The officers found the students on the corner of Main and South Prospect streets, according to a UVM police report.  
After the skirmish was broken up, UVM police officer Elizabeth Felicciardi approached Ryan to speak with him. He had difficulty balancing throughout the entire interaction, slurred his speech and admitted to being drunk, according to the report.
If a police officer sees a student that may be incapacitated, the officer tries to determine if the person is a danger to themselves or others and if the student can take care of themselves.
This is done by evaluating physical signs of intoxication, Lt. Larry Magnant of UVM police services said. Examples of this include walking in the middle of the street, slurred speech and bloodshot, watery eyes, he said.
"To go to [ACT 1], there's a level of intoxication that is pretty high in the sense that the person is posing some type danger to him or herself or others," Magnant said.
Part of this sobriety test involves the use of a Breathalyzer, a tool which helps the officer measure the student's BAC, which shows how much alcohol a person has in their body. In Vermont, it is illegal to drive with a BAC over .08 when over 21, and most authorities agree that BACs in the 0.4 to 0.5 percent range are fatal. When under 21, it is illegal to drive in Vermont with a BAC of .02 or above. 
Ryan was placed in handcuffs, walked over to Felicciardi's car, patted down for weapons and placed in the back seat, according to the report.
When the police take in a person who is drunk enough that they are a danger to themselves, officers place them under protective custody, a process where the student is detained and placed in handcuffs but not necessarily arrested, according to UVM's drug and alcohol policy.
"Custody is generally associated with a criminal, but protective custody is exactly what it says," said Tim Bilodeau, deputy chief of UVM police services. "It's not for a criminal, it's for protecting that person."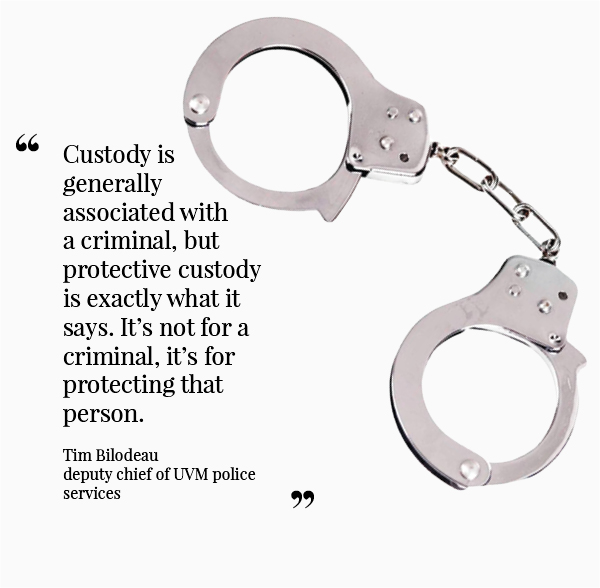 Before he was placed into the back of the police car, Felicciardi told Ryan he was being taken to ACT, and that he would not be able to leave until he registered under a .02. He told her he couldn't do so before his 8:30 a.m. class, according to the report.
Ryan said that's all he remembers before waking up in ACT 1.