Slurred Words and Spatzle: Oktoberfest Vermont 2017
On a quest for locals to bear the last days of Burlington's Indian summer, the solution was clear: bubbling brews, festive hats and games easy enough for those under the influence to win prizes.
Oktoberfest Vermont held its third annual festival this past weekend from Sept. 21 to 23. Forty local, regional and world-renowned brewers and seven food vendors gathered at Waterfront Park to bring Burlingtonians a taste of German festivities.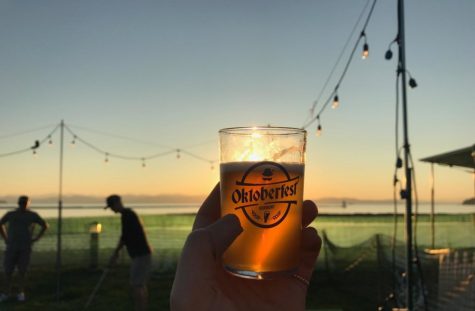 Friday night of the festival began with a pink and orange-hued sunset over Lake Champlain, washed by the sound of the traditionally-costumed German band The Inseldudlers. The band kept the night lively playing all sorts of music from traditional German tunes to "Sweet Caroline" until the taps closed at 10 p.m.
Each attendee received a small glass for vendors to fill as well as 15 green tickets, each equivalent to one beer from a vendor of their choice. A plethora of options surrounded the borders of the festival, from Magic Hat Brewing Co. to Sierra Nevada – even hard cider options such as Citizen Cider for those facing a gluten intolerance or who just prefer a little sweetness in their beverage.
Upon arrival, 15 tickets didn't appear to be enough; though after reaching our fifth high-percentage beverages, we deemed that the amount of tickets was plenty to sustain a socially-acceptable buzz.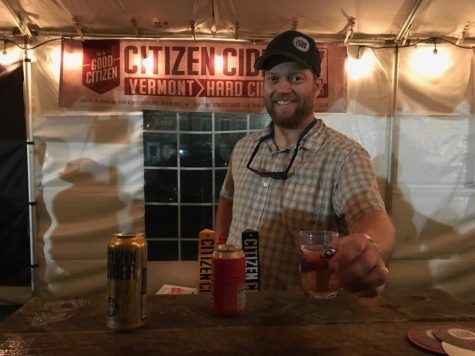 There was not one type of attendee, either. The crowd ranged from older, local beer buffs to German-outfitted festival lovers, to college students looking to enjoy some cold brews in lieu of room temperature backpack beers.
"It's my first time here," senior Garrett Chisolm said. "I've tried some great local brews and food, and I'm really loving looking out onto Lake Champlain."
Oktoberfest's food choices were able to cater to a range of palettes, from local fan-favorites like Kountry Kart Deli to traditional cuisine from the Vermont Spatzle company.
The night wasn't only for drinking and eating; the festival vendors also brought their games to the table. A local sticker company, Sticky Brand, had a plinko board set up in which players could drop a wooden chip to a numbered slot determining how many stickers they could take home. Samuel Adams brought an inflatable slide, fitted with hops flowers awaiting the participant at the bottom.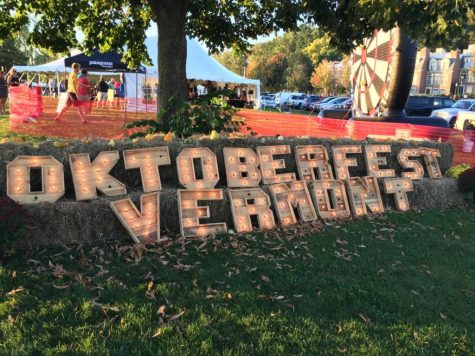 A group of friends and I attempted the Escape Room challenge set up in the middle of the grounds. The theme was to escape from the drunk tank, so we were all handcuffed to a wall in the prison cell-themed room. We were given the last slot, thus, by far the drunkest of those who had attempted the game. Contrary to the title of the game, we did not escape the room.
"About 75 percent of the teams have been able to escape the room," said Mike Garber, an employee of Escape Room.
Apparently, we were the unlucky 25 percent.
By the end of the evening, the crowd began to dissipate, and seemingly disappeared once the clock struck 10 p.m. and the taps closed. Overall, participants appeared to be extraordinarily happy with their choices in brews and abundance of food and games.