A Conversation with Rick from Pile
2017 has been big year for Pile.
Since the March release of their latest studio LP "A Hairshirt of Purpose," the Boston band has been busy delivering their unique brand of frenetic and asymmetrical post-hardcore to audiences across Europe and North America.
Extensive touring hasn't been the only thing on Pile's plate this year. The band was recently presented Boston Magazine's Best in Boston award for Artist of the Year. As the magazine's blurb boasts, "Maguire's drawl and octave yawps soar over a cacophony of compulsively listenable tunes" – a glowing review for a band whose accomplishments have sometimes seemed muted by their dependence on word-of-mouth promotion and seemingly deliberate cult status.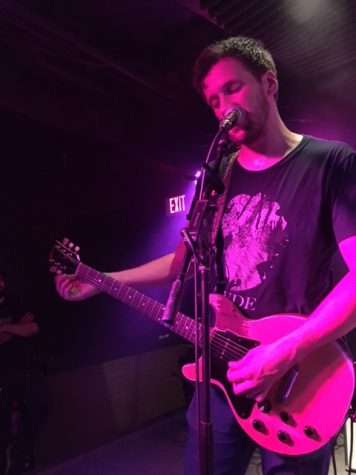 "A Hairshirt of Purpose" is Pile's fifth full-length record and third official release with their current label, Exploding in Sound. Pile, however, was originally conceived as the solo project of guitarist, lead vocalist and primary songwriter Rick Maguire.
An Acton, Massachusetts native, Maguire spent time living and working around Boston after graduating from the University of Massachusetts Lowell with a degree in music performance. Though he admits feeling somewhat discouraged by professors from playing in bands, Maguire said he considers his time at UMass formative and ultimately beneficial. Although, he is quick to admit, "I really learned more about myself there than any of the things they were trying to teach me."
Maguire went on to devote his post-collegiate years to playing in bands around Boston and, particularly towards the end of the 2000s, to his own solo material, self-releasing a handful of albums under the name Pile, including 2006s "Demonstration" and 2009s "Jerk Routine." Around late 2009, while working at a local grocery store, Maguire was introduced to a then previously unknown fellow coworker: future drummer Kris Kuss.
With the addition of bassist Matt Connery and guitarist Matt Becker later that year, Pile officially become a collective project and followed quickly with the release of their self-produced 2010 LP, "Magic Isn't Real."
Maguire has since quit his job at the grocery store following the release of 2015's You're Better Than This. Using his newfound freedom as an opportunity to devote himself fully to the band and its endeavors, Maguire moved out of his apartment and converted the band's practice space into his new bedroom, a professional decision  which informs the significant creative progress Pile has made in the years since.
Nowadays, as the band's chief songwriter and lyricist, Maguire generally supplies the rest of the group with the raw material that eventually becomes what we hear on record. Maguire admits, with an air of frankness and humility, "if I did a good job, there's not a whole lot to alter," but "if I haven't, we need to do some work."
Maguire says that these periods of collective writer's block don't generate a feeling of "I don't have any good ideas," but more so of "I don't like any of my ideas."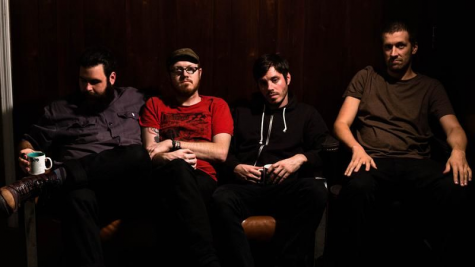 Translated to the group setting, this can prove stifling. "When you labor over a song so much in practice," Maguire explains, "it's pretty tough to garner the same enthusiasm the next time around," Although, he candidly admits, "it usually helps if there are few a beers involved."
But when cracking open a cold one with the boys isn't enough to get Pile's collective creative juices flowing, the band has a set of routines that Maguire says help tremendously with maintaining a healthy creative output.
Maguire says that his own process generally involves working in the morning with a cup of coffee, a book and a guitar, while strategically avoiding the internet. As a rule, he tries to "either be writing or reading," in order to remain open to creativity.
The majority of this time constitutes what Maguire considers to be "direct" work – that is, the actual substantive processes of practicing, writing and recording his music – though he is careful to note the importance of more "indirect" processes like going to the gym regularly, getting enough sleep, and, in particular: reading.
When pressed about what exactly he's reading, Maguire lights up. His list of texts is diverse, with topics ranging from neuroscience to musicology to chess strategy. At the forefront of this list currently sits Timothy Snyder's "On Tyranny: 20 Lessons from the 20th Century," a brief but dense book on the dangers of latent authoritarianism that Maguire claims he felt was "a good choice given our current landscape," while also being just short enough to read in the van.
When asked about his recent listening history, however, Maguire takes a momentary pause to collect himself. "I listen to a lot of mellow stuff," he says, breaking the silence, "a lot of piano-based music and electronic music like Aphex Twin and Mount Eerie – basically music with sonic textures that are sort of uncommon for rock music."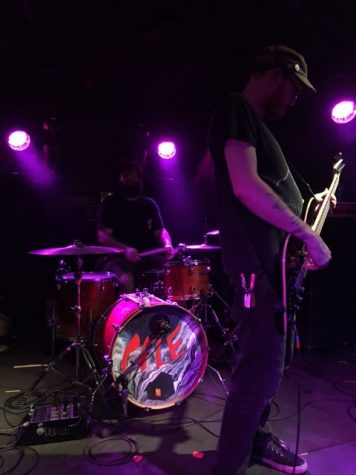 Given the ambiguity of what constitutes "rock music", Maguire offers his own working definition. "In general," he says, "rock music is some sort of vocalist talking about their feelings against some kind of melody – either singing or yelling or screaming – underlain by some sort of a pulse," he stops short before adding, " and there's usually a guitar involved at least somewhere."
According to those criteria, Pile might just be the quintessential "rock band."
As for the musical interests of the rest of the group, Maguire admits, "Our tastes are growing somewhat more disparate" – be it Matt Connery's unique preference for crust punk or Maguire's own love for mellower, less conventionally rock music – "but I think that ultimately it's a good thing in that it allows us to all be able to bring something new and exciting to the table when we sit down to write."
The sheer range of interests among the members of the band is immediately evident from their live shows, and Pile's recent performance last at Burlington's Club Metronome Thursday, October 7 stands as no exception.  As wildly unpredictable as they are emotionally sincere, Pile have always been a group that shines more on stage than on wax.
Songs simmer, swell, lurch, and collapse as Maguire oscillates rather frantically between moments of subtle tenderness and explosive tenacity. With technical prowess that borders on the obscene, Kuss commands authority from behind the kit and provides a crucial backbone to the band's often dizzying and cacophonous arrangements, themselves performed diligently by Becker and Connery.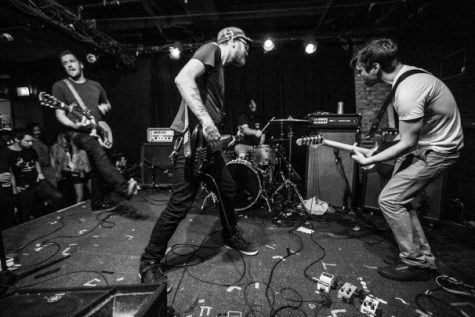 Given the power, professionalism, and intensity of emotion that each member brings to every performance Pile gives, it is understandably difficult to imagine them doing anything else. To the hypothetical and existentially challenging question of what other career paths the band might consider in Pile's absence, Maguire chuckles, "Well I kinda put my eggs in one basket."
In his own regard, Maguire is well known for having done just that. Since quitting his full time job in 2012, he has been notorious for taking little time off from the group, writing and recording regularly and maintaining a near constant touring regimen, whether with Pile or under his solo monicker, Rick From Pile.
But when not on tour, he says that he and the rest of the band stay pretty busy, each member choosing to work part time,punk Connery working at a local guitar shop, Kris, part time at a movie theater. Even Maguire finds time to work a few hours a week at a used book store.
"But ideally," Maguire says," if the whole Pile thing didn't work out, I'd hopefully be doing something to make the world a better place."
With that, Maguire grows slightly sentimental and the tone of our conversation begins to hush. Posed with the question of what advice he might offer the average struggling DIY musician, he muses, "Always be willing to do it yourself until there's something that comes along that seems like a better deal."
"But ultimately," he finishes, considering his words for a moment, "don't expect anybody to do anything for you."
Be sure to pick up, stream, or sample "A Hairshirt of Purpose" and, especially if you missed their set last week, make sure you don't miss Pile on their extended east coast tour this fall. You won't regret it.