A Night Out with Rose Street Collective
Snapping their fingers under lights of purple, blue, and yellow hues, Julia Spelman, Lilly Dukich and Erika Polner spend the majority of a Friday night set perfecting harmonies as a powerful vocal trio, while reserving a few songs for solo performances highlighting individual strengths.
 Rose Street Collective, a new band consisting of five UVM students, surrounds the three singers while playing songs the group has meticulously mastered.
Filling two venues in one weekend, the Skinny Pancake and Radio Bean, the Collective shares their own perspective on jazz by playing both original and familiar tunes.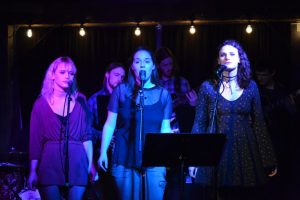 Since November, the band has played about 10 shows and is quickly becoming a  staple of the Burlington music scene.
The magic of Rose Street Collective lies in their ability to pay tribute to the history of jazz by taking the audience through a dynamic tour of the genre, from Wes Montgomery's "West Coast Blues" to a nostalgic yet energetic rendition of Sound of Music's "My Favorite Things" and, finally,  covers of today's hit indie songs.
The band consists of Adam Sullivan on keys, Ian Mack on guitar, Kevin Nikolaides on bass, Ethan Shafron on drums, and Rayne Bick playing the alto sax.
Members share a respect for jazz's rich history, a reverence that resurged years after taking lessons as kids.
"It has always been a part of our lives, even when we didn't realize it," Spelman said.
Most of the members met through the UVM jazz ensemble, while Mack and Bick connected with the group later on through mutual friends.
The ensemble helped them further develop their skills and the group quickly became eager to branch out from campus once they recognized their common love of many different genres of music, from soul to funk to rock.
The group's ultimate goal was to mimic their favorite musicians, incorporating classical jazz standards into the modern music they listen to.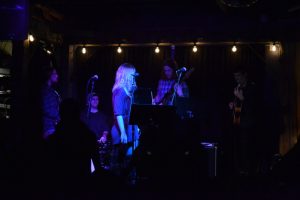 Their interpretation of funk group Vulfpeck's hit song "Back Pocket" illustrates this perfectly as they replace keys with an alto sax and turn the volume up, taking the song to a new level.  
While it may seem that there is a meticulous strategy to their setlist, it mostly just pays tribute to the songs they all love, which they compile into a Spotify collaborative playlist or suggest via Facebook messenger, Shafron said.
Nikolaides uses Google Sheets faithfully in order to avoid chaos, keeping ideas and song choices organized. 
At the show, t
he band members seemed completely in their element on stage, exchanging glances and smiles in the midst of their solos.
They're quickly making their way from one Burlington venue to the next each weekend, which helps to immerse them into the "hopping" music community, Spelman said.
To keep up with their movements, the band suggests liking them on Facebook and possibly following their Instagram in the near future, Shafron said. They have a show this coming Thursday, February 16th at Radio Bean, 11:00 pm.