Assault in 'safe spaces:' Women in the DIY music scene speak out
The first DIY show I went to was a hardcore show in Cambridge, Massachusetts. It was hosted in a Veterans of Foreign Wars center.
There were kids that looked like they could beat the shit out of me, but who were all probably just as awkward as me. The masking tape on the floor was the only thing separating the bands from the audience, but the crowd wasn't letting that hold them back.
I tried to wade in the middle of it all, but ended up getting pushed towards the front, where the bass amps would make my ears ring and my head throb.
It was amazing. I'd never been in an environment like that before. Coming from a small, sports focused town in the suburbs of Massachusetts, it was a whole new world.
DIY is exactly what you probably know it to be, a Do It Yourself mentality. Modern DIY culture manifests itself in people putting on shows in their basements, supporting local artists, and a strong community of people who appreciate loud music.
Those who have been a part of DIY scenes in other areas will often say the Burlington scene is underdeveloped. After a period of venue shutdowns that left an absence of places to play and an overabundance of bands, there's been a revival in the scene.
New people are introduced to DIY every day, and new organizations are popping up to uplift the community, such as Friends + Family and Tuned In. People who are involved with these groups want to rebuild  the scene, and with that comes a sense of duty to do it "right." But, as this is a community based off of "Doing It Yourself," there's no exact right way to do it.
Creating these new spaces necessitates dialogue in our community, one that addresses difficult issues like sexual assault that may jeopardize the integrity of a space that is intended to be fun and inclusive.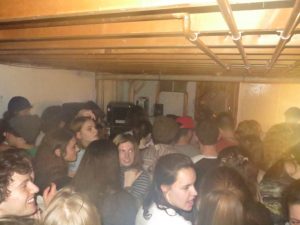 It's a familiar story: a person goes to a show, or a party or anywhere, and someone makes them feel uncomfortable or unsafe.
Sophomore Kenzie Hines is a member of the DIY scene; she attends shows regularly and is familiar with some of the bands.
The UVM Cross Country house is "a place notorious for sketchy dudes," according to Hines.
"It was more mellow that night, and people weren't really moshing that hard," she said. "I had plenty of space but this guy really scooted to me."
"He came up from behind me and was like, 'Hey, I'm Henry,' and then he put one hand in my back pocket and one hand on my left breast."
She said he leaned into her and ground his pelvis into her, without her consent.
"At that moment I was tired; I was trying to dance," Hines said. "It's like, if you want to dance with me, ask — I might say yeah," she said. "I just hate being on that defense when I'm trying to have fun. It's almost like I've been trained to be constantly aware."
Senior Aaron Lucci declined to comment on behalf of the Cross Country house.
Mariel DiMidio, a junior who co-runs the popular DIY collective Friends + Family, agrees that it feels like everyone has to go through this "training."
"When you are raised as a man, these codes of masculinity just completely ignore body language," she said. "I feel like because men are not educated in emotional intelligence as women are, they're missing this important training."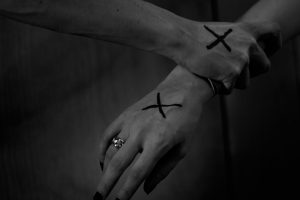 Friends + Family is volunteer-run and intended to be a "space for the artists that are noisy, loud, avant-garde, goofy and generally out of the norm," according to their Facebook page.
DiMidio also talked about Tuned In, a newer music organization in the Burlington scene that's started up about a year ago, that is a "member-owned cooperative dedicated to prioritizing women and non-binary musicians," according to their Facebook page.
Senior Marley Zollman is a member of Tuned In. She's said that she enjoys the emphasis the group puts on intersectional feminism, as well as their confrontation of sexism in the general music industry.  They run "Snuggled Up" shows where femme and non-binary musicians perform to femme and non-binary audiences and open mics in order to foster a supportive environment where people can build their confidence in a safe place.
For DiMidio, DIY is a "wholesome community where [she's] met a lot of really cool people."
These organizations, and the people who run them, love this community. They want to see it flourish and become a place where everyone can feel safe, have fun and feel like they belong. DIY encourages active involvement, and people are here to fulfill that role.
Senior Casey Little co-runs Red Handed Records, a new DIY venue that is active in the community and wants to help with this problem.
"People like myself who run these DIY venues can't help but feel agitated that people don't want to come out to our shows because there are people out there who wish [them] harm. We want nothing less than a friendly, hospitable place for people to get their jams on," Little said.
At a recent meeting of DIY Burlington, another collective, I met up with Little, Brian LaClair of Jim's Basement and Senior Haley Quinn of RatHaus to discuss the community and how it addresses sexual assault.
"Somehow we need to come together as a collective and recognize the people (the accused) when others know they will be around," Little said. "Someone who is an unbiased source, who can stand up to scrutiny and keep an eye on said individuals and report those incidents to someone."
DiMidio said the answer is not to immediately blacklist people who are either accused of or are guilty of sexual assault, but instead to offer some form of redemption or learning opportunity.
"If you're trying to make change then you can't just create a prison model," she said.
"There has to be a space for learning and coming to terms that's not just kicking people out, but I think there should be some form of restorative justice."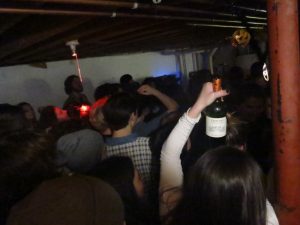 DIY is like everything your mother wanted and didn't want for you all at the same time. I've met some of the greatest people I've ever known through this community. I've also been punched in the face in the mosh pit and slammed against sweaty basement walls. It's a weird dichotomy of love and pain.
This issue isn't one that will ever be completely resolved. Discrimination will live on for a long time after our generation of basement-going has moved on. Just last week, I was called a "cunt" and a "bitch" because I was running doors for a show and couldn't let someone in because the venue was over capacity.
But if there's any take-away from this, it's that DIY is a community that attracts people from all walks of life.
And the people who truly care about cultivating and pushing the scene forward are willing to listen, discuss and take action in order to create a space in which people can feel loved, welcome and safe.