Beer and Baseball Hats in the Berkshires: Solid Sound 2017
July 4, 2017
On a muggy Friday evening in the rolling hills of the western Massachusetts Berkshires, a crowd of L.L. Bean-clad festival goers descended slowly on the sleepy town of North Adams. Though its main street is spare and some of its sidewalks are old and wearing, the town is home to one of New England's most beloved music festivals: Solid Sound.
Hosted by the much-praised Massachusetts Museum of Contemporary Art (MassMoCa, for short), the festival was birthed in 2010 as the brainchild of the ever-prolific Chicago-based rock band, Wilco. Over the past seven years, Solid Sound has attracted musicians, comedians and artists from across the country. Levon Helm, Hannibal Burress, Yo La Tengo, Jen Kirkman and Mac DeMarco have made up the festival's diverse lineups since its inception.
This year, the festival boasted an eclectic mix of artists from all ends of the musical spectrum, from jazz to funk to indie rock. As patriarchs of the festival, Wilco was the centerpiece, playing sets every day of the weekend.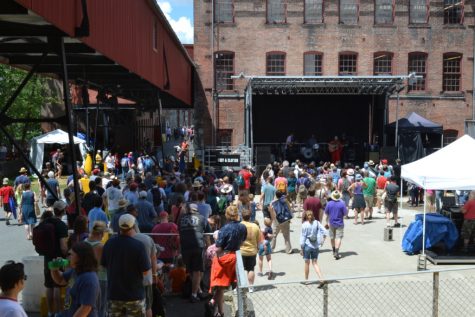 Drawn more to the spectacle of festival life than the music, we decided to head down for the weekend. The promise of camping, a good museum, quality people-watching and a chance to get out of town was enough for us to make the trip. So we packed up the car with an excess of snacks, sunscreen and bug spray to see what Solid Sound was all about.
The trip from Burlington to North Adams is reason enough to make it down to the festival, with Route 7's gentle curves snaking past small Vermont towns littered with antique shops and flea markets set against the spine of the Green Mountains. The road winds down through verdant river valleys freckled with wildflowers among the tall grass wetlands this time of year, and deep woods hiding trails to mountain peaks alongside dilapidated barns filled with rusting relics of other eras.
When we crossed the state border, taller mountains fell away, yielding rolling hills and eventually the polished landscape of Williams College grounds before we reached North Adams. There, country roads turned into narrow streets lined with clapboard duplexes, crooked power lines and dive bars. In the midst of the small town skyline made of church steeples and steel bridges was the crisp helvetica MassMoca sign, assuring us we were in the right place.
Since the festival takes place in the middle of New England's most balmy months, camping is a highly popular choice for those who spring for weekend passes and make the trek to North Adams from all over the Northeast. As we pulled in to camp, we began to get a sense of the festival's flavor as families loaded out of RVs, and groups of middle-aged friends and fathers cracked open Coors Lites to kick off the weekend.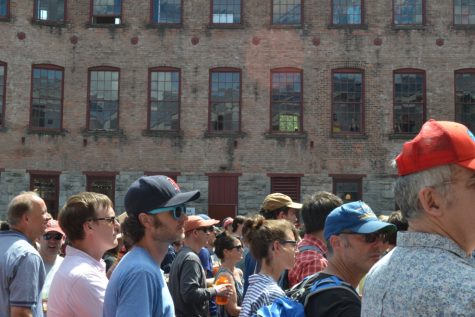 Inside the festival grounds, the scene looked much the same: a sea of Teva sandals, cargo pants and the occasional fedora. Graphic tees featuring corny dad humor abounded, with messages ranging from "Baltimore: there's more than murder here!" to "I am listening to Ryan Adams because I am very emotional right now." The amply sized MassMoCa compound had been transformed into a wonderland of craft beer carts, hipster taco trucks and designer hot dogs all under countless strings of Christmas lights. Stages were set against the white-washed brick facade of the museum, and the first notes of whispy folk music echoed through courtyards as the evening began.
Known for its whimsical and laid-back character, Solid Sound attracts a different set of characters than the rowdy, drunken bunch of flower-crowned hippies you might expect from a summer music festival. Here, gone is the scent of pot wafting through humid air and foreign is the sight of neon face paint around the glazed-over eyes of 16-year-olds. Here, you're more likely to walk past a mom sipping a mimosa in a flowy top or a toddler dressed in a "Raised on Wilco" shirt his dad bought for him in preparation for the weekend.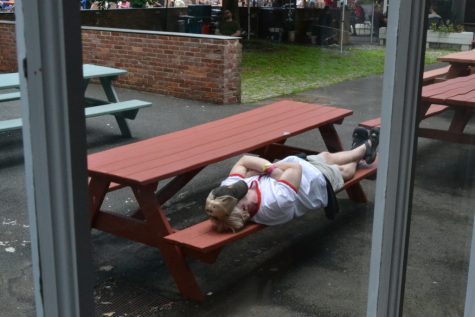 Friday night was a warmup, and after a night of heavy rain soaking our tent, Saturday sun beat down on the festival in full force. When we returned to MassMoCa, the crowds were warmed up and ready for another day of good, clean fun at the festival. One of the day's first offerings was a jam packed comedy show, first showcasing the sassy sensibilities of Michelle Buteau of Big Morning Buzz, Key & Peele, and The Eric Andre Show fame. She poked fun at her upper-middle class white audience in between cracking self-deprecating and painfully relatable jokes about relationships, farting and being a woman.
Following Buteau was the impossibly charming Nick Offerman, who immediately launched into his trademark campfire song comedy with tunes about his wife, Megan Mullally (whose power comedy-music duo Nancy and Beth were also on the festival lineup), Siri, and Ron Swanson. Each song was the perfect balance between satirically self-aware and riotously raunchy all with the perfect finale of "Bye Bye 'lil Sebastian" from Parks and Recreation. "If you know this song, you are welcome to sing along—if you don't, you are in for a real treat," he giggled. The audience let out sighs of nostalgia and some put their lighters in the air for Pawnee, Indiana's favorite mini-horse and one last resounding applause at the song's end.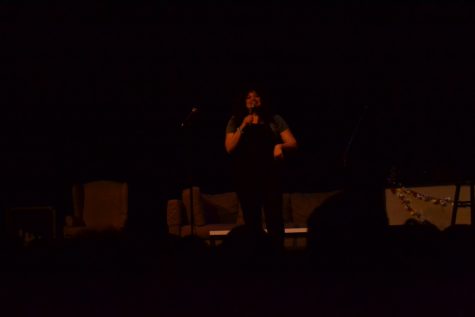 Back outside, the music was in full swing. We caught a stunning set from the Brooklyn-based indie rock group Big Thief, followed by a raucous power pop performance by Jessica Dobson's current Seattle-based project, Deep Sea Diver. Both sets filled the courtyards with delicious sound under peak afternoon sun.The crowd swayed and sweated between beer refills until the music was over. Festival-goers started to feel more like family as we saw familiar faces again and again and got into the rhythm of hopping from show to show, breaking for barbecue in between.
Amidst the afternoon's excitement, we went inside for a breather and a quick chat with one of the day's favorites, Big Thief. In a cavernous room with floor-to-ceiling windows opening to the courtyard where moms were intently gyrating to Peter Wolfe's set, we asked the band about their Solid Sound experience.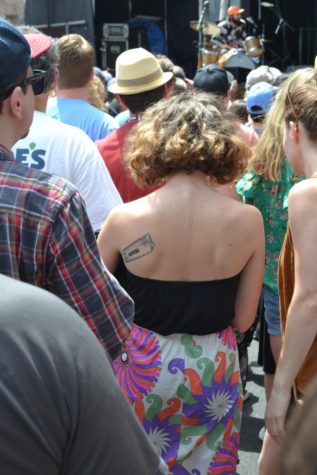 "It feels really good; it's really cozy," the band's guitarist Buck Meek said. Big Thief is new to the festival scene, but Solid Sound is the first of many they'll be playing throughout the summer from Winnipeg to Newport.
"We've never played a big festival; we've never heard that 'waaaaaaa!'," bassist Max Oleartchik laughed. Despite the setting's newness, during their set the band seemed to be totally in tune with the audience, atmosphere and each other as they delivered raw and ambient riffs with powerfully emotional lyrics that echoed with potency into the air. "You have to find a different resonance in the middle of the day in the sunshine, singing about emotional stuff; it's an interesting thing to do in the day," guitarist and lead singer Adrianne Lenker said.
The band cogitated on performance as an art form and the different modes of being it takes based on the kind of audience they're playing to. "One night we played at this big rock club and the next we played at a church, and it was so different; you can't just plug a set in anywhere and expect it to stick," drummer James Krivchenia said. To them, everything comes down to presence. "We're in what we're singing for the whole show if it's hard or if it's joyful, it doesn't matter as much — it feels right when it's present," Lenker said.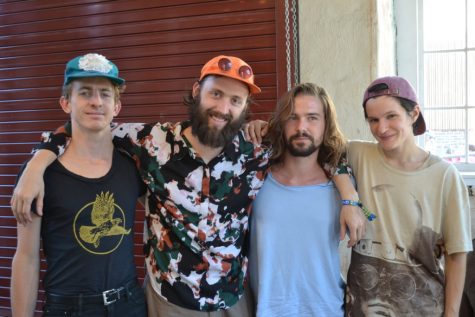 "If you have all these ideas of what you want it to be then it's useless; it's all about being like water," Oleartchik said. "We have to do this with other people we don't know which is very strange; the larger the audience is, it's more abstract," he said. "Today was a big crowd, but we could feel them and we're starting to do better on that level." What Big Thief was looking for – that presence – the Solid Sound audience delivered again and again throughout the weekend.
The final taste of that tight-knit community between artist and audience filled the air as the sun set behind the hills and Wilco took the stage for a rambling two-hour set. The band played old favorites as lifelong fans sang along and slow danced into the night. In between songs, Jeff Tweedy appealed to the sentimental crowd with his philosophy of art's importance in hard times. "The most important thing is that we get to make art and show it to each other," Tweedy said as everyone cheered in accord.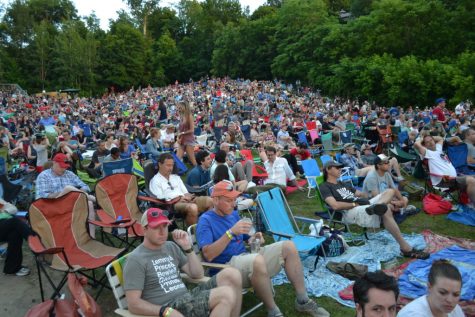 Tweedy and the band played long after the end of their time slot, and slowly Wilco fans trickled over to one last cool-down show, Jeff Parker Trio, to end the evening. The sky had darkened and a smattering of stars poked out from under rain clouds as couples swayed shoulder to shoulder and a pair of free spirits danced with hula hoops to the sound of double bass.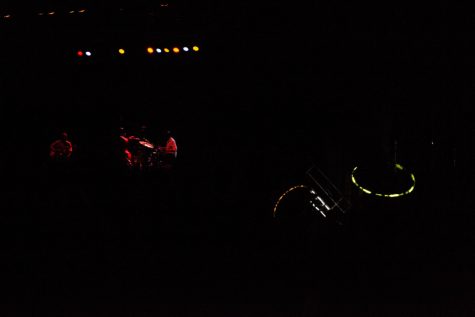 All too soon the night was over, and dimly lit school busses carried weary but smiling festival goers back to their tents as if they were kids coming back to their cabins after a long day at camp. The soft sound of an acoustic guitar playing Wilco covers faded into the night along with the giggles and sighs of parents shepherding their already asleep children into their Airstreams. I dozed off slowly to the sound of my campground neighbors cracking open one last cold one as if they were old friends.