Girl Got a (Tattoo) Gun
Vermont Custom Tattoo and Piercing is tucked a flight of stairs above Cosmic Grind Coffee at 104 Church Street Marketplace, Suite 2A.
You might just miss it if it weren't for a plastic sign on the brick walk outside. The shop makes the most of a small space, with orange and teal-painted walls adorned with a murals of a sailor girl and a dragon — and sheets upon sheets of tattoo designs.
When Aja Briana introduces herself, the first thing that is apparent is her radiant personality. There's an immediate warmth about her as she introduces herself, one that would make any nervous client looking for a tattoo feel instantly at ease. The only outward marker of her career in the tattoo industry is a dainty hand inked onto her forearm just visible under her sweater.
The 22-year-old tattoo artist is a new member of the team— she started her apprenticeship in October of 2016 and has now joined their team as a full-time artist. Equipped with two rotary machines that she bought from fellow Vermont Custom tattoo artist Joe Demers during her apprenticeship, she has made a career out of putting art on skin.
Vermont Custom's website displays a gallery of her beautiful art on a dozens of bodies; from hummingbirds to mountain ranges to stunning floral arrangements to dog portraits. Her favorite tattoos to create are the product of personal consultations with clients, creating something uniquely for their body. One of the pieces she enjoyed working on the most was a John Milton poem that a client brought in and allowed her to draw out.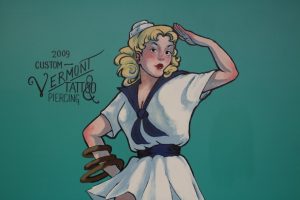 Briana was drawing before she began to write, and in her childhood was invested in writing, art and music. The sight of inked skin sparked her interest in the path she eventually chose: "When I was 7, I saw someone with a tattoo and thought about being the person to put art on someone else's body."
Briana, who hails from Las Vegas, ended up in Vermont a few years ago to be closer to her younger sister. She was unable to attend college for financial reasons and, following a PTSD diagnosis, "basically came to Vermont for [her] mental health."
"The tattoo industry is a white male industry. As a Latina female, I feel lucky to work with people my age." She says she believes the current generation will destigmatize tattoos, embracing them as art.
As a Panamanian-American queer woman, she's an outlier in her field, especially in Vermont. According to the July 2016 census, Vermont's population was 93.1 percent persons of white ethnicity with no hispanic origin. With fair skin and a male partner currently, she is able to appear straight and white for the most part. "If I wasn't, I wouldn't necessarily have the same relationships with coworkers", she says.
"I'm certainly very white-passing," she said, "I'm freckled with typically light skin. But I think I take extra strides to assert that."
"I'm outspoken about my sexuality because there's so much discrimination against LGBT people. As a queer person and a Latina person, I will always be outspoken. I will always say that Black Lives Matter."
She says that she is "In the very special position of having white privilege while still being a minority. I want to use it in a strong, powerful way."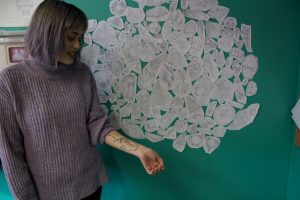 " If you have white privilege, fucking use it. It's a tool that can be used to point a finger to the voice that isn't being listened to; a neon arrow to the people that aren't being heard, but need to."
Her passion for social justice is a driving force behind her work. "I'm still finding my grounds and bearings, but I want to be part of an inclusive community. I hope that in 100 years, this industry is dominated by people who are passionate about the fact that people come with the vulnerability of wanting permanent art on their skin."
Right now, her womanhood is the thing that "sticks out" the most, Briana said. "When someone calls asking if there's a female artist, I carry in mind that this is an experience that they chose to share with me."
She's thrilled to be a queer woman who is able to relate with those who might otherwise feel intimidated by tattoo artists. She comments on the fact that women inking intimate areas of their body might feel more comfortable with a woman doing the work, while queer people may feel more comfortable with an artist who is part of their community.
She says "I want people to be able to share with their artist. It's so important to feel accepted in such a vulnerable situation."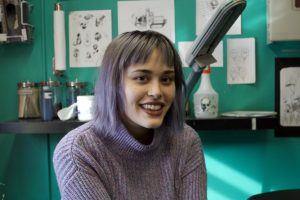 Beyond her artistic prowess, Briana is great at what she does because she gives so much care to each and every client she takes in. "I see a lot of beautiful humans and have the utmost honor that they choose to share this transformative experience with me," she says.
The meticulousness she once considered a weakness has worked to her benefit as a tattoo artist. "I remind myself to take my time," she said.
"I was always the last one to finish tests, the last one to finish in art class." The fact that she is patient with details makes her tattoos beautiful and intricate, every stroke made with full intention.
This career has also forced her to roll with the punches and make the best out of things that don't turn out perfectly. "I have learned so much through this form of art. I used to struggle with finishing projects. If a line doesn't turn out, I can't crumple up a person and throw them away. I'm more accepting of my own mistakes. It's a funny job for one with anxiety, but everything happens for a reason. Hiccups are a component that help it become a work of art."
"One of my first tattoos, the girl laughed and it messed up the line I was working on." She was nervous telling the client what happened, but ultimately, the hiccups inked onto her body "stuck out as a joyful personality."
One of her recent clients was a "flamboyant" 18-year-old from Puerto Rico who came into the shop with a friend who was getting a piercing, and asked for a tattoo on a whim. He decided on his sister's birthdate in Roman numerals, only to return a few hours later upon the realization that he had gotten one digit incorrect.
His thought? "The universe wanted us to spend more time together!" They eventually figured out a way to cover the error with a heart. "He was beautiful and gracious, and smiled the whole time," she said,"  I honor that day and that boy."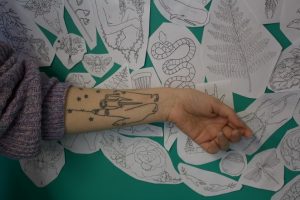 Tattoos are taxing and painful; and not everyone reacts well to the experience. "We get told we should be first responders," she says of herself and fellow artists at the shop. Some clients "throw up, faint, seize, but we still want them to leave here feeling as comfortable as possible. I like to think that people usually feel comfortable here."
A huge component of maintaining her job is self-care. "You can't come in hungover or on half a night's rest," Briana said. "I give myself time to sit and breathe, not bringing any negativity to the client."
As a tattoo artist and collector herself, she has plenty of advice for those looking to get inked. "RESEARCH YOUR ARTIST. Write that in all caps." she said. "Find someone whose work you like."
Getting a tattoo in itself can be a healing experience. It's taking ownership of one's own body. "Tattoos are for no one but yourself" she said. And after a client leaves the shop, it's up to them to take care of their body modifications and ensure that they heal safely.
"Tattoos heal like sunburns; they peel and flake, and usually heal in about 3 weeks," Briana said. "Healing is an afterglow of the process— it's up to you once you leave the shop. It's a great practice of self love to take care of this decision that you made."
During a difficult time, she tattooed a snake on her thigh and now she says it looks a bit scaly.
"I have regretted every single one of my tattoos at some point," she explains. "But trust the self that put ink on you. Even if it's bad, it's a bookmark of your past self."
She's given herself 3 tattoos in addition to the snake: the first was a pie which her sister had said looked delicious from Crockett Johnson's children's book Harold and the Purple Crayon. After the Las Vegas shooting this past October, she tattooed a cactus on her achilles as a tribute to her hometown and gave the same tattoo to a few friends as well. Just the other day, she gave herself a tiny white-ink eye on her finger for fun.
Her eyes light up as she describes her younger sister: a spunky, artistic 10-year-old. She said she took her to a water park, and it was the first time she had worn a bathing suit since she got a tattoo of a maple creemee — a staple of Vermont culture — on her butt. Seeing it, her sister said "Your life is complete," perhaps a nod to the fact that the new generation is celebrating tattoos.