Music Making for the Masses
It is genuinely hard to find someone who doesn't enjoy listening to music. It's quite a bit easier to find someone who doesn't play music.
While factors such as lack of interest or time might play a part in this gap, the disconnect between listening and playing music is surely due to the difference in difficulty between listening and playing music.
Playing a guitar is hard, and there are infinitely wrong ways to do it. Listening to music is easy as can be as there's no "wrong" way to hear an album. While the difficulty of learning to play an instrument, such as guitar, discourages a lot of people from trying to learn, others choose to embrace the challenge.
Holden Jaffe, a NYC-based singer-songwriter and frontman for the indie band Del Water Gap is one of these people.
He started his musical journey by learning how to play drums at age 12. His focus eventually shifted to guitar while spending his junior year of high school abroad in Zaragoza, Spain.
Upon moving to a big city for the first time, he knew he would have to part ways with his beloved space-robbing drums.
"I had brought my guitar, and I spent a lot of time that year sitting in my room, getting better at playing and writing songs." Jaffe said; "then I kinda caught that bug and continued through my senior year of high school."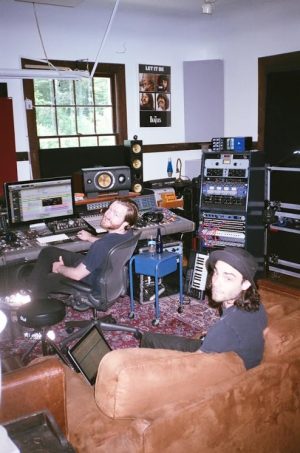 While playing the guitar had logistical beginnings, as Jaffe became more interested in writing, it made more sense for him to play a melodic instrument he said.
Up until the early '70s, the only music making method was Jaffe's instrument-based method. Anyone unwilling to put in the time and effort to buy and learn an instrument was relegated to simply listening to music rather than playing it.
That was until one album—Sly and the Family Stone's 1971 masterpiece There's a Riot Goin On—exposed the world to the then-primitive technology of drum machines. Interestingly enough, Sly's motive for using a drum machine for the first time was not some genius attempt to re-invent the music industry; it was simply a logistical reaction to his drummer quitting the group due to a souring relationship.
Digital music technology has come a long way since the first drum machine, the Chamberlin Rhythmate, was released in 1957. Drum machines, synths and MIDI controllers are now becoming commonplace in most college dorms and apartments.
Be honest — everybody knows someone who "makes sick beats." While over-confident, under-talented people such as these may contribute to the impression that increased accessibility of music-making is an awful thing, real musicians tend to disagree.
That change in accessibility is the biggest change to music—both the industry and the art form—in the history of recorded music, Jaffe said.
"I think it's great; I've gotten so many opportunities to create content and meet new people, and to have a career I wouldn't have otherwise," he said.
Jaffe also shrugged off the common misconception that making music digitally is "easy as pie."
"People treat these Digital Audio Workstations like instruments –they have to practice them and get to know them like instruments," he said. "There's no difference there."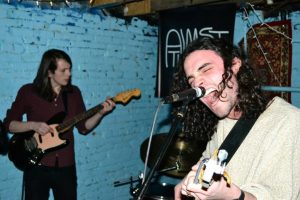 Jaffe has also noticed this increase in the accessibility of making music digitally. "A lot of friends are now moving in that direction," he said, "and a couple of my most consistent collaborators are now in that world."
Things are no different in Burlington, as every year there are more and more people digitally producing music.
One of those people is junior Mike Garrett (aka Mike G), who takes an old-school approach to production.
Mike G's main instrument is an MPC-2000 XL, a storied drum machine and sampler that's been the tool of choice for countless hip-hop legends over the years, like J Dilla, Nujabes, DJ Premier and many more.
"This machine is indirectly responsible for hip-hop, so I felt I had to get one at some point," he said, "and I'm using the same thing my favorite producers did, so I can sort of put myself in their shoes and think, 'this is what it's like when Pete Rock makes music.'"
Garrett also took the old-school route of buying an MPC made in 2000 due to his self-proclaimed affection for old machinery.
"I love old electronics; they have cool little quirks to them that new things don't," Garrett said, "and the quirks are your friends."
Even as someone who is passionate about producing the hard way on now-defunct technology, Garrett shares Jaffe's opinion that the increased accessibility and ease of making music is a great thing.
"If you make music, I don't think you can actually have a problem with more people making music, or that you can think of making music as an exclusive thing," he said.
Garrett also commented on how advancements in production technology are beneficial even to old souls such as himself.
"In my research of trying to make a full analog studio setup, I've found it's ridiculously expensive and requires a truly amazing amount of hardware," he said, "but now your computer can do the same things all that hardware would do, so now it's just so much less expensive to make music."
A love for hip-hop, though, doesn't attract everyone to the expensive and sometimes-frustrating world of dealing with decades-old analog electronics, and there are different paths to digitally producing music.
UVM junior N'Kosi Edwards has taken one of these alternative paths, choosing to produce with a modern MIDI controller – the AKAI MPK Mini 2 – and a Digital Audio Workstation, Logic Pro.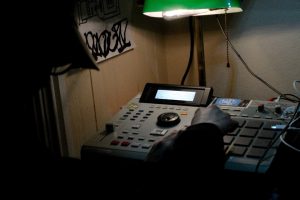 "[Producing] is something I've been wanting to do for a while," Edwards said, "and once I saw young producers like Young Chop getting big I thought, 'maybe I should start making beats, that looks kinda fun.'"
For Edwards, the desire to produce came hand-in-hand with his love of rapping. "I've always been infatuated with how people could twist words in hip-hop," he said, "which is why artists like BIG Krit were always an inspiration, because he made his own music and rapped over it."
The increased accessibility and popularity of making music has not gone unnoticed for Edwards. "I know a lot of people that rap and make music," he said, "like my friend Louis that got signed to a record label. I get a lot of inspiration from people like him, that are just doing their own thing."
Edwards also shares the opinion that the more accessible music is, the better.
"If it wasn't for that I probably wouldn't be making beats, so I have to give thanks that it's so much more accessible now," he said.
Edwards's use of only one MIDI controller is something he surely couldn't imagine before he got started producing. "Back in the day, when I didn't know much about it, I thought I would need a whole bunch of equipment," he said.
The only downside that Edwards could see with increased accessibility is that "it has definitely given people the ability to mass produce a lot of crappy music, but who's to even say that? People might say my music is crappy," he said.
Digital music production has come an unspeakably long way since that first Chamberlin Rhythmate went on sale in 1957, and there's certainly no end in sight. Digital music tech has gone from that ancient Rhythmate with only 14 drum patterns, to Digital Audio Workstations with thousands of samples built in, with the ability to download an almost infinite number of additional sounds.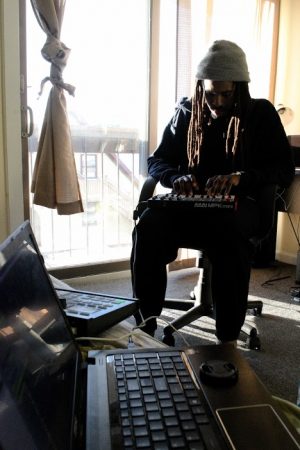 It's gone from the first digital sampler—the Linn LM-1 Drum Computer—costing $5,000 upon its release in 1980, to MIDI controllers like N'Kosi Edwards's AKAI MPK Mini 2, which costs as little as $100 on eBay.
It's gone from expensive analog tape recorders that added unwanted white noise with every recording, to programs like GarageBand, offering a far superior recording experience for free on any Mac computer.
In short, it's easy to see why digital music production has become so much more common and accessible in the last few years: it's more intuitive, cheap and advanced than it has ever been before.
And with that, there's more music available now than there has ever been. And even if that means there's now more crappy music out there than ever before, statistically there has to also be more great music out there than ever before, right?
In order to enrich your life by checking out the amazing music these great artists make, I strongly encourage you to check out their respective online libraries. For some soul-touching, emotionally-rich indie grooves, listen to Holden Jaffe's super-group Del Water Gap on Spotify, iTunes, or Bandcamp (https://delwatergap.bandcamp.com/), and be on the lookout for their upcoming EP! For some futuristic yet old-school raps and instrumentals, check out N'Kosi Edwards on Soundcloud at https://soundcloud.com/nkosi11. Unfortunately, Mike G's music is yet to be published online, but be on the lookout for his gritty, 90s hip-hop greatness hitting the internet's airwaves in the near future.