No Ragrets: Love for Unconventional Tattoos
Junior Max Mitiguy has 70 tattoos, a lot of them are stick and pokes that he has done on himself.
But of his more than many tattoos, Mitiguy only regrets a couple: a text piece that he says isn't cohesive with the rest of his tattoos, and one of a safety pin, a matching tattoo with an ex.
Getting a tattoo can take less than an hour to complete, but the results last a lifetime.
Sophomore Abby Wight has two dinosaur tattoos on her thigh.
One is a stick and poke that she let a friend draw on her, and the other is a free tattoo done by an apprentice at a tattoo shop.
The latter was the apprentice's first tattoo ever, and Wight was less than pleased with the result, she said.   
"The stick and poke that my friend drew is one of my favorites, but I came home with [both dinosaur tattoos] and my mom pretty much said, 'OK, you're getting them lasered off, that's not optional,'" she said. "She hasn't really pressed the issue. I plan to get the apprentice's awful T-rex removed eventually, but I'm attached to the stick and poke."
Tattoos are becoming increasingly mainstream, with the Pew Research Center reporting that 38 percent of Americans between the ages of 18 and 29 have at least one tattoo.
Burlington is home to several tattoo shops: Yankee Tattoo, Onyx Ink, Vermont Custom Tattoo and Piercing, Moose Tattoos, Seven Symbols Tattoo and Fortune Teller Tattoo.
Most of those shops are within walking distance of UVM's campus and easily accessible to students.
However, most students don't get tattooed extensively, in part because of the cost. At shops in this area, small tattoos start at $50, and larger works, such as a full back piece, can cost thousands of dollars.
It is illegal to tattoo others without a license in the state of Vermont, but a quicker and cheaper option many college students gravitate towards is DIY stick and poke tattoos done on oneself or by a fellow student.
Mitiguy said that sometimes he questions his "crazy tattoos" when he sees others who have tattoos that are well-planned and executed with high artistry.
"I think that getting your first tattoo is always a regrettable experience, because it's never what you want it to be once you have a lot of tattoos," he said.
Even so, he has a passion for the art form of stick and pokes.
"I enjoy the idea of taking tattooing back to a time when you had to, like, know people and you had to have your best local resource as your friend down the street or a guy on the boat with you, whoever you knew who could do tattoos," he said. "Now it's like, 'I saw this person on Instagram and I'm going to go drive down.'
"That's cool in its own way because you can get amazing artistry, but I like the authenticity of stick and pokes, like getting one in a sketchy situation."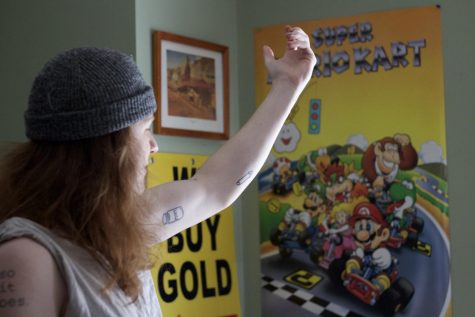 Veteran tattoo artist "Bald Bill" Henshaw of Yankee Tattoo on Pearl Street notes that professional tattoo artists, unlike students who stick and poke, are trained to avoid bloodborne diseases and understand how to work with skin.
Though he doesn't pass judgment on those who like stick and pokes, he recommends that those seeking a tattoo find a professional whose work they admire.
He has been tattooing for over 40 years and takes pride in his work.
As a former commercial artist, he now enjoys working on the human body as a canvas for art.  
"I make people happy with my art every day," he said. "That's the best part of what I do."
He says that he'll often see clients lack confidence when they first arrive at the shop, but light up after they receive a tattoo that means a lot to them.
Henshaw fiercely disputes the idea that people who get tattoos are destined to regret them. He also doesn't think that tattoos have to be beautiful to be valid.
Even if a tattoo isn't necessarily gorgeous as an art form or if it sparks judgment from others, it can be meaningful to its owner, he said.
For some students, a tattoo can be part of asserting an identity.
"When I came out as gay, I wanted something funny and phallic to be on my body," Senior Jack Goldman said.
Reluctant to get an overtly phallic symbol tattooed on himself, he chose a more subtle symbol to get inked.
"I went with a banana because they are one of my favorite fruits and they are still phallic," he said.
For sophomore Madi Long, a tattoo of a lighter on her ankle, a matching tattoo with two close friends from her hometown, helps her stay close to them while she's studying at UVM.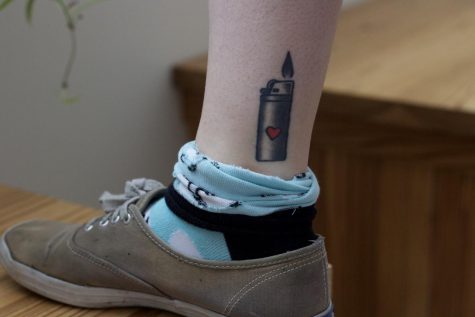 She and her friends spontaneously went to a tattoo shop over winter break, picked the lighter design and added a heart to it.
"When people ask me about it, I tell them I got it for my friends who are the lights of my life, and it reminds me of them whenever I look at it," she said.
Long's mother was skeptical of the design, telling her that she wouldn't be able to wear skirts anymore without tights to cover the tattoo up.
Despite this, Long loves her tattoo, its meaning and how it looks.  
"You shouldn't regret tattoos," she said. "You wanted to get a tattoo in a certain time period of your life. It's a reminder of who you've been."