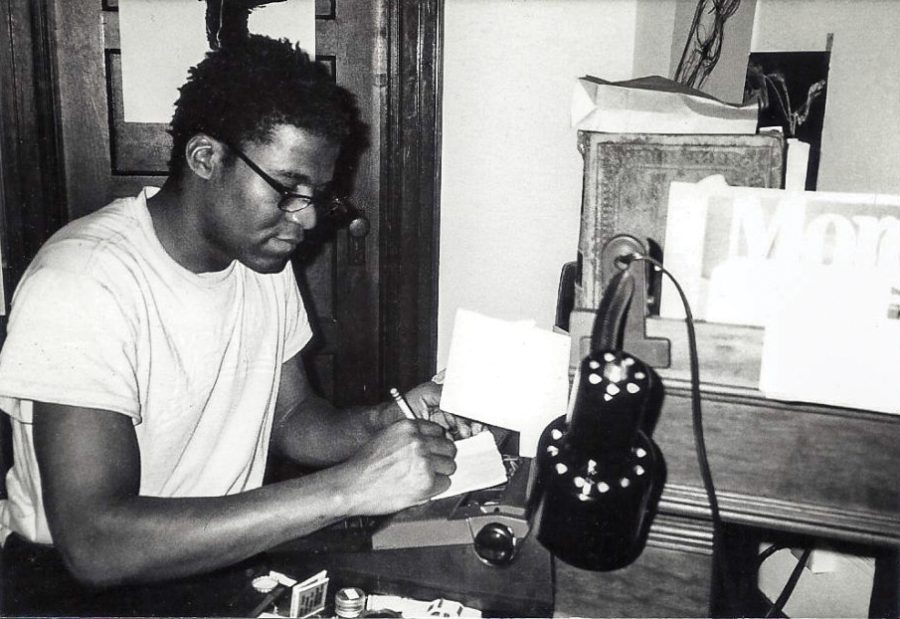 Archival Photo courtesy of www.davidbethueljamieson.com
Those who venture up to the fourth floor of the Davis Center face a piece of art by the late David Bethuel Jamieson '91.
The piece, titled "Self Portrait at the University of BLACK Vermont," encapsulates Jamieson's time at UVM throughout the 1980s and early 1990s. It reflects both his work as an artist and an activist on UVM's campus.
Recently, a private collector rediscovered one of Jamieson's presumed lost works, "Mermaid,"  his partner Peter Stebbins said.
Stebbins curates the Studio House at Walbridge – the artist's last residence – in Washington D.C., which houses the private collection of Jamieson's work. He serves as director of the Lily and Earle M. Pilgrim Art Foundation, he said.
"The Lily and Earle M. Pilgrim Art Foundation promotes the visual art of the African diaspora, an appreciation of artists who lack public recognition," the website stated.
A Provincetown, Massachussettes art show in August 1988 featured "Mermaid," and, unbeknownst to Stebbins, a private collector had purchased the painting out of the gallery, he said.
The collector bought the painting, reached out to Bakker Gallery who then reached out to Stebbins.
"We took the painting out of the box and the image is something really special," Stebbins said.
Jamieson studied history at UVM between 1983-88 before returning in 1991 to finish the remaining credits of his degree.
He was an artist and an activist on campus, and much of his work reflected that, Stebbins said.
When Jamieson first joined UVM as an undergraduate in 1983, UVM had investments in apartheid South Africa, according to a VTQuarterly article.
Jamieson used art as a way to further his involvement in the divestiture movement on campus by creating posters, Stebbins said.
"One was a bold woodblock print of an African diasporic character, and the phrase 'Jabbo is clever,'" Stebbins said.  "These series of Xerox posters would show up overnight, throughout the campus and throughout Burlington and then sometimes also on Church Street."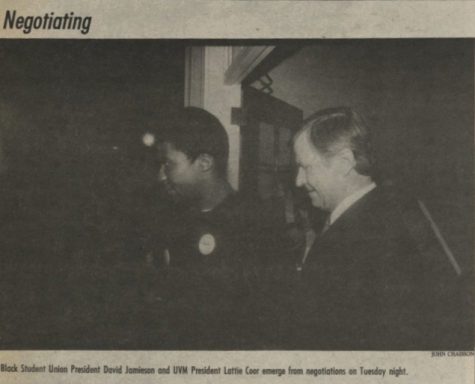 Following his involvement in the divestiture movement, Jamieson became the president of BSU.
His involvement was instrumental in its reestablishment in 1987 following a dormant period, Stebbins said.
BSU wasn't officially recognized by SGA until 2004, but the club has had a presence on campus since the '60s or '70s, according to a Feb. 15 Cynic article.
In 1988, Jamieson participated in the first Waterman Takeover, which was sparked by the administration's failure to address racism and lack of diversity enrichment at UVM, according to a March 2, 2016 Cynic article.
The Takeover led to the 1988 Waterman Agreement, which pledged to establish an ethnic studies program, hire between four and 11 faculty members of color and establish a mandatory first-year course on race relations, according to an April 24, 1991 Burlington Free Press article.
Along with structural issues at UVM, the agreement also argued for doubling the BIPOC student population, according to the Free Press article.
Jamieson described the experience of being a Black student at UVM in an April 19, 1988 Burlington Free Press article.
"You feel like a Black in a [display] window," Jamieson said.
Jamieson influenced UVM through both his art and his activism, Stebbins said.
"Dave's apartment and studio would really be a hub for students and organizers," Stebbins said.
Jamieson also undertook the work of documenting the 1991 Waterman Takeover through his art, using it to show who was in the building, at what time, on which date.
One of these pieces, titled "Eric Takayama, April 29, 1991, 2:30 am Waterman Building" shows in the Fleming Museum and the online collection.
Students organized the 1991 Waterman Takeover because the demands of the 1988 Takeover had not been implemented, Stebbins said.
"Jamieson arrived at the Waterman Building at about 5 p.m. each day and stayed through the night, creating as many as 40 drawings at a nocturnal stretch," according to a May 24, 1991 Burlington Free Press article about Jamieson's artwork.
Jamieson said he could not find a space to exhibit the works he created throughout the Takeover, according to the article.
However, in 1993 at the Hans Hoffman studio in Provincetown, Massachusetts, Stebbins curated an exhibit of Jamieson's work to display the paintings, he said.
"We created a white paper wall that hung from the balcony and then in front of that we hung the last paintings that Dave did in Burlington, and they were done related to the student Takeover," Stebbins said.
Jamieson found out he was HIV positive in the summer of 1990, Stebbins said.
He died in New York City on July 30, 1992, according to an Aug. 5, 1992 Burlington Free Press article.

His paintings hang throughout campus, including between the third and fourth floors of the Davis Center, in the Fleming Museum and in a 2014 exhibit in the Living/Learning Center.
The piece featured in L/L is titled "Resurrections: Art by David Bethuel Jamieson (1963-1992)," according to a Nov. 15, 2014 Burlington Free Press article.
"That's the thing about art," Jamieson said in a May 24, 1991 interview with the Burlington Free Press. "It outlives the artist and speaks for itself if it is good."