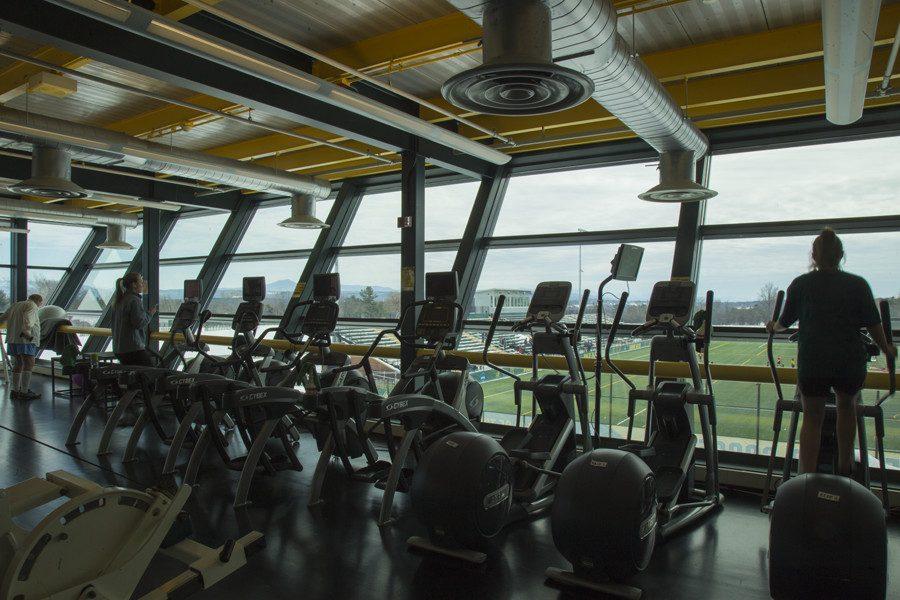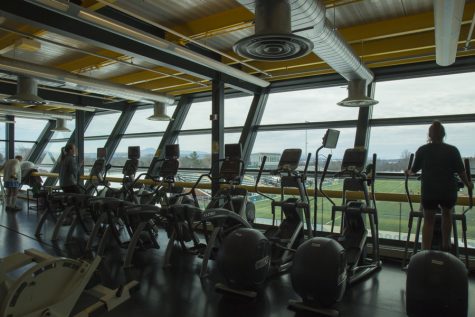 After navigating Patrick Gym, students stood looking out at the Green Mountains while waiting to use weights and cardio equipment.
UVM has outgrown the Patrick-Forbush-Gutterson Complex, which was built in 1963, Athletic Director Jeff Schulman said.
"You mean the maze?" first-year Julian Lathrop said in response to whether Patrick Gym would be missed. "I support the new facility as long as it is easier to navigate and less crowded than Patrick."
The discussion over updating UVM's facilities has been ongoing, said Tom Gustafson, vice president for University relations.
While some think that the new center will benefit the University as a whole, others have expressed concern that UVM is shifting its focus to the wrong areas.
"Whoever made this decision must be out of touch with what student life is really like," junior Scott Weiner stated in a comment on a Facebook post regarding the center. "Instead of taking care of the students that UVM pays to be here, why doesn't the University take care of the students that pay to be here."
The board of trustees unanimously passed a motion for the construction of a new multipurpose center five times the size of the current gym Feb. 3.
This motion allows for the designing and planning of the new center, but not the actual construction of it, according to the committee.
The board approved approximately $750,000 for this next phase of planning which includes designing the facility, but the total cost of the center is around $80 million, Gustafson said.
"The financial model to pay for this project is almost certainly going to be a combination of institutional sources and privately raised funds," Schulman said.
The private funds will come exclusively from donors, and the money coming from UVM is likely to come from student fees, he said.
"It's a very similar funding model to the Davis Center, although the student fee is not likely to be as high," Schulman said.
The current Davis Center fee is $592 per student. The trustees discussed a student fee for this project in the $200-300 range per year, he said.
UVM athletics has people who have donated and prospective donors who are interested in supporting this project, Schulman said. These donors are people whose primary interests are health, wellness and athletics, he said.
The construction of the new center will cancel out over $40 million worth of maintenance that has yet to be done to Patrick Gym, Schulman said.
Other concerns include the loss of 100 parking spaces in the vicinity of Patrick Gym.
"The 100 or so parking spaces that will be lost are not currently allocated for students," Schulman said. "Those are exclusively faculty and staff spaces."
The reduction of parking will have more of an impact on parking for games and other athletic events, he said.
Schulman said he knew a project of this magnitude would be criticized, but feedback has been overwhelmingly positive.
"I think it's a very exciting project and that will be truly transformative for the entire campus community," he said. "Students in particular will be far better served with this facility than they are currently by Patrick Gym."
Senior Bethany Kelly, who works at the fitness center, said although the current facilities are clean, well-kept and accommodating of all students, she was excited to hear about the renovations.
"I think it would be great," Kelly said. "The PFG complex is outdated, and allocating funds to either repairing, remodeling or adding additions is definitely worthwhile."
The new multipurpose center will improve the overall student experience, said Beth Wiser, executive director of admissions.
"Our students can do their best work when they have great recreational facilities," Wiser said.
Other members of the UVM community have concern over the new center, such as English professor Nancy Welch.
Welch said UVM needs to focus more on its core academic mission rather than marketing the University through this multipurpose center, stating that UVM has a choice.
"We can continue to expand the number of consultants and administrators tasked with marketing the increasingly hollow idea of a UVM education," she said, "or we can keep UVM's funds in education and tap into the talent that a UVM education is devoted to cultivating."
The board committee stressed the importance of the new center being student-oriented and focused on improving overall wellness at UVM, but some students think it is an unnecessary addition.
Junior Izzy Schechter said the need for a new stadium or gym isn't important to students' experience at UVM.
"I don't want the culture of this school to change," Schechter stated in a comment on the same Facebook post regarding the center. "This is UVM, we aren't like other schools, and there's more pressing issues on students' radar than this one."
Some community members in Burlington are supportive of UVM's efforts to modernize its facilities, including Mayor Miro Weinberger.
The development process of UVM's new multipurpose center has been collaborative, professional and productive with the city of Burlington, Weinberger said.
"UVM's success with this important undertaking will be the city's success as well," he said.
The arena could provide a powerful economic stimulus for the region, said Kevin Dorn, South Burlington city manager.
At the moment, the city of Burlington will not be contributing financially to the construction of the new center, though it is open to tax negotiations should UVM decide to expand their facilities off campus, according to the mayor's office.
Despite complaints about Patrick Gym's twisting halls and small spaces, students have given Campus Recreation 4.7 out of five stars, according to its official Facebook page.
"We have a strong tradition in Vermont athletics," Wiser said. "This project helps to put us on similar ground with the other schools in our comparator list that students consider when they also are considering UVM."
Junior guard David Urso of the men's basketball team described his experience in Patrick Gym.
"Patrick has been tremendous," Urso said. "It's a gym and facility with a lot of character, which I think reflects the community and the fans who support us every game."
He went on to say the facilities are a little out of date and could use some modernization, but ultimately will miss the current gym.
"It will be extremely hard to replace Patrick and the atmosphere it has," he said.