Warnings of fraudulent job emails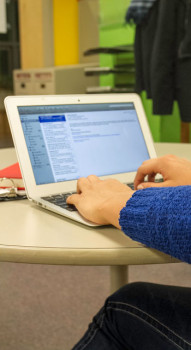 An email went out warning students of fraudulent job emails Dec. 1
Holly Wilkinson, assistant director of the UVM Career Center, sent the warning email out.
"It is essential to research any company in depth before pursuing it, especially when they are reaching out to you directly via email," Wilkinson wrote in the email.
The fraudulent job warnings page on the Career Center website asks that if a student encounters a questionable job posting they should stop communication with the employer at once, report it to UVM police services and, if the posting was through UVM, call Career Services as well.
One such job posting was an email sent out by Jonathan Hill.
It is unclear whether or not Jonathan Hill is a real name or not, but when an email was sent in reply to his initial email, a Maria Hill replied.
She posted a link to student-opinion.com. On the website student-opinion.com, several testimonials exist saying that they filled out surveys for money.
However, when signing up, a person is required to pay a one-time fee of $39.95. This is a sign of a fraudulent job posting, according to the Career Center website.
Go to the UVM Career Center website for more information on these fraudulent job postings.