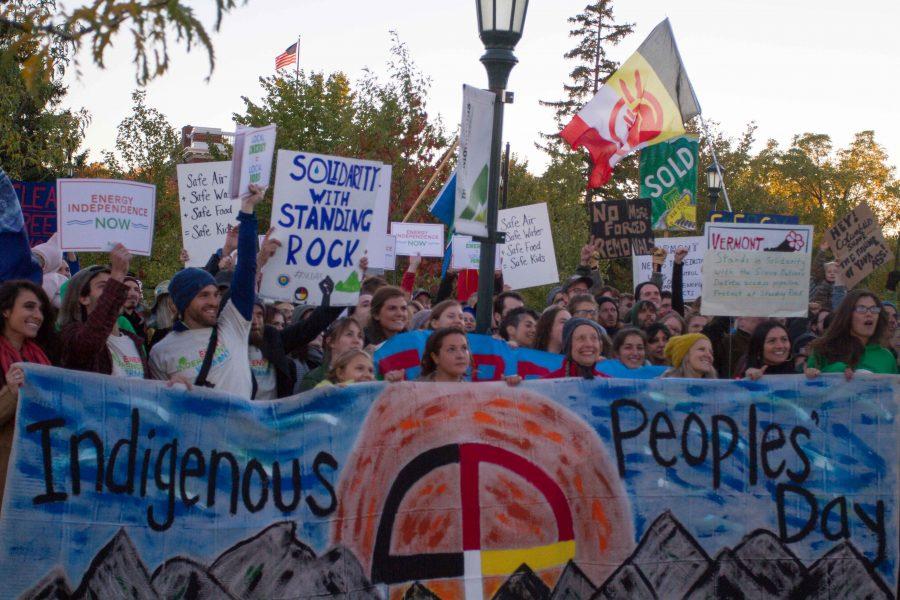 Kelsey Neubauer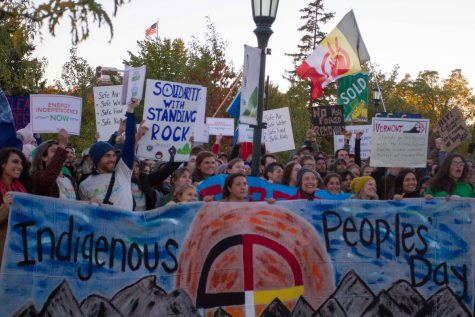 Students and community members stood in solidarity with Standing Rock on the Davis Center green Monday.
The event was organized by Rights and Democracy VT to show support for Standing Rock, a Native American tribe in South Dakota that is opposing the construction of an oil pipeline on their land.
Rights and Democracy VT is an organization that focuses on promoting livable wages, environmental issues and healthcare in Vermont according to their website.
The pipeline will stretch across 1,172-miles from South Dakota to Illinois, according to the project's website.
"I'm here today to support my brothers and sisters of Standing Rock," senior Darnell Holmes said, "to disapprove the pipelines going across Vermont and the U.S."
Holmes said there should be more of a focus on energy resources that help instead of hurt the environment.
Junior Roz Aronow also attended the rally and supports an end to pipelines.
"I feel once a pipeline gets denied there'll be another and another," Aronow said. "You need to break that [pattern]."
Aronow said legislation should be changed to focus on the renewable energy industry.
"We should be putting our energy and jobs into renewable resources," she said.
Members of both the Nulhegan Band of the Coosuk Abenaki Nation and Standing Rock attended the rally.
"Just remember there were 138 [pipeline] leaks in the past month alone," Beverly Littlethunder said.
Littlethunder grew up as a member of the Standing Rock tribe in South Dakota, but decided to move to Vermont.
"I felt it was important to speak about what's affecting Standing Rock and Vermont," she said. "I'm tired of hearing about Trump and Hillary and their day-to-day soap opera."
If more people gathered to raise awareness about the pipeline, more action might be taken, Littlethunder said.
"I felt like [the rally] was real good," she said. "Like it was successful even if just two people came and now there are a lot more people who have heard [about] it."
Sophomore Jane Stromberg said the gathering was an act of solidarity.
"This is an anti-pipeline [gathering]," Stromberg said, "we have to stop sacrificing long term stop short term profit."
In light of the event as a moment of solidarity for standing, she said she was shocked to see so many protesting wind when the event was about protesting the pipeline.
The discourse around the use of wind turbines is an area of great contention for Vermonters, and the population is split 50/50.
Many say that wind is ugly on mountains and it makes too much noise, while others say it is a renewable source of energy, Stromberg said.
She said the signs were a divisive act, instead of what the protest was supposed to be a uniting force.
Everyone in attendance, however, was unified under the idea that there is a need for change in the approach to energy use in the nation.
Laura Mistretta of Rights and Democracy in VT helped organize the rally.
"We're here today to raise a call for a new direction for our people and planet," Mistretta said. "It started out just a thought and a right to democracy and getting people together."
She emphasized the importance of having these rallies.
"The more that we raise up each others' voices [the more] we can be heard," Mistretta said.