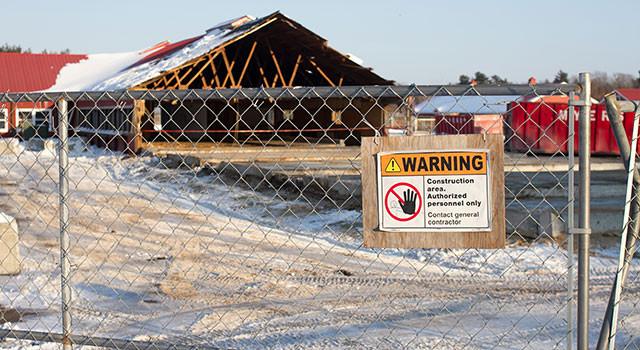 UVM's educational horizons span beyond the classroom and are about to get even wider.
The University began a $2.5 million dollar, 13,176 square foot project to improve the Paul R. Miller Farm and create a modern teaching barn for students Feb. 3, according to a Feb.4  press release from Assistant Director of Communications Jeff Wakefield.
The farm's mission is to "emphasize dairy research, equine sciences, mammary biology, milk quality, biosecurity and safety," according to their website.
The winter renovations mark the first of three phases of the farm renovations, the press release stated. These include a new instructional barn and milking area used for research for students in their junior and senior years, the press release stated.
UVM President Tom Sullivan said in the press release that he was very excited for the new renovations to begin.
"To fulfill our land grant mission and maintain our position as a university of choice for top faculty and students, it's crucial for UVM to have a 21st century teaching and research complex in animal science," Sullivan said.
The new barn will require the deconstruction of a 1960s cow barn, according to the press release.
First-year Hailey Moll said that safe, hands-on, modern and professional experience is crucial in setting UVM students apart in the workforce.
"All my life, I loved animals, but it was not until I got in the field that I realized I want to work in the field. I want to do field research; I went from just liking animals to wanting to do field research," Moll said.
The research that the new farm will offer will provide students with even better ways of exploring their field, said Tom Vogelmann, dean of UVM's College of Agriculture and Life Sciences.
"The new instructional barn will be a first-class facility and a great learning laboratory for our students. We're thrilled that both the barn and the larger Miller Farm renovation are finally under way," Vogelmann said.
This is absolutely true, Moll said.
"Hands-on educational opportunities narrow down your focus on your career and your life path so much more dramatically than if you were to read about something in a textbook," Moll said.