Getting paid to exercise in WE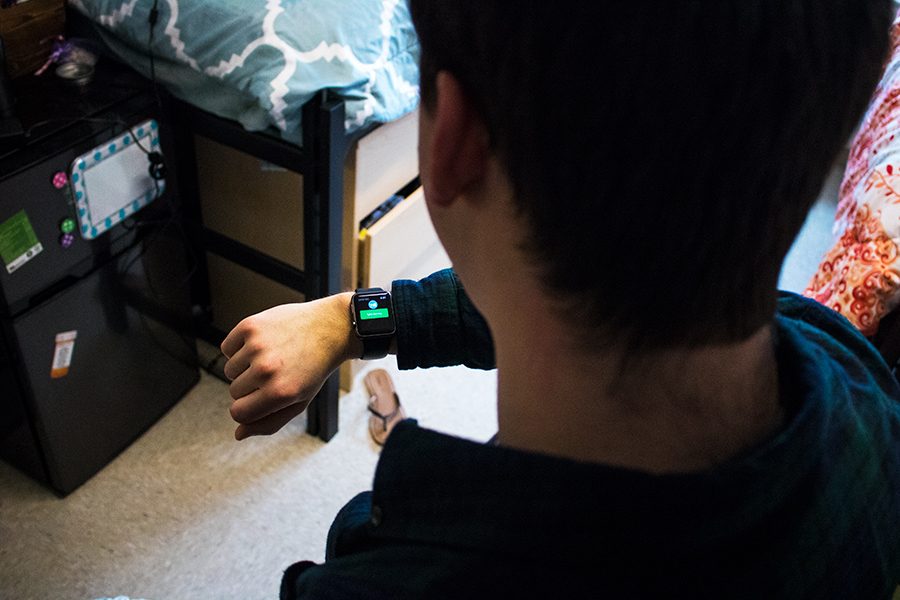 Brandon Arcari, Lindsay Freed, and Joey Waldinger
February 9, 2018
Students will be paid to exercise in a new Wellness Environment study.
The study asks participants to wear chest-strap heart monitors in addition to Apple Watches that were given to students who took part in the previous WE app exercise study.
Apple is funding the study, providing both the chest straps and financial incentives, according to a Jan. 24 email sent to current WE app participants by the WE Research team.
"For the heart — the chest straps study ­­­— it's actually an Apple-funded project," first-year Joy Vincenzo said. "So Apple is actually getting our data because they want to see the correlation between how accurate the monitors are in the watch when you actually exercise."
Vincenzo does research with Dr. Jim Hudziak, director of the Wellness Environment.
The chest strap study started in January and will go until May 31.
If students take part in 50 workouts during their time in the study, they will get to keep the chest strap. Students can also earn $5 for every day they work out during the study, according to the email.
"That's the only reason I'm doing it," said first-year Ellie McGee, who is participating in the chest strap study.
Students have to fill out a payment acknowledgement form every time they pick up a check, according to Jackie Ellis, the WE program coordinator for Christie Wright Patterson residence hall.
The chest strap study will pay students for exercising to see the impact of incentivising exercise on students' wellness, Rettew stated.
Apple declined to comment on the chest strap study, but has funded studies at other institutions, such as Stanford University, according to the Center for Digital Health at Stanford.
The chest strap study aims to "monitor and further validate fitness tracking devices — the Apple Watch and Chest Strap" as well as examine the effect of financial incentives to exercise in the overall WE app study, according to the email.
In the chest strap study, Apple will receive heart rate data from the chest strap and the watch as well as the type of exercise performed, according to the contract students sign when they join the study.
McGee is comfortable with the University and Apple collecting her health data because the studies are "100 percent anonymous," she said.
No personally identifiable data will be given to Apple, according to the contract.
The chest strap study is separate from the WE app study, but only students enrolled in the WE app study are eligible to enroll in the chest strap study, according to the email.
"The WE app study is looking at the impact of an incentive-based health promotion app on the health and wellbeing of college students," Rettew stated.
The three-year WE app study is funded with a $1.8 million grant from the Conrad Hilton Foundation, Rettew stated.
The Apple watches given to students in the first year of the study were cited to be from an anonymous donor.