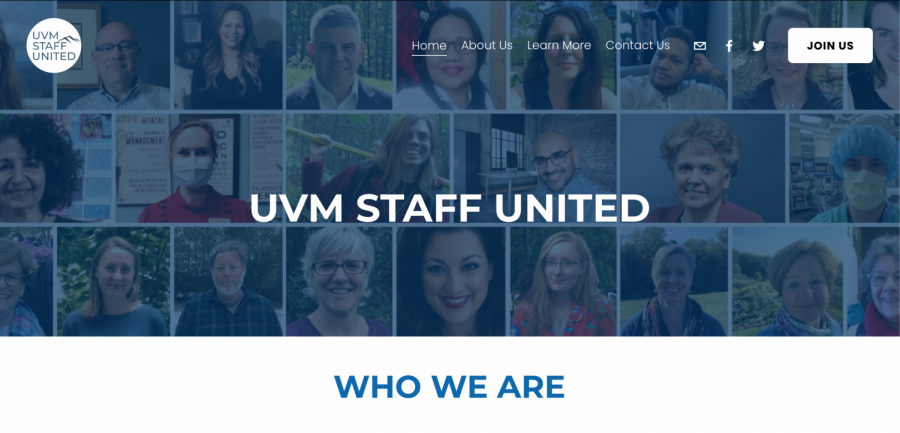 Screenshot from UVM staff united web page
Hundreds of UVM staff members are pushing to unionize during a time of high tension between administration and faculty for a seat at the decision-making table. 
Seven hundred twenty clerical and technical staff members filed for a union election two weeks ago, looking to "bargain wages, benefits and working conditions, and for equity, transparency, justice and respect at UVM," according to the UVM Staff United website.
However, UVM administration is pushing back against plans to unionize, said Alison Nihart, a staff member the University deemed ineligible for union membership, at an April 15 press conference. 
Administration's union proposal excludes around 100 staff members from union membership because they are "confidential employees," employees who manage or work with confidential University information that are excluded from bargaining units, according to Vermont law.
However, only 19 staff members were excluded from bargaining in an unsuccessful union movement six years ago, she said. 
"We will not stand by while they attempt to disenfranchise me and my colleagues," Nihart said.
The majority of the excluded staff members are also women and employees of the College of Arts and Sciences, said State Representative Selene Colburn at the press conference. 
Most UVM staff members are female, with nearly 1,500 female staff members versus 855 male staff members employed in fall 2020, according to UVM diversity data. 
However, the University said it is excluding certain staff members from the union proposal unit to follow Vermont law and are now looking at less than two dozen employees, stated UVM Spokesperson Enrique Corredera in an April 15 email to the Cynic. 
"We remain committed to maintaining a positive and rewarding work environment for all of our colleagues," the email stated. "[Exclusion] should not be contentious or personal. We share a common goal to ensure that all of our colleagues are valued and supported whether they are organized or not."
UVM staff members have unionized in the past. Around 350 service and maintenance workers in UE Local 267 negotiated with UVM administrators for higher pay and protected health benefits in Oct. 2009, though the contract ended in 2011, according to an Oct. 2009 article from the UE website.  
However, not every union movement was successful. Staff members voted against union representation in 2012, according to a Nov. 15 VPR article. Around 760 staff members also voted against joining the Vermont State Employees Association union in 2014, according to a Dec. 14 statement on the UVM website.