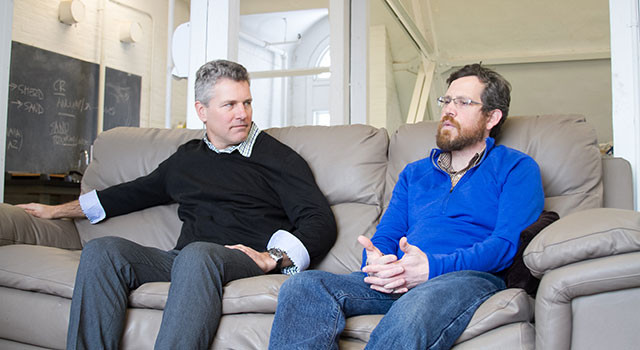 Students majoring in the humanities are used to the jokes about the apparent impracticality of their chosen degrees.
The Humanities Center co-directors Luis Vivanco and David Jenemann are trying to put an end to these stereotypes through a complete revitalization of the program.
They recently gave a presentation  about the revitalization of the Humanities Center to the board of trustees at their Feb.6 meeting.
When Vivanco and Jenemann took over roles as co-directors two years ago, they decided to revamp the center's initiative with a vision of emphasizing a "strong interdisciplinary focus and collaboration" in the entirety of the humanities and fine arts departments.
"We believe strongly that a central mission of the humanities and fine arts is to create a thoughtful, creative and engaged citizenry willing and able to participate in meaningful public dialogue," The Humanites Center's website stated.
An initiative in progress is a plan to develop internship classes for students interested in taking jobs in the humanities, they said.
These semester-long classes would combine an internship in the field they are interested in with a class that would prepare and educate students about what it is like to work in these fields.
Vivanco and Jenemann have also focused on getting the University community involved with the public community in Burlington, they said.
The Humanities Center hosted the Mayor's Book Group, an event for both the public and UVM faculty and students, along with Mayor Miro Weinberger.
At the book club, attendees  discuss current topics and issues like civil rights and educational reform through selected novels, Vivanco and Jenemann said.
Despite the 2.4 percent drop in bachelor's degrees in the humanities in a 2013 study done by Humanities Indicators, the humanities program is still going strong at UVM thanks to the new vitality of the humanities program, they said.
"We want to challenge the narrative about the humanities: that it won't get you a job or has no relevance in the world today, especially in a research university," Vivanco said. "What we want to say is that humanities are very much a part of the dynamism of a research university right now."
It seems as though the next goal for the Humanities Center is to gain more recognition from students who could benefit most from the program.
Sophomore studio art major Annie Reagan said she had never heard of the program.
Silas Pierpont-Hale, a first-year film and television studies student, said he had heard of it, but didn't know what programs it offered to those involved with the humanities.
To learn about what the Humanities Center has in store for the future, you can visit their website at http://www.uvm.edu/humanitiescenter/, or look at their Facebook page: University of Vermont Humanities Center.