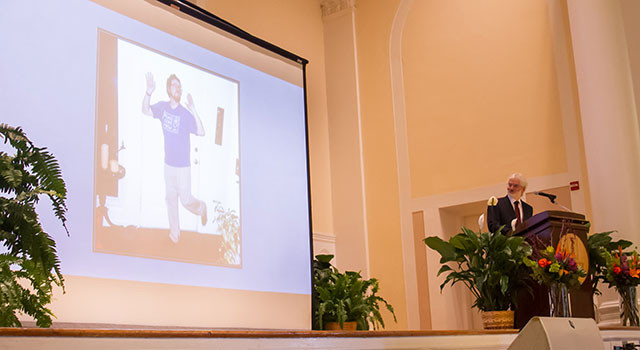 Teachers, students, friends and family of professor Dan Archdeacon  gathered in the Ira Allen Chapel March 10 to remember his life.
Archdeacon was a graduate of Ohio State University.
He began his career at the University of Kansas, and came to UVM as a professor in 1982, according to the UVM CEMS faculty website.
He held positions in both the department of mathematics and the department of computer science, the website stated.
"It was his goal to teach every course offered in the mathematics department and he came the closest in decades," professor Jim Burgmeir said.
Many friends and colleagues who were in attendance joined in remembering his contributions to the community.
His dedication to the community was extraordinary, President Tom Sullivan said.
"I met a different Dan in 1975, with long hair and glasses like Lennon's, he was a total hippie," said Dr. Jeff Dinitz, a professor of mathematics and statistics at UVM and a college friend of Archdeacon.
Several students who spoke at the service said he was an inspiration.
"When I learned that one of the best researchers in topological graphing was at the University of Vermont, I knew I had to come here," said Dr. Melanie Brown, a former doctoral student of Archdeacon's, and a current professor at Champlain College
"He was brilliant," graduate student Amelia Mattern said.
Archdeacon was one of the top researchers in topographical theory, according to a University Communications press release.