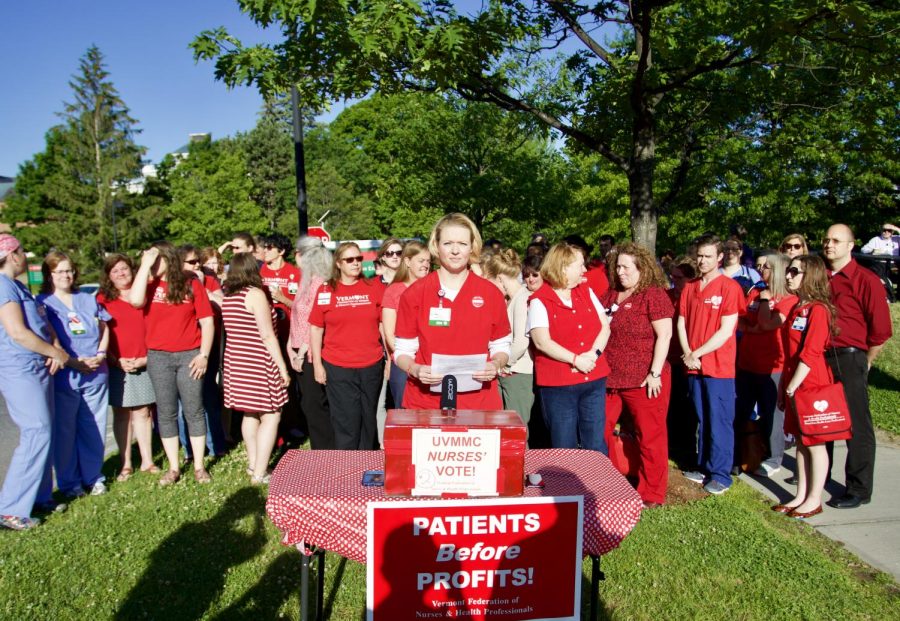 Sawyer Loftus
University of Vermont Medical Center nurses have voted in favor of a potential two day strike.
The approval was announced at a June 13 press conference lead by negotiator Julie MacMillan. MacMillan represents the 1,800 member union, the Vermont Federation of Nurses and Health Professionals, in their negotiations for new contracts with UVM Medical Center.
The nurses had a total of 1,311 voters turn out, which is roughly 73 percent of the entire union, MacMillan said. Ninety-four percent of the voters approved a two-day strike that would begin July 9 at the earliest, she said.
MacMillan was accompanied by other nurses and representatives from the union's bargaining committee as she announced the strike at the press conference just outside of UVMMC's McClure entrance.
Contracts with the medical center run on a three-year cycle and previously the nurses have never resorted to striking, said Sharon Schroder, the vice president of communications for the union. The nurses have been in negotiations over new contracts since March 29, their contracts officially expire July 9.
"[The nurses] have never striked," Schroeder said. "We are explorers here this has never been done."
Many people in the union don't want to strike, but it is a tool that the union now has if UVMMC refuses to meet the nurses' demands, MacMillan said. She expressed frustration over the the UVMMC executive team's unwillingness to meet with the nurses.
"Our frustration is we bring forth issues and they say they are not interested," MacMillan said. "Eileen Whalen [the president and chief operating officer] and Kate FitzPatrick [the chief nursing officer] have been unwilling to meet with their nurses."
The hope is that the threat to strike will deliver the seriousness of the nurses to the medical center executives, said Deb Snell, vice president for the union.  
UVMMC representatives feel that it is too early to call for a strike, said UVMMC spokesperson Michael Carrese.
"We still have a lot of time left before the contract expires, it's about another month," Carrese said. "We have another four negotiation sessions, a last minute factor was a good bargaining session this morning."
The medical center is confident that if all parties stay at the table and use a mediator, progress will be made in negotiations, he said. Although this is a common practice within contract disputes, the nurses have said they do not want to use a mediator yet, Carrese said.  
The nurses see a mediator as another way for medical center executives to "sit away in another room," MacMillan said.
The medical center wants the public to know that the recent vote by nurses was not to officially strike, but rather to authorize a second vote to strike, Carrese said.
"We think that talk of a strike concerns a lot of people, it concerns us, and we want to make sure the public understands that this was not a vote to strike, its a two step process," he said.
The nurses would like to see an base pay of at least $2 more an hour, which would be comparable to what is being made across the lake in Plattsburgh, New York, by nurses within UVM Health Network, MacMillan said.
Although there is a network of six hospitals and one visiting nurses association, the UVM Health Network is an affiliation, Carrese said.
"We are not one organization, so each one of those hospitals, including the one in Plattsburgh, is its own independent entity with its own board of directors and leadership and they make their own decisions," he said. "There is no common contract and salary across the network."
Carrese added that UVMMC does a careful analysis of the market and what other nurses at similar institutions make, to create a fair and competitive wage at UVMMC, he said.  
This story was updated 6-14-18 at 9:42 pm to include comment from UVM Medical Center.
Updated with correct information 6-30-18 at 7:13 pm:  Carrese originally said nurses would need a second vote to authorize a strike. Carrese has since said that this is incorrect, saying that the vote "gave the union's bargaining committee the power to decide to call a strike". There is no two-step member vote to strike, but a 10 day notice is required prior to striking.