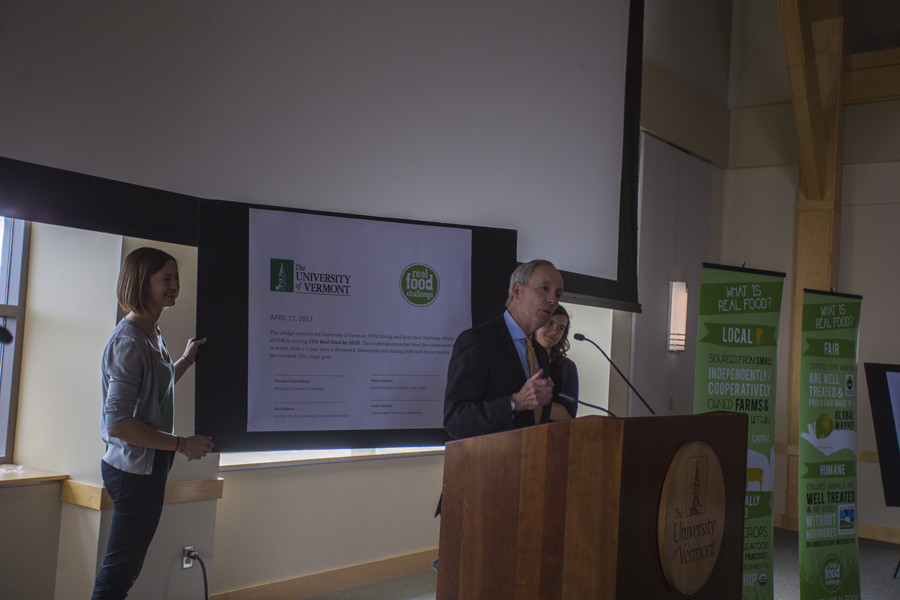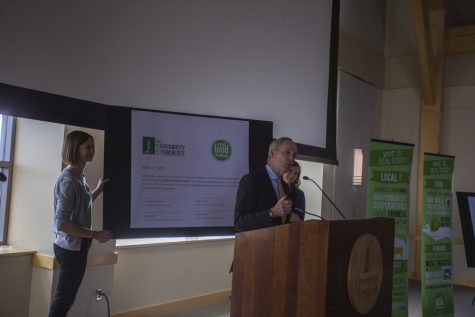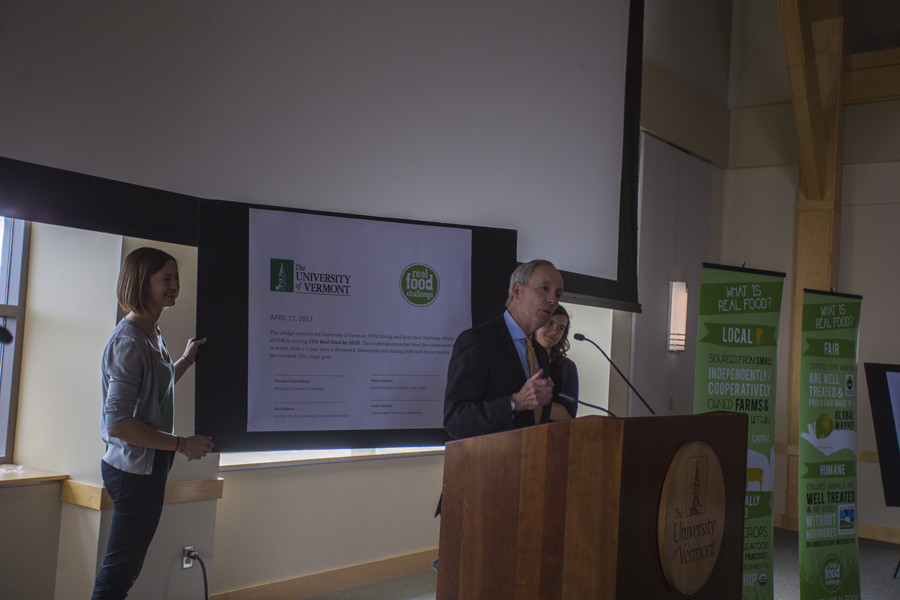 UVM has reached its real food challenge goal three years ahead of schedule.
Currently, UVM serves 21 percent real food, three years ahead of its goal of 20 percent by 2020. It has established a new goal of 25 percent by 2020. The achievement was announced April 17 by members of the real food challenge and UVM Dining.
Food is considered real by the challenge if it is ecologically sound, locally or humanely produced, or workers in the industry have access to fair wages and working conditions, according to an April 17 press release.
At a celebration for the achievement, President Tom Sullivan gave remarks and signed the official goal of reaching 25 percent real food by 2020.
"This was a real commitment about sustainability and eating healthy," Sullivan said. "Early on in 2009 we were one of the first universities to use the real food calculator."
The real food calculator is used by an intern for the UVM Real Food Working Group to analyze campus food purchases, according to UVM Environmental program's website.
The calculator is an excel based tool that categorizes food purchases to determine how much food is real, the website states.
"That calculator is really the standard for all universities that have taken this challenge," Sullivan said.
UVM was the fifth university to take the challenge when it started in 2009, he said.
"We all benefit from those who came before us and had this vision and the foresight to make sure UVM was at the forefront," Sullivan said.
Abbey Willard, the Vermont Agency of Agriculture Food and Markets food systems section chief,  also gave her remarks, noting the difficulty this challenge faced in recent years.
"This is a conversation that's happening around this campus and throughout this state and across the country," Willard said. "I hope you know the work you are doing is really making a difference for the food producers in this state."
The fact that UVM is increasing its goal shows its commitment to the challenge on this campus, she said.
"I watched that transparency build since 2012 when you signed the real food challenge pledge and again when in 2014 when this campus took on a really intense and sometimes controversial dining services contracting process," Willard said.
The real food challenge grow over the years, starting with students, said Melissa Zelazny, director of UVM Dining.
"A student emailed me asking how much local food you serve on campus," Zelazny said. "He was an incoming freshman and it was July so we hadn't even started school yet."
She hired this student as the first sustainability intern which became the real food calculator internship available today, Zelazny said.
"The next step is innovation and pushing this number forward with the new goal of 25 percent by 2020," she said.
This will be aided by the new dining hall on central campus which will have a farm to table focus and classrooms for students to learn about food, Zelazny said.
Junior Gina Clithero, student co-chair for the Real Food Working Group, said she joined because she wanted to make an impact on the food system.
"During my first semester here my friends and I would spend hours in the dining halls," Clithero said. "We wondered what we were eating."
She joined the real food working group her sophomore year and it was then she learned the importance of real food, Clithero said.