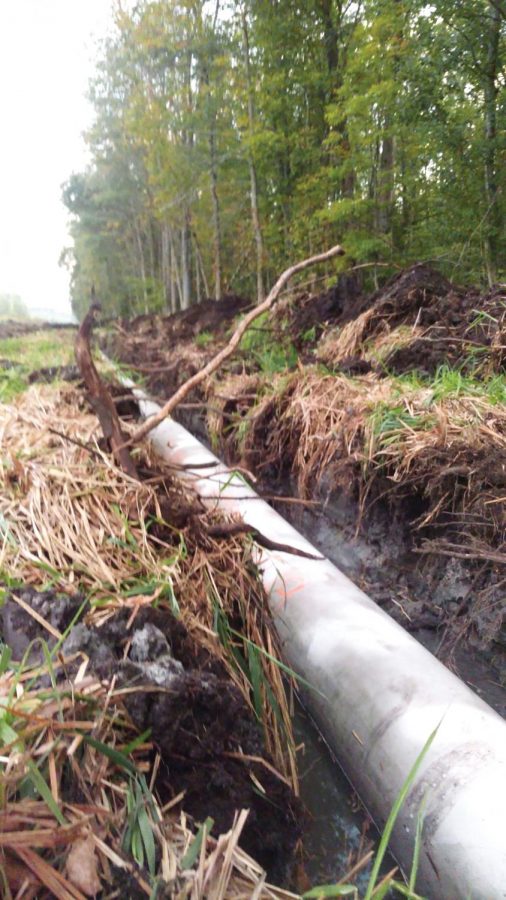 A natural gas pipeline running through Vermont is being investigated for safety violations.
The pipeline – the Addison Natural Gas Pipeline – was constructed by Vermont Gas Systems and stretches 41 miles from Colchester to Middlebury.
This effort began after it was discovered that a section of the pipe that ran through New Haven, Vermont had not been buried deep enough, said Vermont lawyer James Dumont.
In response, the Department of Public Service began an investigation, Dumont said.
The potential safety issues were uncovered by a group of Vermonters that read through Vermont Gas' construction documentation. The group found areas that did not meet federal policies, UVM alum Julie Macuga '17 said.    
"The violations that we're seeing in Vermont are eerily similar to violations that were in San Bruno, California," where a 2010 pipeline explosion killed eight people, Macuga said.
Macuga went to the annual shareholder meeting of Enegir to voice her worries, she said. Enegir is a Quebec company that owns Vermont Gas Systems.
She discussed the pipeline at last year's meeting, but since then her fears have only grown, Macuga said.
"First, my concern was long-term harm to the environment," Macuga said. "Since then, my focus has shifted to more pressing risks to human health and safety."
Macuga sees many similarities between this pipeline and others that have had dangerous accidents, she said.
Activists conducted their own research, which Dumont used in a Feb. 28 request to the Public Utilities Commission. The request was intended to have the investigation include the seven violations the activists believe they have found, Dumont said.
"Ultimately, intervenors will ask the Commission to decide whether or not to order immediate cessation of the Addison Natural Gas Pipeline operation until the pipeline has been excavated and inspected," the request stated.
Several of the claims are inaccurate or incomplete, and others have been investigated by the Department of Public Service's engineering staff, according to  a March 22 Vermont Gas memo.    
Vermont Gas is confident in its pipeline and is committed to resolving these concerns, spokeswoman Beth Parent said.
"We take the issue of safety seriously," Parent said. "That's why we're ready to have the department or Public Utilities Commission conduct an independent review so we can all move forward."
The Department of Public Service oversaw the pipeline's construction, including the hiring of a pipeline safety expert. They also issued several notices of probable violations for potential flaws in the pipeline, according to a March 22 memo.
"Therefore, there is little, if any, need to expand the scope of this [investigation]," the memo stated.   
However, the Department is prepared to hire another independent consultant to review the pipeline's installation, the memo stated.