Students seek more campus art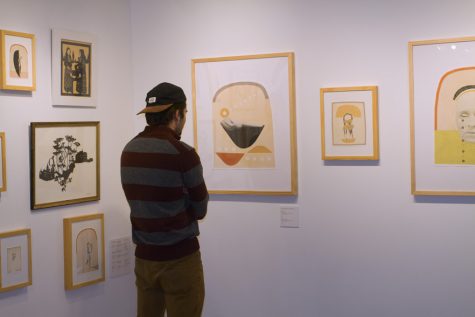 Vermont's Queen City has provided many opportunities for students to engage with local art, students said.
But, students are now seeking more accessible and student-driven art on campus, they said.
The culture of art is already embedded into Burlington's character, Sophomore Sydney Filler, an art minor, said.
"Burlington and UVM, in particular, both have a really vibrant art community," Filler said. "Most students usually have a place to display their work and there are always exhibitions on-campus, either through the Living/Learning Center or the Fleming Museum."
On campus, the L/L Gallery is open six days a week and exposes students to local, national and international artists, according to the UVM website.
Filler said UVM could do more to ensure art classes are more accessible to students, while also encouraging them to use studio spaces in L/L.
First-year Lauren Juenker, who is minoring in studio art, also said she sees a need for improvement.
"We could do more at UVM to showcase newer art from students within the buildings on campus," Juenker said. "I don't feel like I see enough art when I'm going to class or walking in my residence hall."
There ought to be more opportunities for students and community members to be able to submit their own pieces of art, which could then be displayed within various buildings around campus, she said.
Last year, a Burlington City Arts hosted over a hundred UVM students in their studios said Heather Ferrel the curator and director of exhibitions for Burlington City Arts.
First-year Zoe Katz, who runs her own small art business, said she sees both sides.
In terms of Burlington, she appreciates the city's culture surrounding art, Katz said.
"[Burlington] provides and shows more artwork than most counties that I've lived in, which makes me very happy," she said.
BCA opened a new series of exhibitions to the public, which included local artists such as Shane Lavalette, Wylie Sofia Garcia, Molly Bosley and Athena Petra Tasiopoulos Jan. 20.
The exhibit is free and open to the public, making it the perfect experience for a UVM student, Ferrell said.  
"Whether you are studying to be an artist, a scientist, a philosopher or engineer," she said, "the artists and larger themes embodied in the exhibitions often connect with the audience, it's a personal experience."
The exhibition's goals are to create dynamic, high-quality exhibitions of contemporary art, while also providing learning experiences through community-based programs that engage a broad audience, she said.
"Art is a lens through which individuals view, understand and reflect upon the world," Ferrel said.
Although no formal statistics exist on individual visitors, BCA does track the tours that take place.
"I can say the [BCA] is a place where everyone is welcome," Ferrel said, "and that the role of art in the community is intrinsic and essential."
First-year Erin Bundock said she agrees that art plays a key role in the University's culture and character, noting the array of artwork displayed throughout campus.
Bundock would like to see more student work on display, because there would be more room for academic crossover and social change, she said.
"Sometimes, we forget how important visual arts can be for social change, and it'd be pretty cool if more crossover happened between the social movements and the art culture on campus."
UVM art professors Kelsey Brosnan, Steve Budington, Nancy Dwyer, Leslie Fry and Anthony Grudin did not respond to requests for comment.