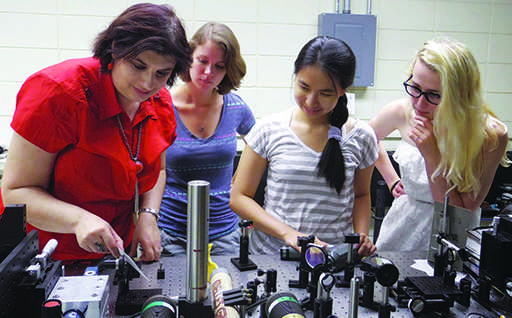 Picasa
Flexible electronic materials are being researched by UVM students and professors.
The research could someday lead to foldable electronic devices that could fit in your pocket like a handkerchief.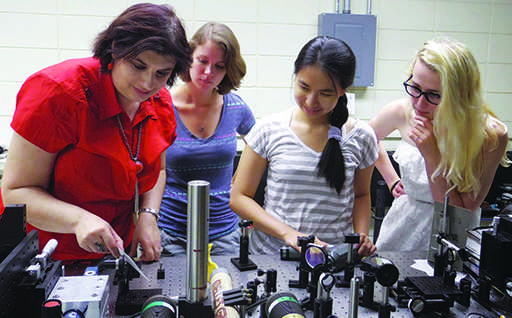 The researchers work in a relatively new field called materials science that focuses on the fundamental properties of electronics. The research for this project began last year.
Madalina Furis, associate physics professor, has been working with students to research the development of this new technology.
She is the director of the graduate program in materials science.
UVM is the only university in Vermont researching the basics of flexible electronics, and one of a few in the New England area, Furis said.
The researchers worked in the physics labs of the Cook Physical Sciences Building to create organic materials that would allow electrons to flow through them, thus allowing for flexible electronics, which could eventually develop a whole new area of technological advancement.
There are countless possibilities, like movie screens that can be rolled up into a scroll.
Materials Sciences graduate student Kim Hua is one of the students researching flexible electronics with Furis.
"Maybe one day we will have flexible phone screens," Hua said.
Furis agreed that we may have flexible devices in the future.
"These concepts are not as far-fetched as they sounded even five years ago; we continue to be excited, it's such a relatively new field," Furis said.
Collaboration between professors and students was vital to the project.
"We all bring our little contribution, there is no Isaac Newton among us, sitting alone under a tree waiting for an apple to fall on his head," Furis said. "Those days are gone, and we are in some sense a global team."
Both Furis and Hua agree there is more fundamental physics behind these devices than consumers outside the scientific community may realize.
"Every single technological advancement has behind it years and years of material research," Furis said.
Material science researchers work to try and understand fundamental properties and share their findings with people who make devices.
"I don't expect a lot of the things I accomplish today to become a product from Apple tomorrow," Furis said. "It may take years but it may impact our society in a very positive way."
Both Hua and Furis said they are frustrated with the public's perception that objects that make our lives better — like clean water systems and medical advancements — are a given.
They said, in reality, the whole process of making these took years of research.
"I think everyone should pay attention to this research. Although it's fundamental it will have a lot of practical application later on," Hua said. "It may not be involved with your major, but it's involved with your surroundings. You will and have to pay attention when it becomes your life."
  Furis agreed that a competent consumer must also be an informed user.