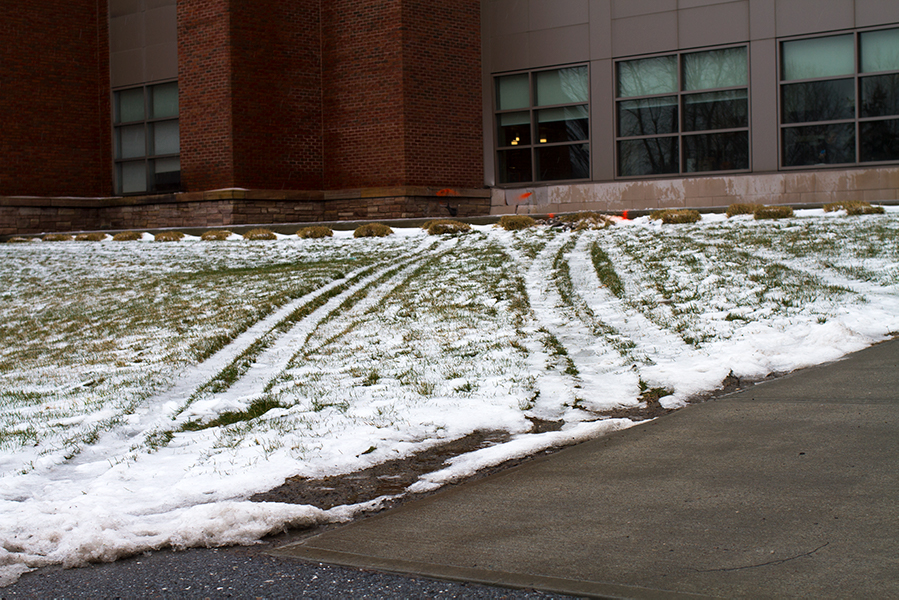 Brandon Arcari
A car crashed into the Davis Center at 12:58 a.m. April 15.
The driver of the vehicle, Uber driver Adeleke Fajobi, lost control after making a left turn onto Main street from University heights, damaging the shrubbery by the Davis Center Tunnel and knocking over the Nolin House sign.
Fajobi then crossed the median, destroying a granite barrier and jumping a 6-foot air vent to impact the Davis Center Marketplace.
Rick Barry, the facilities coordinator for the Davis Center, said the damage was "substantial," but that the building's structural integrity was not compromised because it was a strong area to have been hit.
Barry said that the University's insurance was expected to examine the damage and costs to repair the building.
Fajobi was not intoxicated but a preliminary police report said that he may have panicked and held down the gas instead of the brake. He was transported by UVM Rescue to the hospital but did not appear to be injured.
"The car was head-first in the nook where the Davis Center juts out," senior Andrew Hollar said. "[It] didn't look like it had crashed into the wall very hard. It looked like the front was banged up, not smashed and flattened."
Hollar said that the street was very slushy and he drove slowly home from work in the Skinny Pancake on campus.
Susan Hendrick, a spokesperson for Uber, confirmed that Fajobi is a driver-partner with Uber and said the company has reached out to him to check on his wellbeing.
Mandy Wooster of UVM Police said that there was an injury involved in the crash.