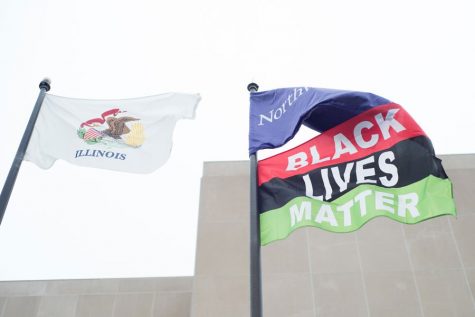 When UVM flew the Black Lives Matter flag on campus, the rest of the country noticed, and other colleges began to follow suit.
Northwestern University raised a Black Lives Matter flag on Jan. 3 as part of a two-week movement entitled "Black Lives Matter: A Northwestern Dialogue."
"[The purpose of this program is] to generate important discussion surrounding the statement 'Black Lives Matter,' the greater Black Lives Matter movement and the state of black lives within our country," states the movement's Facebook page.
Northwestern was one of the many schools to reach out to UVM after the flag was raised in front on UVM's campus, stated SGA President Jason Maulucci in an email on Jan. 23.
Northwestern was inspired by UVM's decision to fly the BLM flag, student organizer Danielle Harris said in a Jan. 4 Daily Northwestern article.
"If University of Vermont can do that, then how come Northwestern can't do that?" Harris said in the article.
"Northwestern flying the BLM is a positive thing," first-year Toni Rabasco said. "More colleges might be inspired to take the same stance, which would be wonderful. Why not spread the message that everyone is created equally?"
When UVM flew the BLM flag, the purpose was to spread awareness about the importance of the movement, stated Patrick Brown, director of student life, in a Jan. 20 email.
"Someone had to speak out; we might as well have been first," Rabasco said
Northwestern's show of support for the BLM movement came at a time during which the country needed diversity and acceptance to be shown, first-year Kasey Gelfand said.
"Our country could really use some diverse thoughts right now," he said.
Other colleges have been flying the flag or passed movements to raise the flag, including Illinois State University and Middlebury College, said Campus Reform articles published on Oct. 18 and Oct. 27.
"If all colleges were inspired by UVM to take this stance, that would be ideal. All colleges should have the same values regarding minorities and their rights," said first-year Marissa Flynn.
"Many members [of the UVM community] have expressed that they feel proud that other Universities have followed the lead of UVM and raised the flag, stated Maulucci.
While many UVM students and staff said they feel as though Northwestern's movement was a step in the right direction, some believe that this could be counterproductive, including Patrick Brown.
"If every institution across the country began to remind all their community members that it takes care and work to have all members matter, through curricular and co-curricular programs, and maybe even the flying of a flag," Brown stated, "then our future becomes less than what we say it should become."