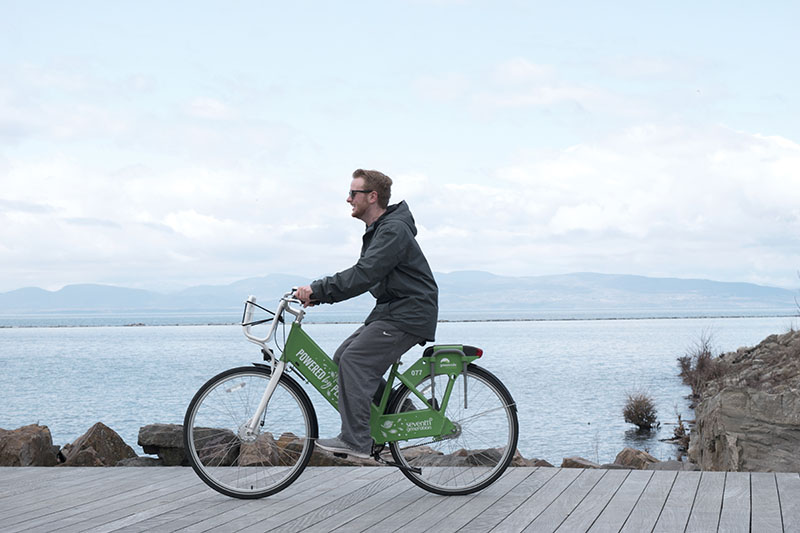 Taylor Ehwa
For the price of a cup of coffee, UVM students and Burlington residents alike are now able to rent bikes from various points around town and on campus.
Greenride Bikeshare, Vermont's first bike-share program, launched April 18.
"Everyone is super excited about the bike-share," said Abby Bleything, UVM's clean cities coordinator and a program leader.
Burlington already has a regional transport system; the Chittenden Area Transportation Management Association sysem, but the bike-share is a first for Burlington.
CATMA currently sponsors both a bus system and a car-share service.
With 17 hubs — stations where riders can pick up and drop off bikes — spread across Burlington, and 80 bikes to choose from, convenience is central to the bike-share's mission, Bleything said.
"You should be able to walk out to any hub at any time and be able to grab a bike," she said.
The program is in only the first of three phases, Bleything said.
The final goal is to create a regional system, with 300 bikes and 50 hubs throughout Burlington and neighboring cities, she said.
To raise awareness of the bike-share, Eco-Reps, a student-led group that encourages sustainability, has been promoting it on campus, said sophomore Jillian Scannell, an Eco-Rep and SGA speaker.
Though people seem interested in Greenride, Scannell thinks that the program may be less helpful for UVM students than other community members, as many students already  own bikes, she said.
Junior Sammy Headlund, president of the UVM Cycling Club, is excited about this addition to campus, he said.
"Biking's sweet," Headlund said. "It can answer a ton of society's problems."
Bleything and other Greenride partners, which include Champlain College and the CATMA system, began to notice a need for such a program in 2016, after UVM's Bike Library closed, she said.
While numerous Burlington community members and organizations had proposed similar ideas, their launch dates were all far off, and Bleything and her team wanted to get it started sooner, she said.
Bleything and her team sent proposals to four different bikeshare companies, and eventually inked a deal with a company called Gotchabike in January 2017, she said.
As part of their deal, Gotchabike provides Greenride with high-tech seven-speed bikes, and as a result of Greenride's partnerships with various local companies, the rideshare program is the cheapest in the country, Bleything said.
The partners include Ben & Jerry's, Burlington International Airport and the Vermont Agency of Transportation.
"For us, it was never about revenue, it was about getting people on bikes," Bleything said.