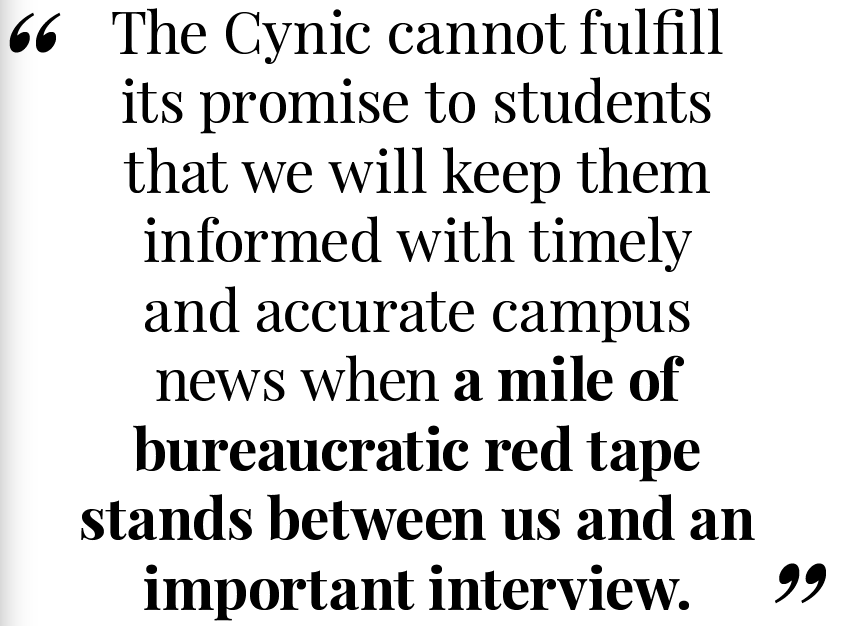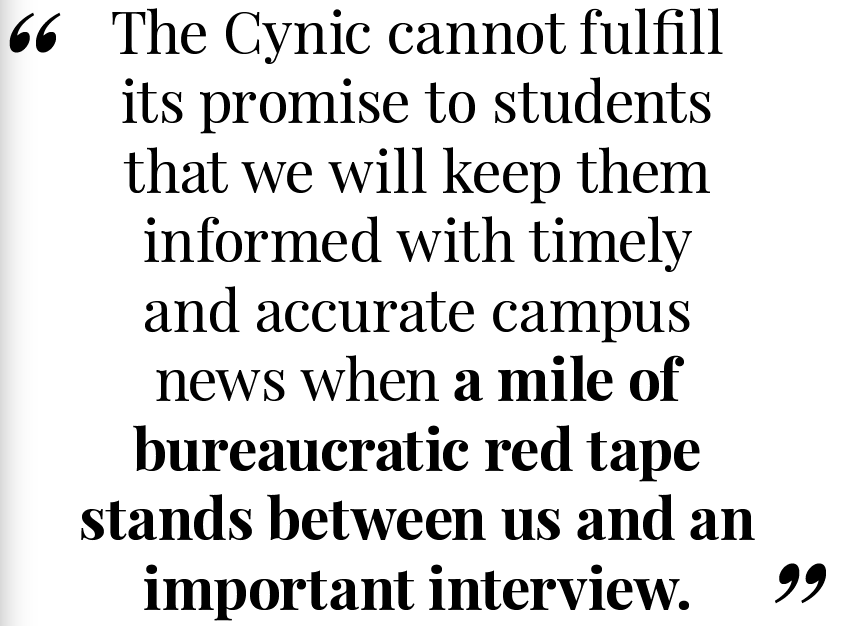 Over the past month, the Cynic has struggled to obtain interviews with several UVM employees. We've hit roadblock after roadblock in our efforts to tell the truth.
For our Oct. 8 edition, the Cynic requested an interview with Daphne Wells, director of Student Life. Her email response to the Cynic stated: "We now have to submit all media requests to Director of Communications. Once I hear back…I will be in touch."
For our Oct. 15 edition, the Cynic requested to speak with an expert on UVM's new advising system, Navigate. Instead, we were given a general statement from Enrique Corredera, the University's executive director of News and Public Affairs.
For that same story, a Cynic reporter walked into the Honors College office late Oct. 11 and spoke to Dean David Jenneman. Through him, we received a valuable perspective on the positives of the Navigate system.
At the end of that meeting, which lasted around 15 minutes, Jenneman agreed to speak to the Cynic further and said he would be happy to help. However, an hour later, when our News editor sent him an email, we were redirected by Jenneman to Corredera.
For our Oct. 22 edition, the Cynic requested comment from Cristina Vega, assistant director for Fraternity and Sorority Life. Vega forwarded our request for comment to Corredera, and he responded with an institutional statement.
Decades of First Amendment case law establish that public employees have a constitutional right to speak to the press without their employer's permission, according to a brief by the Brechner Center for Freedom of Information.
In an Oct. 15 conversation with the Cynic's editor-in-chief, Corredera said UVM does not have a written policy stating employees cannot speak to the press.
Despite this, Corredera said he encourages UVM employees to reach out to the public relations office before speaking to the media.
"It's not a policy, but it's up in the air," Corredera said. "People are encouraged to touch base with us."
The Cynic reaches out to Corredera regularly for help in coordinating interviews with relevant University sources. He is accommodating, responding quickly to our emails and phone calls.
But sometimes, instead of facilitating our interview requests, Corredera provides comment himself. And frankly, an institutional statement is never enough.
"It doesn't matter how much you want to talk to someone about the details of some such and such thing," Corredera said. "There are a few situations where all you're going to be able to get is one institutional statement."
Protecting the reputation of an institution is not sufficient reason to override employees' First Amendment rights, according to the Brechner Center brief.
We do not believe the University is violating First Amendment rights, but we do think it is attempting to control our reporting process.
Waiting to hear from Corredera delays our news coverage. Interviewing only the individuals he deems appropriate changes our stories and jeopardizes the Cynic's autonomy.
There is no possible way Corredera alone can successfully convey all the perspectives and information University sources have to offer. It is not his job to be an expert in every aspect of the University.
When Cynic journalists are steered away from speaking with subject-matter experts, our freedom of the press is infringed upon, and the quality of our news reporting suffers.
Our stories may be left with prepared statements from University spokespeople like Corredera, or with a lack of information that leaves readers with unanswered questions.
Since the Cynic was founded in 1883, our mission statement has read: "We shall honestly speak the convictions of our mind; it means our objects are utilitarian."
The Cynic cannot fulfill its promise to students that we will keep them informed with timely and accurate campus news when a mile of bureaucratic red tape stands between us and an important interview.
The Cynic understands that talking to the press can seem intimidating. Being asked questions in an interview can seem like a spotlight shining directly in your face.
But we ask University employees to speak to the Cynic directly. Statements from public relations officers are dry and impersonal. They are not enough.
Journalism works best when we all contribute —  when we all tell our stories and when we all share our truths.