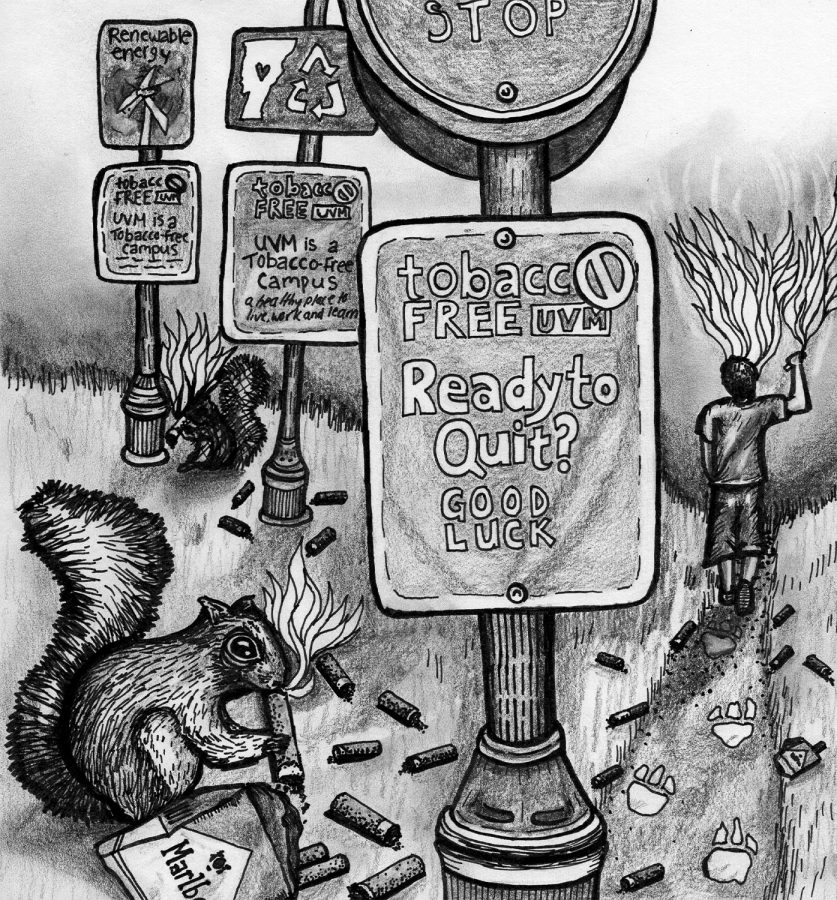 SHANNON O'CONNOR
On Oct. 17, sophomore Gabriana Whipple tweeted, "'UVM is a tobacco-free campus,' uh first of all the ground is actually littered with cigarette butts," following a popular meme format.
Her tweet went viral in student-run Facebook groups, but the cigarette issue on campus is no meme.
Like many schools in the U.S., UVM is formally designated as a tobacco-free campus and has been since Aug. 1, 2015. This designation led to the elimination of ashtrays and other receptacles for disposing cigarettes, but not tobacco users.
With that being said, those who use tobacco have nowhere to dispose of their cigarettes. Butts now litter the ground around residential and academic buildings, a sorry sight to see at a university that wants to make going green a priority.
A 2011 study funded by the University of California found that leachates, chemical contaminants dissolved in or carried by water, from both cigarette butts and cigarettes themselves are toxic to marine and aquatic life.
Our water runoff can transport leachates into lake Champlain, contaminating the water and the aquatic life that lives there.
Besides the environmental aspect, the failure to provide receptacles for cigarettes represents a missed teachable moment.
For example, although UVM does not condone consumption of alcohol, they understand that many students on campus drink and they provide students with information and resources so they can make informed decisions. They should take this same strategy with cigarettes.
Students have been very much in favor of cleaning up tobacco.
Last year, sophomore Brigitte Durieux proposed a cleanup plan which included both short and long-term solutions, such as volunteer cleanup days with incentives for students to participate and cigarette receptacles – both low-cost bins and more advanced TerraCycles – which actually break down cigarette butts so they can be recycled.
Durieux's proposal has gathered more than 300 student signatures and counting, with some students even offering to provide disposal bins themselves.
While it's great that students are taking initiative, this shouldn't be their responsibility. If there was an ashtray or the equivalent for every "Tobacco-Free Campus" sign on campus, the problem of tobacco litter would be practically nonexistent.
For more information on Brigitte's proposal and the environmental impact of cigarettes, check out the "Cigarette Butt Cleanup" event page on the UVM Facebook page.